Hiro, a katana-wielding pizza delivery boy from Los Angeles, was the first-ever person to experience the metaverse. Hiro is the protagonist of the science-fiction book Snow Crash by Neal Stephenson, who defined the metaverse as a virtual world that served as an escape from the dismal reality.
Snow Crash was published in 1992. In the following three decades, multiple innovations shaped the idea of a metaverse, such as the first VR motion simulator introduced by Sega in 1994, and the prototype for Oculus Rift VR set was created in 2011. However, the most significant development happened in 2021 when the tech giant Facebook renamed itself Meta.
The metaverse is still a nebulous concept, with parts of it far from realization. That hasn't stopped tech-driven organizations from tapping into the vast potential. Citi estimates that the total addressable market for the metaverse economy could grow to between $8 trillion and $13 trillion by 2030.
While its applications span across industries, it has some exciting opportunities in the retail sector. Players like Nike, Gucci, Tommy Hilfiger, Burberry, Zara, and Balenciaga, are already utilizing metaverse platforms for sales and brand promotions.
The verses within the metaverse
Metaverse has several categories. We believe that these definitions will evolve with time, but for now, we are breaking them into three categories: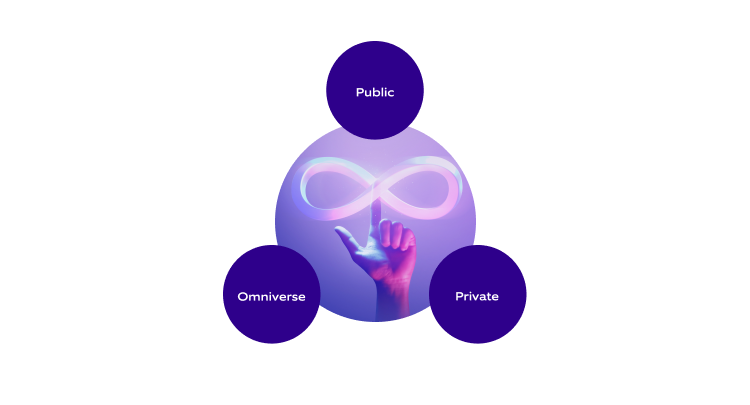 Public metaverse: They will be accessible to anyone who wants to register and interact with it. In their eventual state, we expect them to be completely decentralized using Web3 technologies, and transactions will happen using NFTs. Some of the popular public metaverses today are – Roblox and Decentraland.
For the retail sector, some of the common use cases would be:
Revenue generation opportunities through non-fungible tokens (NFT): Nike brought a virtual shoe company last year and sold its first virtual pair of sneakers. Gucci is selling virtual bags and is charging a premium for the virtual version over the physical handbag. Other brands such as Prada and ASICS also offer NFTs.
Branding & advertising: As a brand, you can create your presence in a public metaverse. One such use case is Vans in Roblox. It's a small video game setting where the brand created an interactive skatepark to engage with its customers. Many other brands, including Gucci, also use Roblox to promote their brands through a novel and interactive medium.

Private metaverse: These will be heavily governed, and the users will need permission or even pay a fee to be a part of these metaverses. An organization would likely create a public space like a lobby and then allow only specific guests into a more private room/space where events occur. The number of private metaverses is currently limited. Many organizations have announced their private metaverses, but there is much speculation over the strategy.
For retail customers, the use cases that would make sense are:
Create training centers for employee onboarding. The brick-mortar part of a retail business is still not fully equipped to train people for real-life situations. Metaverse will be an excellent way to simulate the foot traffic and train the workforce for such scenarios.
For almost a decade now, hypermarkets have been using IoT to understand customers better and decide how to allocate shelf spaces to different brands. This use case can also be elevated using simulations.

Omniverse: Omniverse doesn't yet exist, and we do not anticipate its existence till 2029-2030. However, interoperability and true centralization are two significant challenges for an omniverse. Web 3 will play a critical role in setting up the foundation for an omniverse. Unlike Web 2.0, where a few drive the internet, Web 3 offers a democratic platform for brands to lead and drive innovation. While brands must wait for the tech platforms to create a metaverse, they can be catalysts to drive innovation and collaboration sooner.
Characteristics of metaverse
As the metaverse is still evolving, setting parameters for identification is critical. At Nagarro, we have defined six characteristics for this purpose:
It is pertinent to mention that these definitions approximate what they will eventually become. And we won't find a metaverse with all six characteristics today. However, platforms with even three of six characteristics are close, and these platforms have a promising future. Understanding the landscape and finding the right partners for a brand will go a long way in creating their metaverse strategy.
The six characteristics of the metaverse are:
Boundless: It should provide a seamless experience between the real and the virtual world. Users should be able to move in and out of the metaverse without feeling like they are in a different universe altogether. XR (AR, VR & MR) technologies will play a critical role in providing this experience.
Persistent: It will never stop. Even when you are offline, it will evolve; every time you log in, you may see something that has changed. Metaverse must sync with real-time to feel like an extension of the real world.
Immersive: It must use objects and space in the physical world and connect it to the digital world. XR will enable immersion.
Decentralized: No central entity should own it, and it should be run by the people, for the people. However, we now anticipate organizations owning (and creating) their metaverse (s).
Economy: It should support a player and content creator economy. And allow people to create content that others can enjoy, and it also needs to enable the consumers to buy and sell objects.
Social: It will build on top of the social platforms that we have today, and it needs to be a platform that will drive social interactions in new ways.
Metaverse strategy for retail brands
The economic trends are promising and open a vast market, especially for the retail players. However, organizations need the right strategy to tap this market.
As a retail brand, the characteristics you need to look out for would be immersive, social, and economy with boundless. Nagarro has formulated the proof of value that can help marketers set up their metaverse strategy for a 1-2-3 year period. Our approach will help you create a strategy to overcome the most prominent challenges in its adoption:
Lack of clarity on business models and RoI
Uncertainty around NFTs and the possible ethical implications for your customers
Lack of reach to the masses due to missing infrastructure and unavailability of hardware
As customers are moving toward adopting digital personas, many brands don't yet give customers a choice to connect on their preferred digital platforms. Most solutions and strategies today are connected to one platform only. We can help you connect with the most relevant existing platforms and prepare you for new platforms (yet to be launched) with minimum hiccups.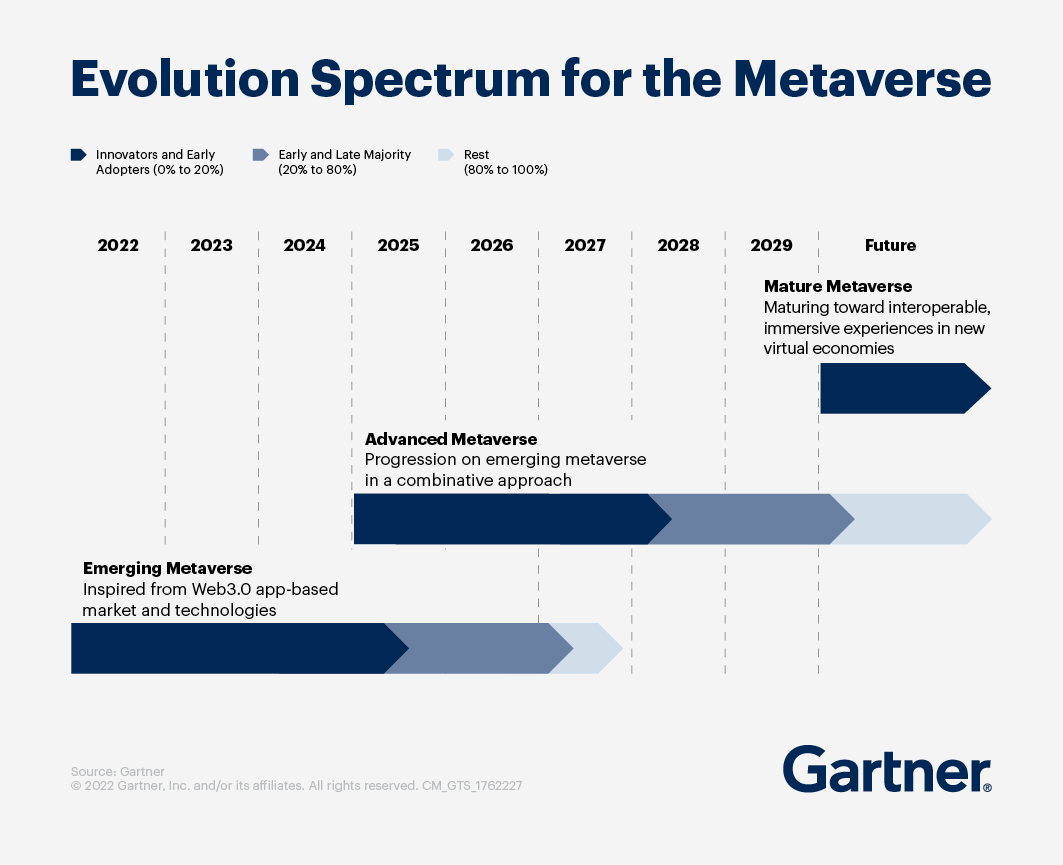 We find Gartner's maturity model apt in this context and closely follow the technology hype curve for the metaverse. Even though we are still in the emerging phase, it is the right time for any brand, especially from the retail sector, to enter and establish their presence in the metaverse. NFTs, virtual worlds, AR/VR-based experiences, branding, and advertising are the things to consider before an organization decides where to invest. These considerations also cut across the choice of technology, ethical choices around brand positioning, and customer loyalty which organizations cannot ignore while grabbing the early mover advantage.
Nagarro's approach to metaverse enables idea generation and prioritization and aligns investments to your business goals. We can help you define the right approach to entering and mastering the metaverse.
A few pointers to consider while beginning your metaverse journey:
Based on the metaverse platform of choice, brands should look to build their presence at relatively lower investments
Existing platforms like Roblox & Decentraland can be used for both inbound as well as outbound discovery
The potential for ROI on the early mover advantage is high
We believe the contributor economy is yet to boom as the tools needed aren't enough. Yet, there are opportunities for brands to work with influencers and become leaders in this category.
As brands begin their metaverse journey, they must choose and invest in the right platforms. The strategy must be carefully drafted and executed with the right mix of technologies so that organizations can gain the early mover advantage.
The time to begin your metaverse journey is now!