Over the last few years, customer behavior in the banking industry witnessed a drastic change. And the Covid-induced New Normal gave this change another shot in the arm. With banks being closed and limited in-person customer support, the pandemic accelerated retail customers' digital adoption of fintech products. New customers are now looking up to fintechs with new-found hope, expecting a better understanding of their needs to help combat financial and emotional stress. Existing customers are looking for a long-term trusted engagement with the selected digital financial service.
Since many banks and fintechs compete to offer similar products, the paradigm has shifted to emphasize the customer experience as the key differentiator. But how can fintechs better meet the changing customer requirements? Let us find out!
What is customer experience, and why is it so important?
Customer Experience (CX) is much more than User Experience (UX) or User Interface (UI). While interacting with a product or service, a customer experiences a range of emotions like curiosity, excitement, trust, apprehension, frustration, etc. These emotions lead to the customer's perception of the product and its company. This perception is called customer experience. It plays a huge role in determining the success of a product or service.
CX revolves around the following factors: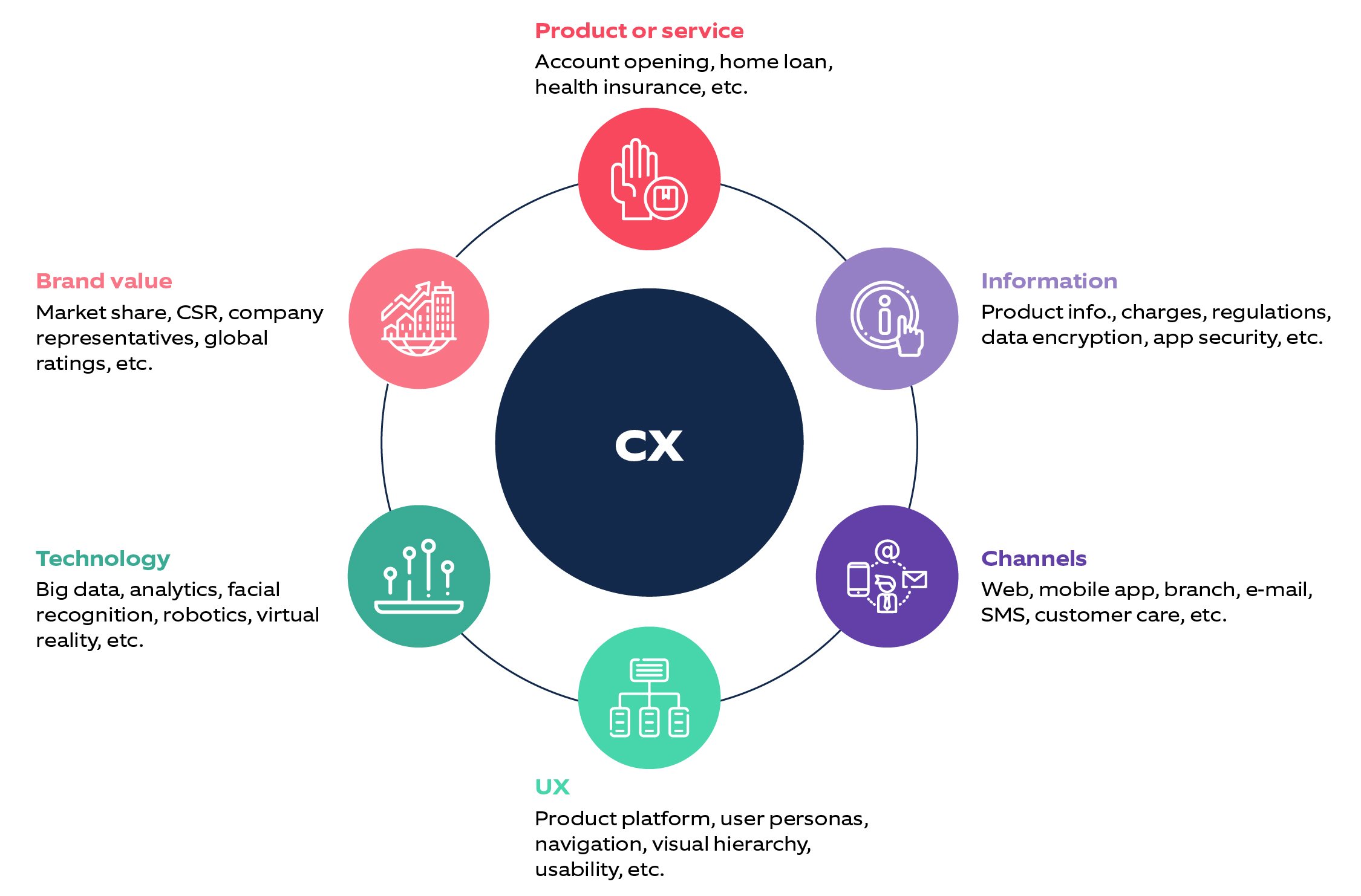 How can fintechs use CX to fill the 'trust' void?
The 2021 Edelman Trust Barometer report indicates an environment of "information bankruptcy" between 2020 and 2021. This means that people are now putting more trust in businesses to tackle the challenges when the government is absent, allowing fintechs to fill the gaps in their offerings and gain customer trust.
Here are three basic CX aspects to increase trust in a financial product or service:
Educate the customer
We live in an age of information bankruptcy, economic loss, and financial challenges. Customers are confused and unsure about their trust in the government and financial institutions. Fintechs need to ensure that customers get complete and transparent information by regularly notifying them about any changes in government regulations. Here's an example:
Unlike other money-transfer apps, TransferWise uses its pricing calculator to clearly explain its charges.
Additionally, fintechs should inform consumers about the consequences of such changes and recommend ways to mitigate them. Since technology is the medium of engagement, fintechs should also explain the company's app security and security compliance practices. Standard self-service options like regularly updated FAQs based on general customer queries, chatbots, and customer support must be available 24x7.
Lack of information may impact the customer financially, triggering mistrust in the company or the entire financial sector.
Engage the customer
A successful CX ensures that customers engage in positive and informed product interactions. Letting the customer know that you are there to help is the best way to do so. One way to engage a customer is to genuinely notify them about how the financial markets can affect them and how to best mitigate that impact. Take Monzo, for instance:
The Monzo lending app uses reminders to ensure that customers do not miss their payments and celebrates on-time payments.
Fintechs can also use this as an opportunity to cross-sell or up-sell by using predictive behavior analytics to understand customers' financial needs. Accordingly, intelligent product recommendations can be built based on the customer's profile, demographic data, spending patterns, affordability, etc.
When interacting with a product, customers leave important information about their personal needs (both passively and actively). App analytics is a great way to understand customer interest and time spent on product information. Fintechs can use this data to reach out to customers and understand their needs, thus providing a 'caring' experience. Using a multi-channel experience through e-mail, SMS, mobile push notifications, etc., can also improve CX. Have you heard of Budgit?
Budgit, a money management app by Barclays, recognizes the mental well-being of their customers by gaining insights into their budget and spending patterns, and assists them with financial management.
Another excellent way to engage the customer is through user-centric design. A user-centric design thinking approach involving empathy maps, focussed user research groups, and intuitive navigation holds the key toward building a strong UX, contributing to the overall CX. Light Bank does precisely that.
The much-awarded Light Bank app offers to create a deep emotional connection with its users and uses an innovative customer-centric approach to financial services design.
A good omnichannel experience for customers across all devices will allow them to access the app with ease, anytime and anywhere.
Heed the customer
Customers want to be heard. They want to express their feelings about a product or a service. The first medium of this expression is usually customer service. Fintechs must encourage customers to share their feedback on products, services, and cases through all interaction points. Providing regular customer satisfaction scores and options to rate and review a product or service is a proactive way to heed customers. This feedback can be used to improve the customer service approach, enrich product experience and platform experience, and offer personalized product offerings. Overall, a good CX contributes to a positive brand image of the fintech.
The bottom line
Amid the pandemic's push, as governments support the digitalization of financial services, millennials and post-millennials are increasingly choosing digital services over traditional banking.
Customer experience is now a key differentiator to attract and engage customers. The success of digital financial service providers depends not only on product offerings but more on a personalized customer experience. With the focus on agility, innovation, and revolutionary CX, we can assume that fintechs can lead the financial CX landscape and boost the adoption of digital financial products.
Are you a fintech looking to 'bank' on this CX trend? Nagarro can help you get it right. Check out how we built a banking app for millennials in the Middle East and developed a brand-new digital investment platform to create an intuitive customer experience. To know more, explore our offerings in the banking and financial services domain and connect with us!