Today's tech-savvy customers interact with brands in multiple ways and expect their brand to understand them. It has, therefore, become essential to capture data from every touchpoint to drive personalized one-on-one customer conversations.
Marketing has come a long way in the past few decades:

The 1990s saw the dawn of the digital marketing era, with the launch of search engines and the first clickable ads.
In the 2000s, Search Engine Optimization (SEO), social media, and mobile phones transformed the entire marketing landscape.
The 2010s saw marketers embracing technology to leverage the true value of digital marketing, collating data from different channels to create cross-channel marketing.
Today, marketing revolves around the customer, leading to customer-centric, data-driven, and real-time personalized marketing. Going forward, creating a true omnichannel seamless customer experience across channels will be the main differentiator between brands, influencing customer loyalty and retention.
Marketers constantly make efforts to understand their customers, personalize each interaction based on their behavior, and engage with them on their preferred channel. While this is the focal point, sometimes it can be a challenge to know where to begin.
Let us look at the following table to understand your current marketing maturity level: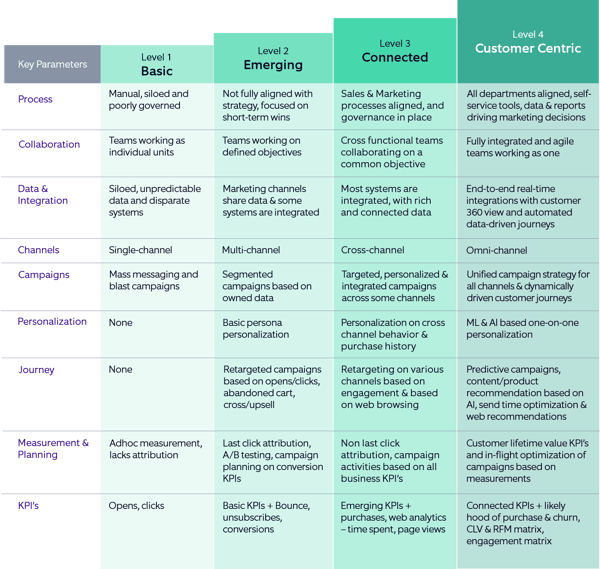 Key risks and challenges of customer-centric marketing
At a high level, achieving customer-centric marketing may seem easy. But with any new change come risks and challenges, which need to be identified and kept in check. Here are some such risks and challenges:
Reaching customers across every channel is easier said than done. According to Gartner, over 90% of marketers struggle to connect more than three channels on the buyer journey seamlessly.
All departments have their own strategies as they perform different marketing activities. Bringing all teams together to work on one goal can be a big challenge.
With so many tools and options in the market, it is a mammoth task to identify the right set of tools needed to achieve the desired goals.
Finding the right technology and people to execute, implement, and optimize the vision.
High dependency and investment on legacy systems make it difficult to move to cloud-based solutions.
The lack of a centralized system and unique identifier for the customer makes it tough to manage and integrate different data systems.
How to achieve customer-centric marketing
Step 1: Conduct in-depth research on customer personas and journeys
Understand the channels and the touchpoints customers use to interact with the brand. Define your strategy by understanding the best way to communicate about products, services, and brand with customers. Ask some questions:
What channels do your customers prefer?
Which transactions are better suited to one channel versus another?
What part does each channel play in the overall customer experience?
How well are channels merged to offer an omnichannel experience?
What is the impact of channel strategy on operating costs and customer experience?
Looking at the customer journey at a high level, customers tend to start the journey at the awareness phase and travel through to the retention phase while interacting across many channels and traversing through the respective phases. Identifying important channels for each phase is crucial in defining the customer journey and channel strategy.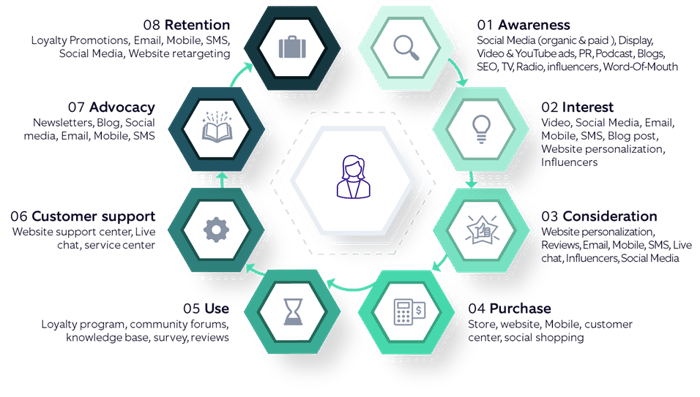 Step 2: Understand the platforms to support the envisioned customer journey
Will the existing marketing platform support the requirements in achieving customer-centric marketing? If not, analyze the system in-depth, understand the gaps and consider investing in tools based on value and return on investment (ROI). The following platforms can be considered for driving customer-centric marketing.

Step 3: Set up the marketing platform and integrate it with landscape systems
After you finalize the tools and platforms, invest some time thinking through and visualizing how marketing and business may change in the next 5 to 10 years. The system you are going to invest in needs to factor in all future needs of the organization. Before implementing new systems, draft campaigns that you may want to achieve and identify the required data and assets.
Do you need to track your social media post to the CRM system?
Do you want web analytics driving social ads and mobile push notifications?
Are campaigns and digital assets centralized using DAM (Digital Asset Management)?
Do you have a centralized price and inventory details using CPQ (Configure, Price, Quote)?
Considering these data points will have a major impact on how systems are implemented and will improve processes in the future, making systems market-ready as soon as they are live.
The integrated systems will enable customers to leverage the best-suited channel and jump between channels seamlessly to continue their journey.
Step 4: Build campaigns iteratively
Now that the systems have been integrated across channels, the next task is to build dedicated, impressive campaigns around them. However, having new marketing tools and methods will be a challenge in itself at the start, where all teams in the organization will need to collaborate to achieve their common goal. The best way is to start small and then expand iteratively:
List out all the campaigns to be implemented and allocate the effort and ROI for each campaign.
Identify easily executable campaigns with high ROI and implement them first.
Add components or channels based on the channel operating cost one by one, going from the most simple to the most complex.
This iterative method will allow the teams to mature gradually, understand the complete flow of marketing and learn to work together.
Step 5: Segment and personalize the communication
While developing campaigns, implement segmentation across all channels based on geography, demography, technography, psychography, behavior, products, purchase frequency, customer lifetime value, or event.
The customer expects you to know about them and service them according to their requirements. Leverage all the data points brought in together to create one-to-one personalization.
Step 6: Refine and improve continuously by analyzing end-to-end marketing
In addition to creating personalized and segmented campaigns, we need to test, optimize, and re-test to improve continuously. Testing should be a part of the everyday process and should be inbuilt into marketing programs.
Identify and keep track of KPIs. Data, analytics, and reporting allow us to view and learn from the results, enabling us to deliver more personalized interactions and service throughout the customer relationship. Some such KPIs are:
Customer acquisition and conversion rate
Average order value
Customer retention and churn rate
Shopping cart abandonment rate
Social media engagement metrics
Website traffic
Online attribution for offline sales and offline attribution for online sales
Customer lifetime value (CLV)
RFM Analysis (Recency, Frequency, and Monetary value)
Customer rating and satisfaction level:
- Customer Satisfaction Score - CSAT
- Net Promoter Score - NPS
- Customer Loyalty Index - CLI
- Customer Effort Score - CES
- Would You Miss Us? – WYMU
Components of customer-centric marketing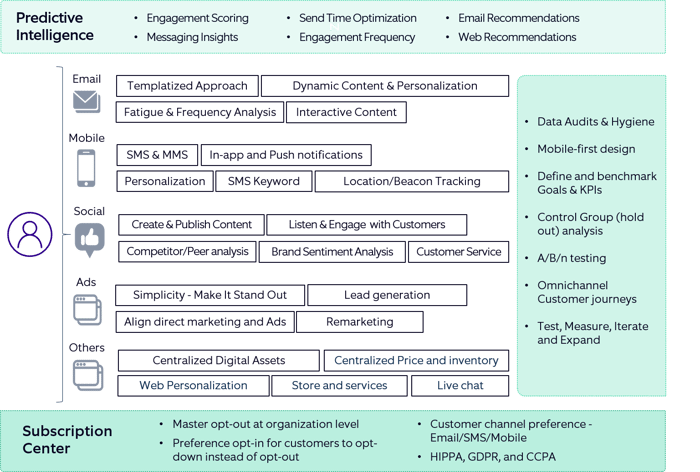 The mantra is simple: Start small, Test, Measure, Iterate, and Expand!

So, do you know how to start with customer-centric marketing? We can help you in creating the perfect customer-centric marketing strategy. Explore our offerings and reach out to our experts now!