When it comes to casino gaming (both online and land-based), innovation has always been the key catalyst in generating interest and retaining players. Apart from bringing the best minds to innovate, it is also essential to ensure that the gaming core mechanics stay abreast with the constantly evolving technologies.
Slowly but surely, there is a clear paradigm shift towards cryptocurrency and blockchain technology. But is iGaming and crypto a match made in heaven? Let us find out!
How crypto is enhancing the iGaming experience
Casino gaming is regulated across most countries. Naturally, that goes hand-in-hand with regulated payment methods as per the laws of the land. As of today, apart from El Salvador, no country has officially allowed the use of cryptocurrency. The US Treasury has defined Bitcoin as a money services business (MSB) rather than a currency. This has placed the Bitcoin under the Bank Secrecy Act, requiring exchanges and payment processors to adhere to specific regulations and record-keeping rules. Similarly, other countries have chosen not to pay enough attention and let it enjoy a bit of regulatory oversight.
For the public, an online casino that supports cryptocurrency symbolizes innovation and advancement in all gaming-related fields. Cryptocurrency increases anonymity, which the players want rather than having to go through a bank's stringent set of rules and regulations apart from the regulated casino's KYC measures.
Here are some such advantages of crypto: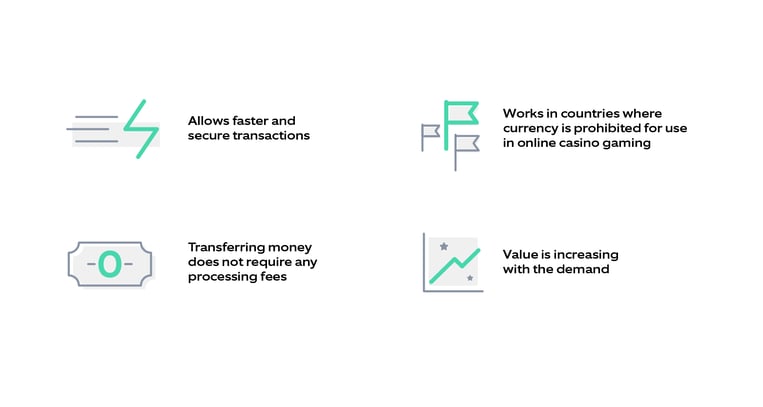 Cryptocurrency allows secure and quicker transactions as it does not need to go through banks or governments from the player's crypto wallet. Online casinos would only require the crypto wallet address.
Transferring money through conventional methods requires a processing fee, which cryptocurrency does not.
Many countries prohibit the use of their currencies for online casino gaming. Currently, these countries do not regulate crypto. Hence the players can purchase crypto and use them for casino gaming. If your platform is crypto-supportive, it exponentially increases the footfall.
The demand for crypto has only been growing. It is a global currency whose value will increase with demand.
The concept of NFTs (Non-Fungible Tokens) is the latest thing on the block. It is the perfect amalgamation of innovation in the online casino gaming industry with the technology industry. NFTs are unique digital "anything." It can be a drawing, a musical track, or anything which can be a digital asset. NFTs work in the same way as Bitcoin, you buy it and hope that its value increases so that you can sell it for a profit. Non-fungible means, like you can trade a Bitcoin for a Bitcoin, but for an NFT say X, you cannot trade it for another X, you can trade it for some other NFT say Y.
Major online slot gaming companies buy NFTs and use them to create new innovative slot games with those tokens. The proof of those tokens can be found in the Ethereum blockchain, which NFTs use.
Even land-based casinos are now allowing cryptocurrency by integrating the games through payments from smartphones. Given crypto's fan following and the exponential increase in its users and investors, if your casino does not adopt crypto, you might well miss the bus in the long run.
Is crypto a bubble waiting to burst?
Casino gaming is a very regulated domain where anonymity is detrimental. The same anonymity is crypto's USP. However, crypto uses blockchain technology which enhances the security of funds and tracking. In blockchain, every transaction can be traced. All Bitcoin transactions are publicly stored in the Bitcoin network. Since it does not involve any third parties such as a bank or any such organization, anyone can see anyone's transaction.
Now, the obvious question is how does a person assure anonymity with BTC? Well, it is anonymous in the sense that Bitcoin's components, such as addresses and transactions, do not link directly to anyone's identity in any way. They are pseudonyms. The catch here is that although you can use aliases to receive products, you will have to use a real name or postal address that pops the anonymity bubble when linked with your pseudonym. Hence, in the world of casino gaming, where stringent KYC (Know Your Customer) and CDD (Customer Due Diligence) measures are practiced, the concept of anonymity is eventually almost zero.
The only benefit of crypto is that the players do not have to deal with intermediary third parties like financial organizations to make their transactions. With the amount of traction that cryptocurrencies have garnered over the years, it's only a matter of time before countries start regulating them. We will surely see new, specific regulations for handling cryptocurrency by gaming regulatory bodies.
But while cryptocurrency is just one example of using blockchain technology, there are many more ways to reap its benefits. For instance, on a jurisdictional level, we look forward to protecting players from becoming casino gaming addicts. Players can permanently self-exclude themselves on one iGaming operator's website, but no one stops them from hooking on to another operator when the craving kicks in. This is where Blockchain or DLT (Distributed Ledger Technology) can help ensure that all operators in the jurisdiction are on a chain. So, when a player permanently self-excludes, their unique identifiers get notified to all other operators, preventing that player from playing again. This thought certainly warrants more research, but the possibilities are endless.
Blockchain, Nagarro, and iGaming – a unique combination
Nagarro's 3D Framework provides a competitive advantage for building seamless blockchain solutions, backed by IBM Hyperledger, Ethereum, and IOTA. Our experts can help build an ecosystem with complementing technologies to assist our clients to view the complete spectrum of the platform, ICO, Smart Contracts, and DApps development, cutting through the noise to achieve more business benefits.
Nagarro has domain experts in casino gaming and blockchain to assist you from end-to-end and give your products that extra fillip they always needed. Are you ready to give your iGaming platform the crypto edge? Explore our offerings in gaming and entertainment and get in touch with our experts! Why take the bus when you can catch the plane with Nagarro in the crypto journey for your business?