A distributed workforce may be the future of working—This is when employees are dispersed geographically beyond the traditional office environment—and such a workforce may help businesses prosper.
According to the International Workplace Group study, 70% of the employees work remotely at least once a week and 53% work remotely for at least half of the week. In assembling its report, IWG talked to more than 18,000 professionals in 96 countries, representing a range of businesses and industries.
Distributed teams are no longer a hypothesis but a necessity with incredible benefits to the employee as well as to the employer. The employees enjoy better work-life balance and flexibility when working remotely. Distributed teams are cheaper to run as there is minimal logistics cost involved. And, this greatly increases the hiring options for the organization as the location is not a constraint anymore!
However, the biggest challenge for a distributed team is enabling the perfect collaboration for communication. The communication between cross-office team members has become easier due to video conferencing and messaging tools like Skype. The advantage of working with team members and discussing, planning, & collaborating over a white/blackboard in a room was still missing though.
Miro, formerly the RealtimeBoard, is the answer to all the collaboration woes of distributed teams. Miro is a digital whiteboard with super cool features, and it can be seamlessly integrated with many widely used applications.
Miro—Collaboration without constraints
Miro is a digital whiteboard which allows for brainstorming or managing a project on a single board with a cross-office team. To set up, the user needs to create a team and add members to it. The whole team can then create boards and collaborate with ease.
Planning, discussions, and status meetings:
Miro has a wide range of use cases like Agile Management, UX Design, Diagramming, Innovation and Ideas, Business Analysis and Strategy, etc. Each use case contains numerous templates; for example, the Agile Management use case has templates for Scrum\Kanban board, PI Planning, Retrospective, Product Road map, etc.
Planning your work, discussing the risks or issues, and tracking the status will become easier if you create boards using the pre-defined templates.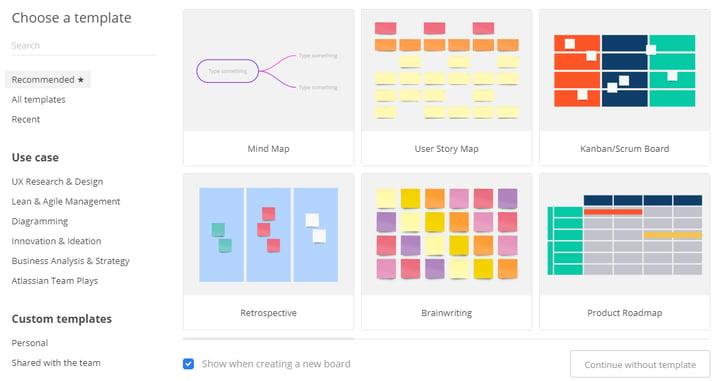 In case you want to create a template for your specific needs, you can do that as well by converting any of your boards to a template.
Collaboration and Communication:
Team members can simultaneously make changes on the board just like working on a physical whiteboard.
You can chat on the board in real time. You can draw the attention of any team member who is at a different time zone at any place on the board by just typing @"name."
You can see different team members making live changes to the board and using the activity log; you can also find out "who" modified "what" on the board.
The board is automatically saved and can be exported to various formats such as JPEG, PDF,CSV, etc.,for different people and all team members. It can also be attached to a Jira ticket in your Jira application and can be modified or viewed from Jira itself.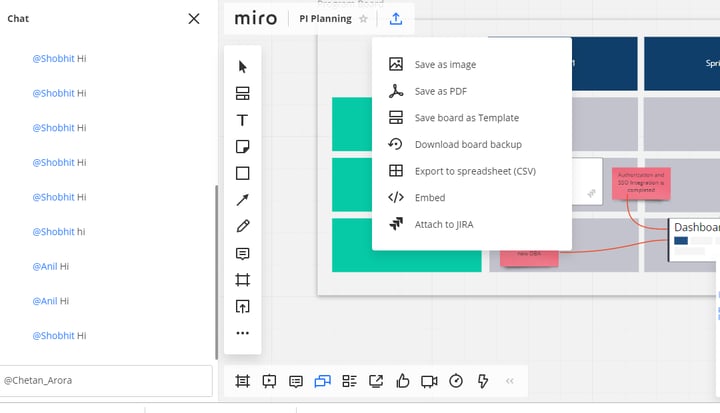 Tools and Integration:
Miro has a variety of tools such as pen, stickies of different shapes, frames, chat, activity log, etc., to assist you in creating boards for visual collaboration as per your specific needs. You can draw, write, use arrows to show the flow, use stickies of different colors to depict different states or scenarios such as work in progress, issues, risks, dependencies, etc.
Integration with various applications such as JIRA, Microsoft Teams, Slack, Google Drive, etc., makes visual collaboration amazing as everything is visible at one place, i.e., on your Miro board.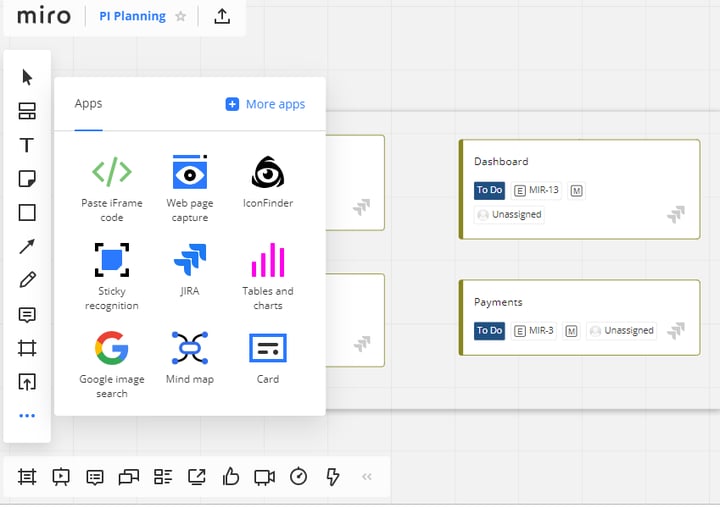 For example, integrated Jira Cards app helps convert stickies on the board to Jira tickets, and Jira tickets from Jira software can be imported onto the Miro board with the exact description and status.
Also, videos, images, and various documents can be imported onto the board for display.
Support and Tips:
Miro provides great support to all the queries, and its response time is quick as per my experience and reviews on the internet. Further, Miro has a detailed list of FAQs to help its users. With a section on helpful tips and demo, working with Miro becomes a cakewalk.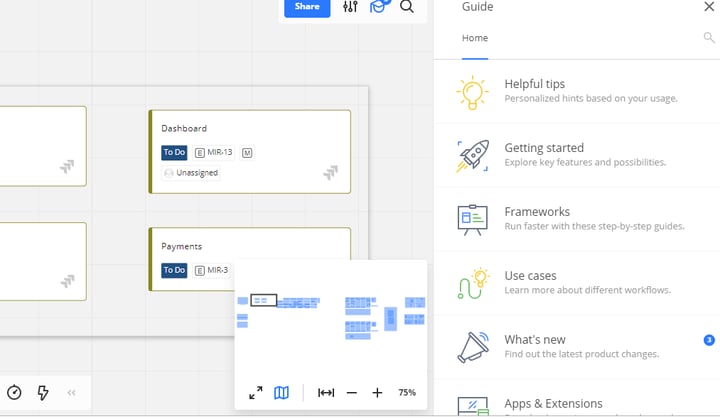 Miro has certainly made the collaboration between distributed teams much simpler. Also, the Miro team comes up with new features and integration every now and then. Unquestionably, Miro is the next big thing for enabling distributed team collaboration in agile.