Any established automotive OEM needs around 30,000 parts and components shipped by 5000+ suppliers to make an automotive vehicle. Suppliers ship these parts in roughly 2,50,000 containers each year to the OEM's manufacturing plants at various locations. Managing these supply chains with such large volumes, global spread and multiple tiers is not an easy task for even the most experienced OEMs.
Beyond the predictable complexity, situations like the current COVID crisis create new and vast challenges. The following capture some of the challenges faced by the automotive industry:
Going after cost reduction on a global scale led to part and component supply disruptions that were impossible to mitigate. Further, the asset-heavy nature of automotive production caused huge losses due to the sudden reduction in demand, overall contracting the global car sales volume by 14.8% from 2019 to 2020.
The semiconductor chip shortage highlighted the lack of proactive demand planning and the risks of consolidating production with a handful of players. It is expected that chip shortage will lead to a loss of 7.7 million units of production globally, which is roughly 210 billion dollars in losses.
When the container ship Ever Given blocked the Suez Canal in March 2021, it further exposed the vulnerability of the complex automotive value chain.
The severe impact of these disruptions could be due to:
Lack of demand and supply visibility across the value chain
Short-sighted planning practices at each supply chain tier
Lack of trust among the partners
This happens due to a lack of real-time information flow across the supply chain. At each tier, decision-making is based on limited information from the closest tiers and not from the end-users.
What is the solution?
Automotive industry players must collaborate and sustainably resolve these problems. The stakeholders in the supply chain need to create a common communication and data transfer methodology, while ensuring data privacy, data quality, and equality in data sharing norms. Attempts to create such a methodology have been initiated globally. For example, AutoSphere is a community (which includes Honda, Toyota, FCA, GM, and Nissan) with a common set of processes and databases to manage supply chain interactions. A third-party technology provider manages the data, its collection, sharing, and security.
In this article, we will discuss a similar initiative called Catena-X which is trying to bridge the gap in communication across the automotive industry.
The Catena-X automotive network
Catena-X was founded in March 2021 by prominent European automotive and affiliated industry players, including BMW, Volkswagen, Mercedes-Benz, Robert Bosch, Siemens, SAP, and ZF Friedrichshafen.
It is an extensible ecosystem in which automotive manufacturers and suppliers, dealer associations, and equipment suppliers (including the providers of applications, platforms, and infrastructure) can participate equally.
Catena-X is a large-scale deployment of the GAIA-X initiative and follows the standard infrastructure laid down by the International Data Space Association (IDSA). This will enable a decentralized system with equal access to every network member.
The initiative aims to:
Increase the competitiveness of the automotive industry
Drive efficiencies through data and processes standardizations
Promote industry cooperation, enabling data access to all, especially SMEs who lack resources for the same
The benefits of the network come from its ability to 'track things' moving across the distributed supply chain, such as:
Enhanced traceability and transparency
Increased operational efficiency
Simplified data management
Faster response times to disruptions
Better forecasting and planning
Optimized asset utilization
The data chain network members have identified five focus areas:
1. Quality management
2. Logistics
3. Maintenance
4. Supply chain
5. Sustainability
Implementation planning of the selected top priority use cases (in these areas) has already begun. Traceability of hardware and software components, which will help comply with Germany's new Supply Chain Act is one such use case, and compliance to standards requiring ascertaining the CO2 footprint across the supply chain is another.
Key challenges for cross-industry data networks
Cross-industry networks require massive cooperation and synchronization among the members. To stay competitive in the dynamic automotive market and to ensure successful implementation, it is essential to overcome multiple hurdles.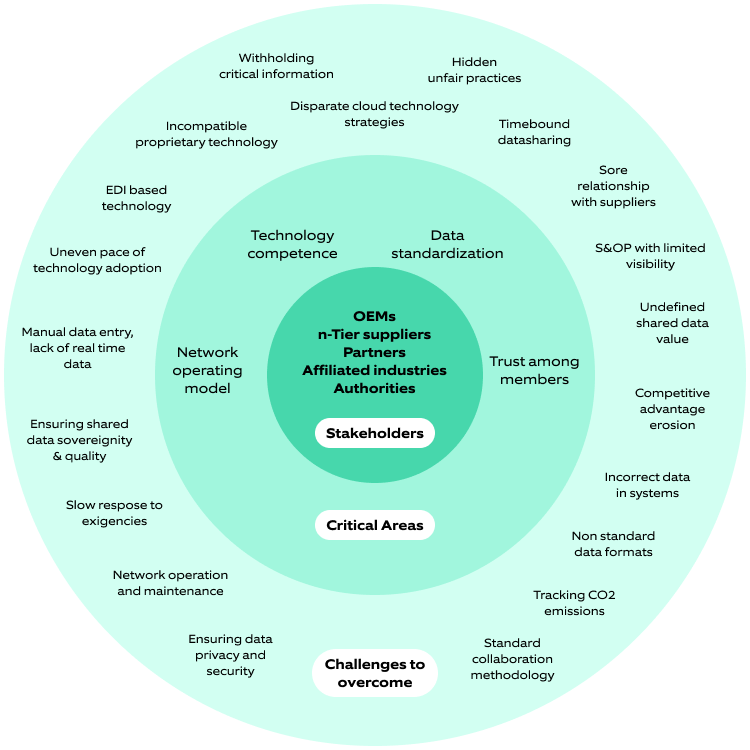 Figure 1: Key challenges that cross-industry data networks must resolve
Technology competence: Many of the data exchange technologies currently used in the industry use the EDI standard as a base, which lacks the sophistication for real-time information exchange. Its limited capabilities are commonly used to share basic forecasts, order status, and delivery schedules. It is riddled with multiple formats for information sharing. Moreover, the players in the industry use customized technologies which further adds to the challenge of standardized data exchange across players. Digital transformation is essential to progress and build the following capabilities:
Connect discrete systems for real-time information availability
Ensure all members adhere to the cybersecurity requirements
Maintain data sovereignty and quality while transfer across the value chain
Trust among members: In an open network, trust between the members is paramount. The sensitive nature of the data being shared adds to the risks and a reluctance to share. For example, the sharer might think that the data can provide an undue competitive advantage or reveal the company's working details. A lack of trust can also lead to concerns regarding data authenticity. Members may not want to integrate their management systems with external players, making them dependent on their systems.
It is important to identify the incentives behind data sharing. Ensure that focus is given to the following factors to build trust and transparency among the network members:
Functional factors (type of shared data, its usage)
Legal factors (acceptance of sharing and usage terms)
Quality factors (internal checks and balances to ensure data quality)
Operational factors (governance, maintenance, and security of the data-sharing platform)
Data standardization: There is a lack of standardization of key performance indicators across the industry tiers. This variation is caused by multiple factors such as:
Production methods based on component design and the raw material used
Lessons learned and improvements made during the organization's history
Production location affects various factors such as the availability of raw materials and transportation of finished goods
Organization's strategy for growth and expansion
For such a network to run smoothly, it is important to identify the information to be collected and shared within the network. This demands extensive collaboration among the members.
Network operating model: The network's governance and operating model is also a major challenge as the network should run without actual or perceived bias. If entrusted to the bigger or founding members, it may lead to lack of confidence in the model amongst smaller players. If a third-party service provider takes over the handling, members might feel that critical industry information is going beyond their control. If the task is assigned to a separate entity formed by member representatives, establishing a democratic methodology to prioritize service and product development becomes essential. Whichever method is chosen, it must ensure:
Effective data management across its lifecycle
Ability to identify and extract value from the data in a beneficial way for all the members
Provide access and sharing rights to relevant and authorized members without bias
Strategic focus areas for the members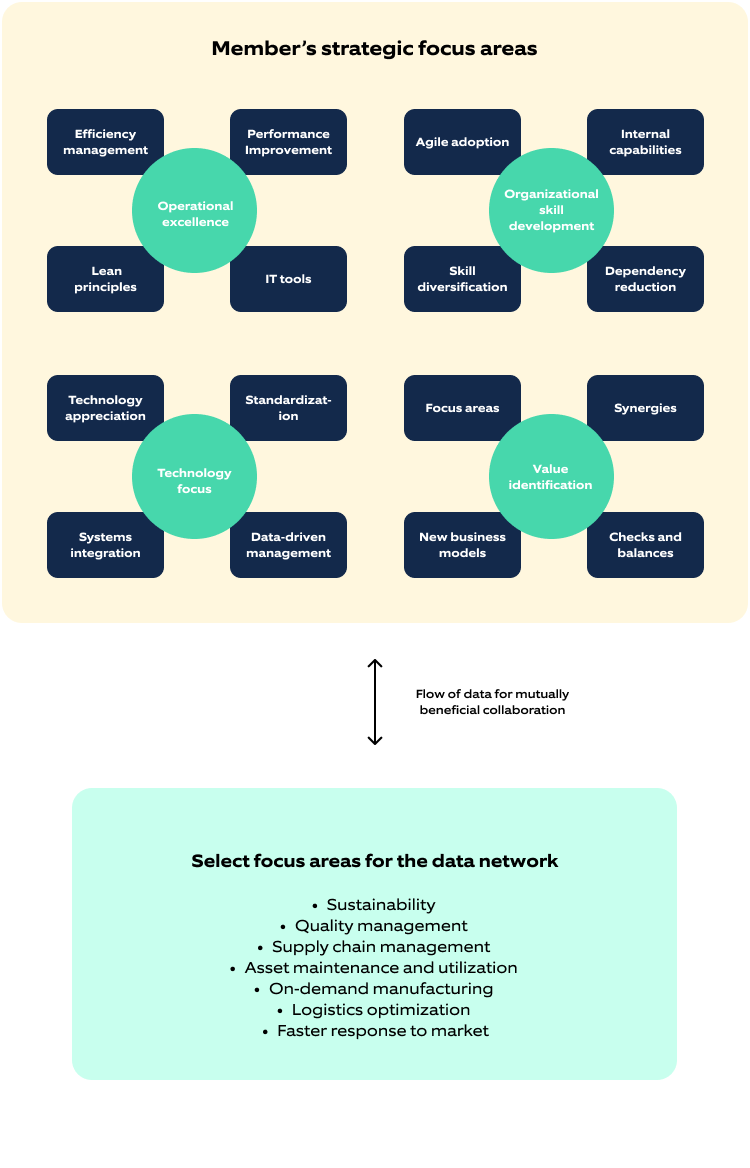 Figure 2: Areas that need to be developed to realize the benefits from a data network membership
Industry initiatives like Catena-X will be able to solve contemporary supply chain concerns such as:
traceability across value chains
coordination for forecasting and planning
shorter response time to exigencies such as extreme weather or labor unrests
Players looking to join these initiatives must develop the following capabilities in order to reap the maximum benefit from their membership:
Operational excellence: Implement an approach focused on efficiency management and performance improvement. Apply lean manufacturing principles through a data-driven approach by leveraging technology. This would set the groundwork for Industry 4.0 implementation. Utilize IT tools to ensure business continuity by proactively developing contingency planning expertise.
Organizational skill development: Shed the traditional hierarchical mindset and adopt agile working. Focus on skill enhancement and diversification to create a workforce ready to take on non-traditional technology players entering the automotive market. This will reduce external dependencies and ensure minimal outsourcing of critical processes for business continuity, especially in key differentiating services such as connected vehicle offerings.
Technological focus: Build competencies around contemporary and emerging technologies in the automotive industry, such as cloud, artificial intelligence, and big data. Promote organizational acceptance and appreciation to increase software-driven operations management and improvements. Standardizing enterprise management systems across locations & functions and integrating real-time operations data creation & sharing will improve internal efficiency in multiple ways. The automotive industry players must envision themselves as software companies, which consider data as their most valuable asset.
Value identification: Ascertain the value that can be generated from network membership. Identify specific areas in key domains that will benefit, such as S&OP processes in supply chain management or defect tracing in quality management, and create a strategic roadmap to achieve those benefits. Create checks and balances that allow free participation while maintaining data privacy, oversight, and quality for outgoing and incoming data. This will help realize new business models and synergies in the value network. Creating this framework beforehand will significantly jumpstart the potential members' journey towards value realization.
Outlook and opportunities
The automotive industry needs collaborative efforts to compete with the non-traditional players entering the market. Open data exchange will generate efficiencies and innovations to overcome the disruptions of ACES (autonomous, connected, electrified, and shared) trends. It will require a massive structural shift in the industry, which is traditional, rigid, and riddled with legacy.
Traditional OEMs and other players have now started their journey. According to a recent Capgemini survey , at least 60% of the surveyed organizations plan to increase data sharing within their ecosystem. Data sharing in a member network can have significant benefits in:
efficient production planning
inventory control
transportation
quality
According to McKinsey , integrated planning alone can generate 20-25 Billion Euros for the automotive industry due to production efficiencies driven by fewer changeovers, stable operations, fewer shortages, and early warning signs.
Cross-industry data networks are now creating intelligent supply chains . One can even imagine that in the future, data will always become available to the network members. For example, data around capacity constraints, stock levels, and quality performance will become available to relevant members upon placing an order. Everything will be tracked in real-time. This will allow members to manage their capacity efficiently. They will need to handle only the exceptions to standard processes, realizing extreme improvements in asset utilization, performance, and service levels. One can almost feel the true implementation of Industry 4.0 and integrated supply chains becoming a reality sooner than later.
Nagarro is a trusted digital engineering partner to several global automotive OEMs, mobility service providers and global automotive suppliers. We help them move forward on their digital transformation journeys by conceptualizing and implementing their data strategy. Our data-driven approach leverages AI to enable effective decision-making and reduce uncertainties in multiple areas such as inventory optimization, demand forecasting, and reverse logistics. With our cloud technology-based IoT solutions, we help in asset tracking and tracing, leading to better utilization of resources.
If you would like to know more about our capabilities, please contact us.