Imagine you order a new phone and excitingly wait for it to arrive. The package finally arrives, and you unbox it only to find out that the phone won't turn on. After several attempts to start the phone, you call customer care and ask for an exchange or refund, they oblige. Days later, the broken phone is still sitting in your house, and its replacement has not arrived yet. You reach out to customer care again and ask them to expedite the process. But the person on the other end isn't aware of your issue, so you must go through the entire customer verification process all over again, leaving you feeling agitated and annoyed.
At that moment, you swear not to buy anything from that website again. And go on to tell your friends and family about this bitter experience. Granted, you lost time and your temper in this exchange, but the company is the bigger loser. Lack of knowledge about a customer often causes such cases of customer disappointment, causing customer attrition. By the time you finish reading this article, multiple organizations will have lost their valuable customers because they didn't know their customers well enough.
It isn't due to the lack of customer data that organizations fail in similar situations; it is due to mismanagement of the customer database. In today's digital age, almost every organization sits on a pile of data collected through several customer touchpoints. All they need to do is to tap into the power of this data. However, it sits in different locations and is accessible to only a few teams limiting its proper utilization.
To anticipate customers' product/service requirements and deliver solutions that exceed their expectations requires organizations to have an enterprise-level view of the customer data. Enters customer 360, a concept that refers to getting a single view of customer data from their acquisition to post-sales support through the customer lifecycle. It covers all kinds of customer data, such as customer demographics, customer relationship management (CRM), social media, eCommerce, marketing, sales, customer service, mobile apps, and any other customer touchpoints.
Customer 360 is (not) a greenhorn!
The concept of Customer 360 has been around for almost three decades. Tom Siebel of Siebel systems introduced this concept in the 1990s. It was a time of mergers and acquisitions, and companies didn't have a holistic view of their customers. Siebel hoped that with the concept of customer 360, companies would analyze the ever-growing data lake to unlock valuable insights. However, eventually, companies started dumping all the data from multiple systems into a single-window under the name of customer 360 and expecting the magic to unfold.
Over time, customer 360 solutions evolved and took different names, such as customer data platforms (CDPs), data management platforms (DMPs), master data management (MDMs), and customer relationship management (CRMs). These systems are all trying to solve the problem and better understand the customer to serve them better, but most organizations still fail to deliver a satisfactory customer experience.
Cracking the code for a successful Customer 360 strategy
Let's focus on why customer 360 fails and a solution that can help companies get a holistic view of the customer data. The CDPs, DMPs, MDMs, and CRMs have indeed been able to bring data from multiple sources onto the single window in some capacity or other but what they have been lagging is some crucial elements to understand the customers such as:
Uncover the correct data and insights
Generate recommendations to the sales team
Anticipate post-purchase actions
Automate the actions
GDPR compliances
Due to their inability to meet these essential requirements, most Customer 360 solutions fail to unlock the true potential of data. That is not to say that organizations cannot ever achieve the real value of this age-old concept. Many organizations have come very close to unlocking the full potential of customer 360 with customer relationship management. CRM adds value to Customer 360 across functions such as sales, service marketing, commerce, and more. But all is not that rosy even with CRMs. A Forrester study suggests that only a quarter of respondents believe their CRM system(s) provide them with a single source of truth about their customers. This is the case even though 80% said the functionality would be significantly valuable in delivering the types of customer experiences that drive competitive advantage.
Customer 360 - The secret ingredient for the right CRM strategy – Salesforce
Salesforce Customer 360 is a Cloud-based solution that allows organizations to offer their customer fully personalized services by giving them an enterprise-level view of customer data. It brings together different modules such as Einstein AI, Sales Cloud, Marketing Cloud, Service Cloud, and automation.
CRM powered by Einstein AI offers a Customer 360 that provides a unified view of customers' data from various functions like sales, service, marketing, analytics, external systems, and more. It brings together all the relevant details and AI-driven capabilities to help businesses offer a personalized customer experience.
Using the Sales Cloud by Salesforce, we can have the customer's critical personnel information and their title and contact details and preferences, pipeline view with stage, amount, and date. For a particular customer, we can also see the previous orders. Along with orders, Salesforce Cloud also captures customer assets details. Various vital information such as competitor insights and data from third-party systems such as ERP can be managed in a single unified view via API integration.

Imagine the power if your sales rep has the required next best action recommended right in front of them for every sales prospect. Add to it the power of the Salesforce platform and automation, where you can automate tasks such as emails, data entry, and follow-ups. Salesforce offers low code enablers such as flows and allows custom development on its platform that helps businesses achieve automation and setup processes as per business conditions, personas, and compliances.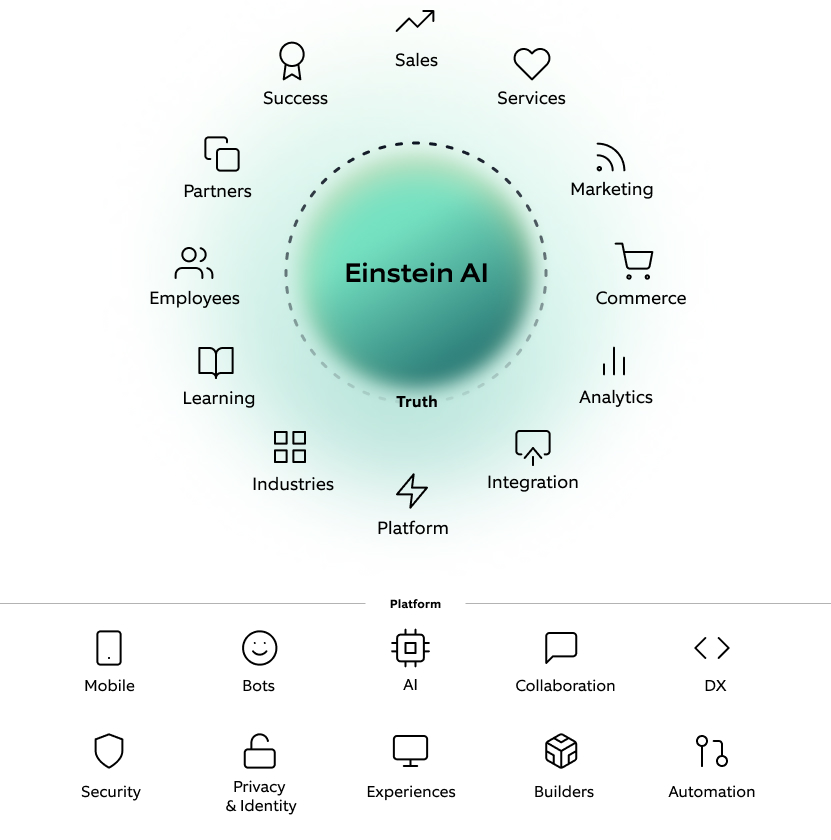 Similarly, with Service Cloud by Salesforce, we can have the necessary details about the cases customer has raised and all the related interactions. When the service agent gets a call from the customer, they can directly go to the customer record and see details about the previous cases and the facts that the sales team has captured.
The marketing team can benefit immensely from Salesforce Customer 360 by utilizing all the customer information to create relevant, engaging, and personalized campaigns. This would result in higher conversion rates and better ROI. Also marketing team, by analyzing all the purchase history, can create the segmented customers and plan the campaigns accordingly.
We can capture more customer information from other clouds such as Experience Cloud, Commerce Cloud, CPQ, Field Service as per the business requirement. With its GDPR compliance capability, Salesforce CRM covers you on the compliance front, too – thereby making it an excellent solution for Customer 360 needs.
Benefits of Salesforce Customer 360 view
Customer centricity: Customer is at the very core of Customer 360, and when you adopt Salesforce Customer 360, you are embracing customer-centricity, meaning all the critical information such as contact personals, related pipeline, assets, orders, cases, transactions are visible on a single unified screen.
Business functions alignment: Unless all the business functions and departments have the same orientation and alignment, customer satisfaction is highly unlikely. A customer 360 solution ensures that all business functions are aligned.
Insightful analytics: Salesforce Customer 360 enables all departments to collate and collaborate on customer-specific interactions and information leading to a high-quality data repository. With the help of analytics, this data turns into insights that help senior management better understand customer behavior and their buying patterns.
Seamless integration: With a customer 360 solution powered API, you get all the information right at the center, resulting in quicker response time and helping team members focus on their core job of sales, customer support, and more.
Drives loyalty: A Salesforce Customer 360 solution enables personalized experiences to the customer, making them feel important. This drives customer retention rates and loyalty and eventually turns them into your brand's advocates.
Upwards and onwards toward customer delight
No matter which industry we pick, the customer is always the king. For a successful business, it is crucial to deliver customer value through an enriched experience. Salesforce Customer 360 does just that. We at Nagarro, with our Salesforce expertise and years of industrial consultancy experience, ensure that our customers do not blindly chase customer 360. Instead, we help them focus on their use cases and scenarios, define their customer 360, identify the information/ insight and automation that each team needs, and then engineer the way to achieve those data points.

For instance, Nagarro was onboarded as a technology partner for a leading logistics service provider to build a customer-centric Digital Freight Marketplace that leverages technology and process innovation to provide high-velocity, end-to-end solutions – from planning to booking to tracking. This comprehensive, progressive transformation effort has enabled the client to create a 360-degree customer view by seamlessly connecting with various landscape applications and has brought significant change in both commercial and operational processes. This engagement resulted in a 70% reduction in shipment booking time, digitalized sales lifecycle, and new-age digital service channels.
So next time you think of your customer. Think customer 360. Think Nagarro.