We help organizations with agile transformations, introducing and/or applying agile practices, also ensuring the development of new or less experienced Scrum Masters and Agile Coaches. We support them in various knowledge and skill areas helping them learn and try out new methods of the agile methodology. We apply practices that we have used to successfully further the development of our very own Nagarro coaches. In this article we would like to give you insights into how we do this in a tangible and concrete way.
Maturity assessment
Everyone brings different experiences, different strengths, and weaknesses. The requirement profile for an Agile Coach is high. Apart from exceptional experts, no one covers all possible areas of responsibility equally well. Some prefer to be all-rounders, others concentrate on specific areas. We combine several elements for the assessment, a self-assessment as the basis of the development plan. One of them is the Agile Coaching Competency Framework by Lyssa Adkins.
Agile Coaching Competency Framework by Lyssa Adkins
This framework has three specializations for expertise – technology, business, transformation – and four basic skills – teaching, mentoring, professional coaching, facilitation.
All you need for self-assessment in the analogue world is a pencil to draw lines.

Which of the areas do I cover better, which less?
In which areas do I want to learn more?
Seven types of Agile Coaches" by Els Verkaik
Besides knowledge and skills, personality is just as important:
Who am I?
How do I interact with my environment?
Which types embody our preferred behavior?
Els Verkaik, Agile Coach from the Netherlands, has developed a model with seven types of Agile Coaches. It helps us to recognize which main characteristics define us, and – it's fun!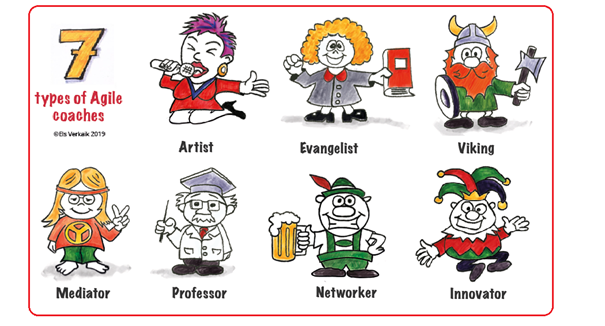 Overview & open questions
As a starting point, each team member creates an overview in which they make the assessments mentioned above and answers a few more questions:
What does agility mean to me?
Which agile model do I prefer?
Why do I think I am suitable as an agile coach?
What would I like to improve about myself?
If we do this exercise with a team of Scrum Masters or Agile Coaches, we very quickly get an overview of who brings which skills, strengths and personalities, which resources are available within the team that can be used in the daily work, in the application of methods, for ideas or reflecting on difficult situations.
This is an example of a canvas that you can use to bring all parts together: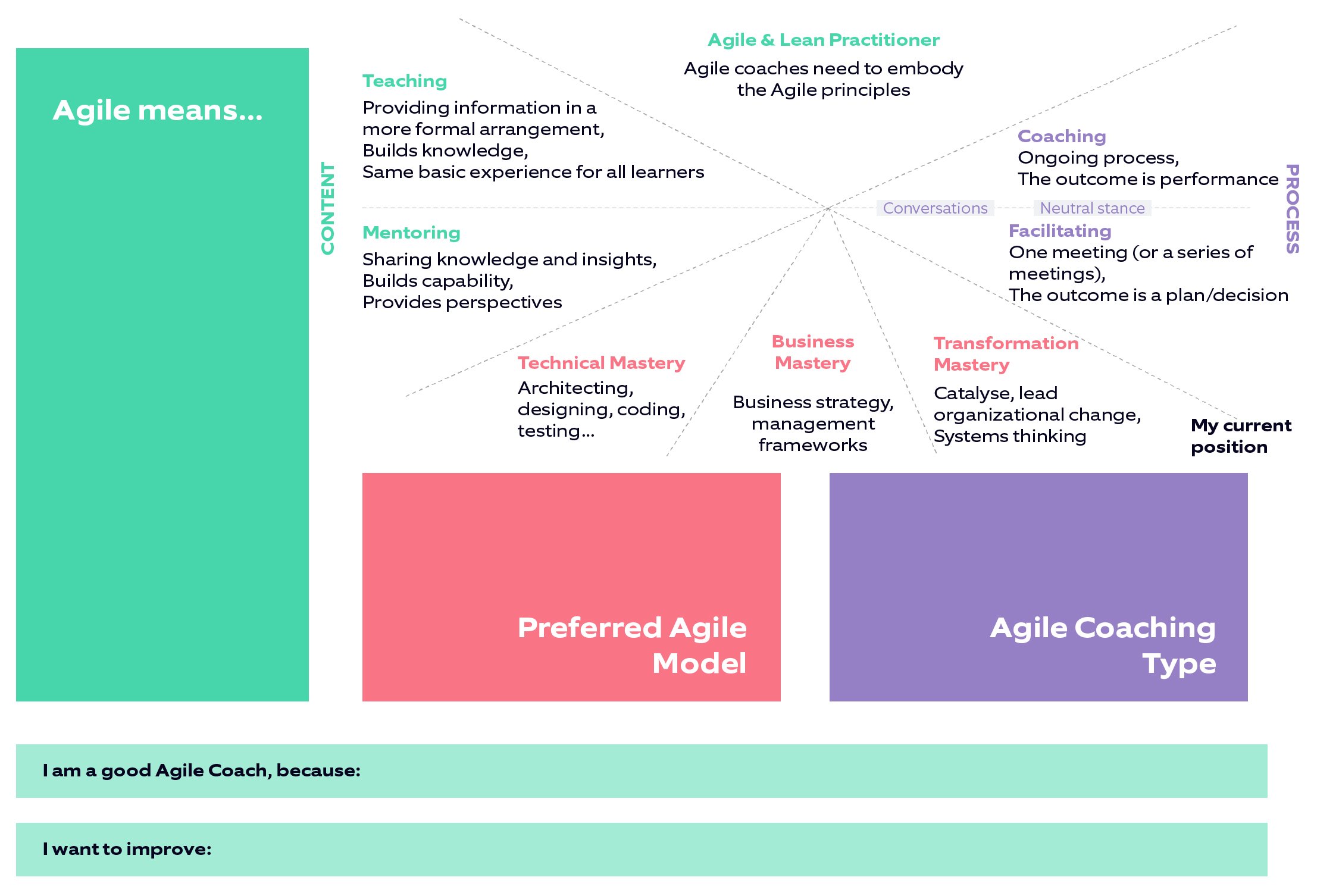 Continuous development of Scrum Masters and Agile Coaches
This assessment allows us to learn a lot about our team. We learn who wants to focus on their personal development in the near future, let's say for example in the period of about a year, in which areas they want to gain knowledge and how. This development is geared towards the persons desires to learn, reinforced by mentoring and feedback from more experienced coaches and also by attending events and trainings, reading books or writing articles.
We would like to introduce two more measures that we use on an ongoing basis:
Experience exchange
Case consultation
Experience exchange
Is a format with which we, at Nagarro, specifically support knowledge building. A regular meeting, in our case every fortnight, where one of the group presents a topic, teaches theory, encourages exchange, facilitating discussions and learnings from each other.
This enables us to build up a repository of ideas. We know the areas where everyone wants to know more and concretize the content, e.g., the new Scrum Guide, host leadership, specifics of Jira, different scaling models, questioning techniques, the range is wide. If someone lacks ideas for this, one can orientate oneself on learning roadmaps of agile associations, such as the Agile Coaching Track of IC Agile (International Consortium for Agile).
The advantage of the Experience Exchange is obvious: the content can be individually adapted at any time, we can respond to current wishes. The time Experience Exchange requires is manageable, and each of the invitees should contribute.
Case consultation
The last retrospectives with a development team didn't go very well? As a Scrum Master or Agile Coach, I don't know what else to try with a particular conflict? Let's use the diversity of the existing Scrum Master or Agile Coaching team to gain new insights into a problem.
How does something like this work? The case giver describes his problem situation, then everyone present asks comprehension questions to make sure they have understood the problem. Now the others act as advisors and first describe their impressions of what the description triggers in them, what feelings or hypotheses arise in them. In this phase there is no search for a solution.
The caseworker listens and takes notes, which he can also refer to later. After everyone has had a turn, he gives brief feedback on what he could do with or what went in the wrong direction. Now the collection of suggestions for solutions begins, whereby the case giver again only listens and does not take part in the discussion. At the end, he again gives feedback on which suggestions were helpful for him, which new aspects he can take away.
The beauty of the format is that all participants learn from each other, discovering what approaches and possibilities exist to deal with this situation.
These are just a few examples of how we support the Scrum Masters and Agile Coaches of our clients in their further development. I hope this was of interest to you. What other methods do you use to help your Agile Coaching team in their personal growth? Let's talk!