Have you noticed a reduction in the number of people reading newspapers when you commute to work? Do you think your business is getting impacted because more people are reading online as opposed to offline? If your answer to any of the above questions is yes, then paywall is the need of the hour.
With the advancements in technology and changes in consumer behavior, people are increasingly opting for the digital medium to access content. This shift has resulted in a decline in print sales and consequently, the revenue. Now, the lion's share of ad revenues is taken by aggregators or tech platforms.
The alternatives for digital growth and revenue generation - paywall, digital advertisements, data collection, etc. – are being conceptualized, this calls for a new business model for digital journalism.
Content paywall: An overview
Paywall is a way of restricting content access through a purchase or subscription. It is like a security wall which offers a steady source of revenue by requiring the users to pay for accessing the content digitally. However, a content paywall comes with its own opportunities and obstacles, and must be considered thoroughly before being implemented.
Paywall implementation: Factors to consider
Paywall implementation is based on many factors, such as audience segmentation strategy, content quality and uniqueness, and the time of launching the paywall.
As per a survey by Statista, the revenue from digital subscription is predicted to grow continuously, year by year. The future of subscription looks promising.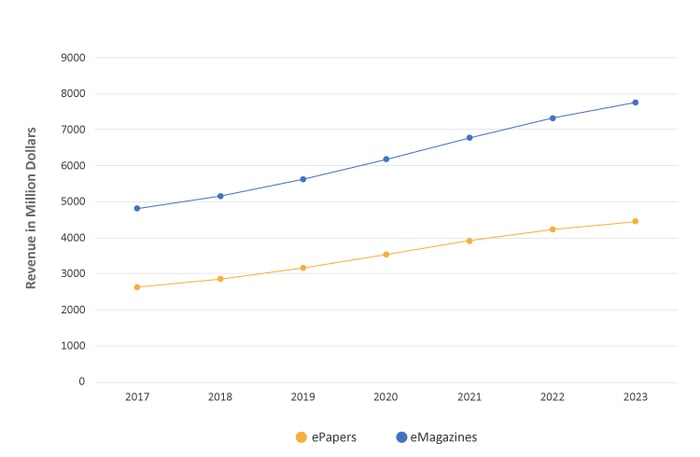 Forecast of ePublishing revenue worldwide

Subscription strategy: A must-have before a content paywall
For years, readers have paid for getting newspapers delivered to their house. Now, the medium of delivery has changed to digital. The same amount or even more journalistic effort goes into providing reliable information to the users through the web as well as print pages. In fact, the easy availability of content from multiple sources, powered by viral media, makes the competition tougher, and this necessitates the need to have a subscription strategy before implementing a paywall. With improved digital literacy and ease of access, the number of online subscribers has only been increasing, and will continue to do so.
Content paywall: The types
There are several types of paywall which can be implemented, and selection of the type depends on your business goals.
Each content paywall serves a unique purpose. You can select the right paywall for you by understanding which of these meets your requirements:
Hard Paywall – Displays the article heading or a few initial, teaser lines and rest of the content is behind paywall.
Soft Paywall – Allows access to some articles freely which can be based on the count or the content. It can be of the following types:
Freemium – Certain articles are accessible without payment, whereas the premium content is kept behind the paywall.
Metered – A count is set for the number of free articles that can be viewed in a day/week/month and the reader is charged after the articles cross that threshold.
Dynamic Paywall – Subscription plans are tailored to different subsets of audiences, as per their interests, online behavior, and price sensitivity.
If we visualize the scenario, and by relating it to the media value chain – which comprises content creation, selection & certification, production, distribution, and consumption - it is evident that the users are shifting from being mere readers to being content consumers.
Users have now become the focal point in the media value chain. It has, therefore, become more important than ever, to deliver the content on their preferred time and through their chosen medium. Time has become more valuable, and users want an enhanced experience; hence, personalization and ease of use have emerged as the differentiators today.
Subscription paywall: A look at the major players
Wall Street Journal implemented a paywall in 1997, and with improvements, they have been able to reap increasing benefits even after 20 years. From beginning with a freemium model to creating a customized experience for each stage of user journey, they have done it all. They have built a propensity model that generates a score based on 60+ variables, and the customer interaction is planned accordingly. This means that a user's suggested articles are derived based on his/her reading habits. Similarly, the New York Times implemented a paywall in March 2011, and the number of subscribers increased from 1.5 million to 2.5 million within 18 months.
Creating a subscription paywall requires a mix of revenue strategy, business execution, and technological implementation. While a lot depends on the user's habits, premium content and an enthralling user experience are essential to drive users to connect more. A strategy that is flexible enough to cater to the different segments is a prerequisite as consistently relevant and quality content is the key to achieving loyalty. In order to be successful, define your north star metrics and drive your analytics (engagement and revenue) through it.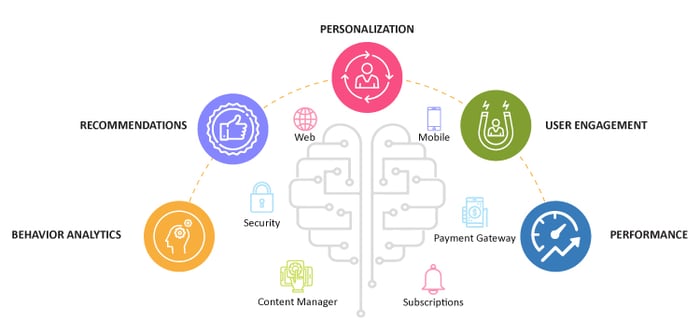 Paywall Components

The right paywall solution: Factors to be considered
Though the north star metrics depend heavily on strategy and implementation, it is equally important to have the right paywall solution. Before embarking on your content paywall solution, you must consider the following factors:
Ease of set-up – What looks like a single newspaper or one magazine at the front end, fetches content from multiple CMS and caters to the data in several CRMs
Flexibility – Paywall should be agile enough to support the changes
Scalability – With learnings about consumers and factors driving subscription, it should be easy to scale the paywall system
Security – Given the leaks in paywall and integration to payment gateways, there is no room for any leeway on security
Bottom line: Efficient delivery is the key
Only having the right solution is not enough; efficient delivery is what makes it a complete package. Having reliable and premium content, packaging the right content at the optimum prices, seamless onboarding process, monitoring propensity, and understanding and managing the churn, makes for an irresistible suite of offerings.
In our opinion, paywalls and subscriptions have benefits for both publishers and subscribers. Publishers will have a more engaged and informed audience. They will also gain a competitive edge over others with an added source of revenue. On the other hand, loyal customers will enjoy a seamless experience.
What are your thoughts about paywalls? We'd love to know more. Please share your views on the effectiveness of content paywalls for digital media.
Get to know about Nagarro's offerings in the Media and Publishing space here. For queries, please reach out to media.practice@nagarro.com.