Cloud is a big enabler of digital transformation as it facilitates innovation, scalability, and agility. Given the business value that it promises, the average cloud spending is steadily increasing. According to a McKinsey report, cloud spending grows as much as 20 to 30 percent yearly. As cloud costs increase, organizations must proactively seek cloud cost optimization methods.
In this blog, we dig deep into cloud cost optimization strategies for Microsoft Azure. From right-sizing virtual machines to leveraging Azure cost management tools, we will explore a wide range of actionable insights that can help you navigate the complex terrain of cloud cost optimization while maintaining high levels of performance and availability. Whether you're an Azure enthusiast seeking to optimize your existing cloud infrastructure or a newcomer preparing to embark on your cloud journey, your questions are answered here.
What is cloud cost optimization?
Cloud cost optimization reduces organizational cloud spending by identifying unmanaged resources, eliminating cost leakages, reserving computation and storage capacities for higher discounts, and rightsizing virtual machines to scale up and scale out. We recommend the following strategies to optimize cloud costs and reduce its cost of ownership.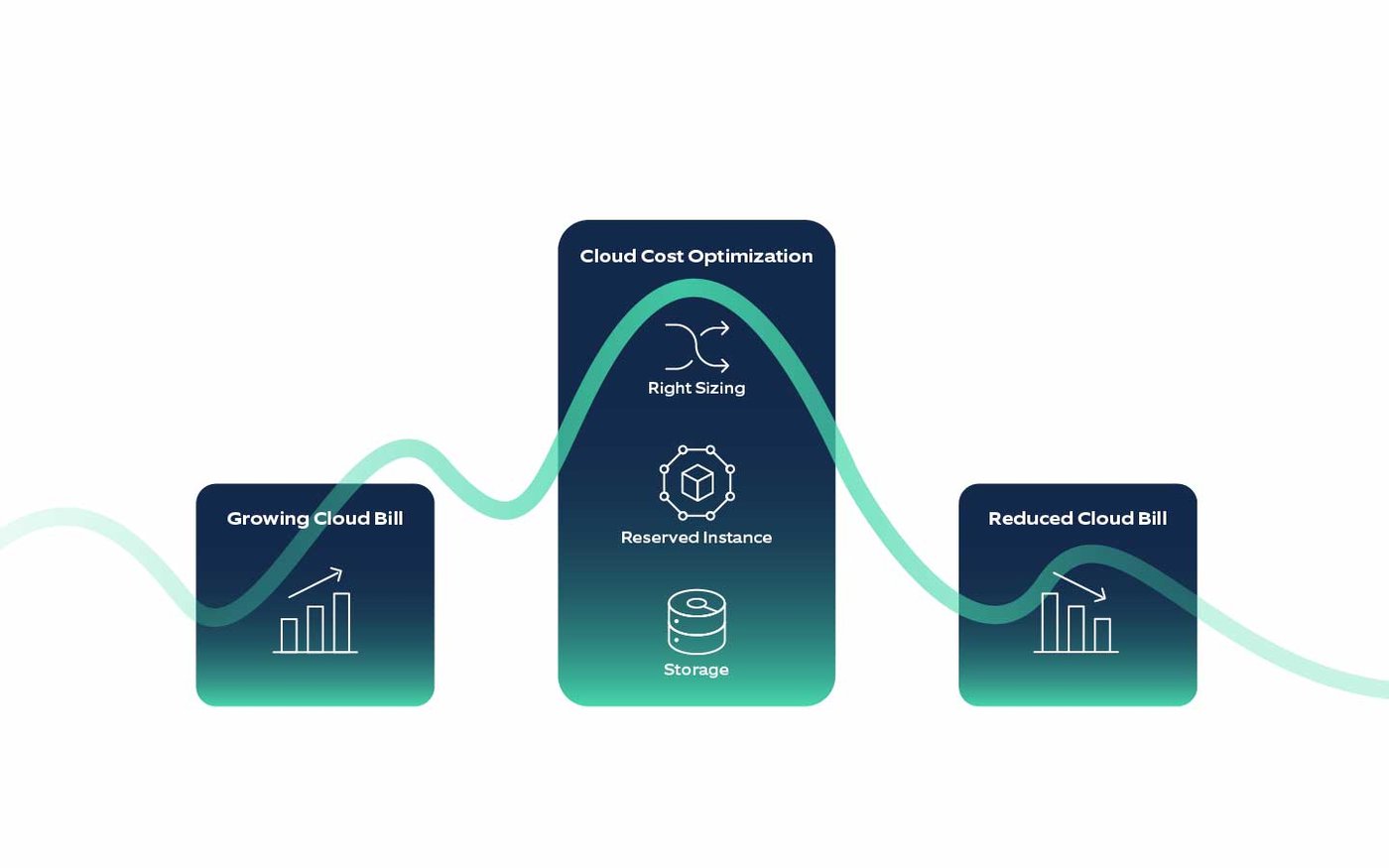 Define your cost management approach
The cost management approach requires constituting a team that defines and implements cost management guidelines. This team is usually responsible for the following activities:
Defining a process for resource provisioning
Defining a process for budgeting and cost allocation for different departments
Implementing the asset tagging policy to distribute cloud costs among projects and departments
Preparing cost estimation metrics to forecast overall cloud solution cost
(Organizations can use the pricing calculator for Azure Services (https://azure.microsoft.com/en-in/pricing/calculator) to estimate the costs of various services Microsoft provides in the different regions.)
Introducing cost management as a governance policy across the organization. The IT Governance Council of the organization should review the requirements of each team/individual/department before provisioning the cloud resources for them.
Use cost-reduction tools and techniques
Cost assessment is a vital cloud optimization strategy for organizations looking to tame their cloud costs. Some of the tools available for cloud optimization include the following:
Azure Advisor: Azure Advisor is an out-of-the-box service that helps optimize Azure deployments. It analyzes the resource configurations and usage telemetry to recommend ways of cost reduction, performance improvement, reliability, and security of the Azure resources.
Azure Cost Management: Azure Cost Management provides vital information about the overall resource costs and utilization. The solution is free and can help you set up the budgets for different services in a subscription. It helps organizations configure cost alerts to notify the concerned stakeholders if the costs exceed the budgeted amount. Most importantly, it provides a quick cost analysis of the usage across resources, resource groups, regions, subscriptions, etc. We strongly recommend using Azure Cost Management service to avoid cost surprises.
Azure Dev/Test Pricing: While configuring the different Azure Environments like Dev, Test, and Production, always consider Azure Dev/Test pricing. Azure Dev/Test pricing provides access to select Azure services for non-production workloads at highly discounted prices. This helps contain the costs of developing, running, and managing applications in the development and testing environment. The downside to this feature is that it only offers partial features as offered by the Production environments.
Right Sizing VMs and Enabling Auto Scaling: It is extremely important to select the right size of VMs[SP1] while configuring them. You must assess your computation and memory requirements and provision the lowest possible SKUs. It is also crucial to enable the auto-scaling feature for the VMs to scale up and down whenever needed.
Storage Tiering: Azure storage offers different access tiers for cost-effective data storage. Based on your requirements, you can pick from the following available storage tiers:
Hot tier: Storage option for frequently accessed or modified data. It has the highest storage costs but the lowest data access costs.
Cool tier: Storage option for data that is not frequently accessed or modified. Please note that data in the cool tier should be stored for a minimum of 30 days. It has lower storage costs but higher data access costs than the hot tier.
Cold tier: Cold tier is another available option for storing data that is not frequently accessed or modified. Please note that Data in the cool tier should be stored for a minimum of 90 days. It has lower storage costs but higher data access costs than the cool tier.
Archive tier –The archive tier is preferable for storing rarely accessed data. Storing data in the archive tier results in very low storage costs. However, data retrieval is expensive as compared to the above three tiers. Also, it may take hours to retrieve the archived data.
Use IaaS instead of Paas: Avoid using IaaS solutions if the PaaS services are available to address your solution requirements. IaaS services usually lead to a higher ownership cost than PaaS services.
Continuous cost monitoring
Cloud Cost Optimization is not a one-time activity; it's a continuous process that each organization must follow. Organizations can stay on top of their cloud costs by ensuring:
Regular cost checks and performance cost analyses

Setting up cost alerts in Azure Cost Management service
Periodic assessment incurred costs against the budgeted costs
In-depth analysis, custom reports, and dashboards by pulling Azure Cost Management data into Power BI
Control data egress
While giving access to the data stored on Azure Storage, you must always remember that Data Transfer In is Free. However, Data egress/ingress is not free. You are charged when data moves between or outside the data centers. Therefore, you must carefully plan the access to the data stored on the cloud. Ensure that users do not take an unrestricted download of high-volume data from Azure Storage.
It also helps to keep your resources and resource groups in the same data center to avoid data egress/ingress costs. For example, if you have a data platform project to be configured for the US region, you can create all Azure Services in the same region, say East US, East US 2, or West US.
Azure Services and the cost of the services vary from region to region. It is a good practice to check the availability of services and the related costs before deciding to configure your resources in any data center.
Invest in automated cost optimization solutions
These tools and techniques not only help you optimize your costs but also help anticipate and avoid any cost surprises related to cloud migration and implementation. In addition to leveraging the Out-Of-Box cost monitoring solutions offered by Azure Portal, you can invest in building custom solutions to automate the cost optimization process. We recommend leveraging machine learning techniques or models to detect the anomalies, predict cost spikes and generate cloud cost optimization recommendations.
With expanding need for cloud-based solutions, the challenge of uncontrolled cloud costs is rising for all organizations. Every enterprise must consider cost optimization techniques to control costs and extract the best from the available resources. The most crucial thing is to weave cost considerations into your cloud strategy from the very onset. It's the only way to ensure you don't undo one of the biggest cloud advantages – cost efficiency.