It's been more than a year since the pandemic impacted everyone's lives and changed our way of working. Left with barely any other alternatives, educational institutions have had to transition towards digital, blended learning. While allowing for a safer means of education, these solutions create a different challenge – are educational institutions equipped with the needed infrastructure to transition towards a digital education?
What is the role of a Learning Management System (LMS)?
An LMS is one of the core systems necessary for adopting a digital learning approach. Globally, institutes are trying to figure out the best criteria to select an ideal LMS.
With all the uncertainty around physical presence in schools and universities, LMS solutions can provide a seamless learning experience. Modern LMS solutions have various collaboration and engagement tools to engage learners and ease the transition to a flipped classroom environment. Online learning also provides learners with the flexibility to learn at their own pace, as courses are available around the clock. With many leading institutes switching to blended learning models, modern LMS solutions have facilitated remote learning in these uncertain times.
How to decide if an LMS is a good fit for my university/organization?
Most modern LMS systems focus heavily on providing the users with an interface to create and deliver content and share feedback on their learning progress. Many LMS providers offer unique features that might help a university/organization ensure that their learners derive maximum value from the LMS.
LMS requirements can vary due to various internal factors (including but not limited to):
How scalable are the operations of my organization?
Can I afford to put 'X' learning management systems in place?
Are the features in the LMS useful for my learners' requirements?
How much training content is required, how much digital content is available, etc.?
Is tracking my learners' progress important?
Are my learners and trainers ready to transition to digital learning?
Is the tech infrastructure in my organization ready to adopt this system?
Answering these questions will help an organization understand its LMS needs better. Here are some factors that recommend switching to a modern LMS system:
According to a study, 90% of students have a strong preference for online learning instead of classroom learning.
In the new normal, 66% of L&D professionals expect their companies to spend more on digital learning systems.
Mobile and internet usage is at an all-time high among students and young adults.

What are the features of an LMS, and how to identify what I need?
An important thing to note is that the solutions of most learning management system providers have their own unique features. The following diagram shows some standard features and innovative solutions within LMS solutions that one needs to look for when selecting an LMS.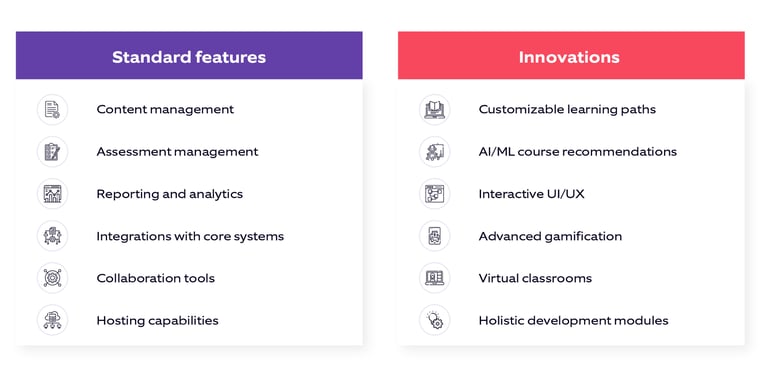 Remember, these features are not exhaustive. Most modern learning systems provide many more unique features to address either specific organization needs or large-scale new problems.
Do I need a customized LMS solution or an off-the-shelf product?
While both these options are viable and have their pros and cons, the answer largely depends on your organization's needs. In general, if your requirements are niche and organization-specific, go for a customized solution. In most other cases, consider a commercial off-the-shelf (COTS) product since they contain features that help solve the most commonly faced problems.
From a financial perspective, customized solutions provide more in-depth and long-term value in terms of ROI. For COTS products, even if you do not use the features, you still pay for them. Simply put, understand your specific challenges and goals to make this decision.
How do I evaluate different LMS solutions and partners?
Here are a few ways to figure out which LMS solution works best for you:

Perform an in-depth analysis of the extent of solutioning for your needs on a comparative basis and rank them to know which system fits your requirements best.
If needs cannot be identified, an alternate approach could be to ask different stakeholders (students, learners, tutors, admin) to try out these solutions. Based on their feedback, you can infer which solution/partner to choose.
A third approach could be to access LMS solutions based on your boundary conditions (budget, timelines, etc.) to decide which partner would be ideal.
How can Nagarro help?
Nagarro offers consulting services with its CARING approach of being client-centric and agile to help identify suitable LMS for schools, universities, and corporations. We can help you identify and successfully implement long-term LMS solutions to meet your business requirements.
Our extensive experience in the education sector can help you build long-term technology blueprints, best practices, and customized solutions. We enable you to identify the right technology partners to implement ERP, SIS, CRM, and other essential systems. Want to know more? Explore our offerings in the Education sector and get in touch with our experts!