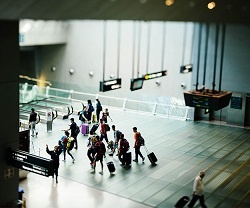 Our recent Business Breakfast in Vienna, Austria saw more than 100 guests engaged in conversations about the era of digitization. They talked about opportunities in various fields like artificial intelligence, blockchain, user experience, etc. We presented "The Future of IT" in collaboration with the visionary Dietmar Dahmen. Moreover, some guest speakers from our clients such as Vienna Airport, construction giant PORR, Austrian Postal Service, and Austrian Lottery shared their insights as well.
We had the opportunity to interview, Susanne Ebm, head of Information Systems division at Vienna Airport during the event. She gave her valuable insights on how digitization will transform not only the aviation industry but also the travel experience. Susanne talked about how they handle technological progress, and how it affects customer expectations and the overall "way of working."
Here are some excerpts from the interview.
1. Artificial Intelligence, Machine Learning, Natural Language Processing, Blockchain, IoT—are these just buzzwords or are these services and technologies the key to the future?
I would say that these technologies have become a reality and have already led to far-reaching changes. These new developments opened up undreamt-of-opportunities, and required reconsideration of existing structures, processes and business models.
2. Where do you see the most significant opportunities in your field and what will be the biggest challenge for your industry considering this rapid technological progress?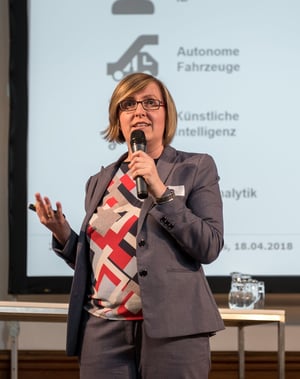 Biometric identification, artificial intelligence, and blockchain can fundamentally change the entire passenger journey in the future; not just in itself but in combination as well. The challenge lies in adherence to industry standards in close coordination and cooperation with national and international legislators.
3. What new technologies will you be using in your company in the future?
Among other things, we are using intelligent video analysis and biometric techniques to determine identity.
4. Along with new possibilities, customer expectations and requirements are also developing. Have you already noticed this and if so, in what areas?
More than ever, our customers expect a seamless and homogeneous travel experience. A worldwide IATA survey, with almost 11,000 participants, shows that about 64% of passengers would prefer a digital biometric identity that can be reused at all stages of their journey.
5. The keyword: "way of working": How does the workplace of the future look like in your company—the cooperation between and within teams, the division of roles?
The next generation is setting new standards in their expectations of everyday processes. The expansion of digital communication and collaboration platforms and the automation of recurring processes will certainly play a pivotal role. Above all, as the airport area expands, it creates a regional silos in daily collaboration activities. To utilize the potential of digitization, an agile structure is required which allows us to react quickly to customer requirements or digitization possibilities without hampering the stability of daily operations. The use of digitization potentially leads to an increase in relevance of ICT (Information and Communications Technology) components in plant construction, which means that operational systems such as a baggage conveyor systems must be integrated into ICT processes. Employees with ICT qualifications will therefore play a more important role in all areas of the company in the future.
6. Digitization is a broad term. Do you have any advice for other companies on where to start if they want to grow into a digital enterprise?
To be able to implement the possibilities of digitization, stable IT basics are required as a foundation. In my opinion, it is also essential that the organizations and processes are customer-centric since all activities must contribute to customer satisfaction. To this end, it is necessary to build IT know-how on the business processes of customers and to act as a competent and solution-oriented business partner. These prerequisites offer the possibility to understand the challenges and progress of the business and to develop optimal digitization strategies together with the customers.
7. Where do you see yourself in 20 years?
Good question! In 20 years, I hope to remain busy with exciting topics and challenges. IT is currently undergoing a change in perception and playing an increasingly important role in the successful strategic orientation of the company. For me, this means that I will continue to have significant windows of opportunities in the future, which I already appreciate today as part of my daily work.
Thank you very much for the interesting interview Mrs. Ebm!
About Susanne Ebm
After studying technical mathematics at the Technical University of Vienna with a focus on computer science, Susanne Ebm worked as a project manager in a large Austrian insurance company. For almost 10 years, she has been working in various positions at Vienna International Airport, including head of software development, responsible for handling major IT projects. Since 2013, she is heading IT, and besides reorganization, her current focus is digitization.