Article
30 May 2023
5 min read
Hospitality in the digital age: 4 top trends reshaping the hotel industry in 2023
In the 1st part of this blog series, we provide a holistic view of where the hospitality industry is heading and the four major paradigms causing the change. In the subsequent blogs, we deep dive into each of these paradigms.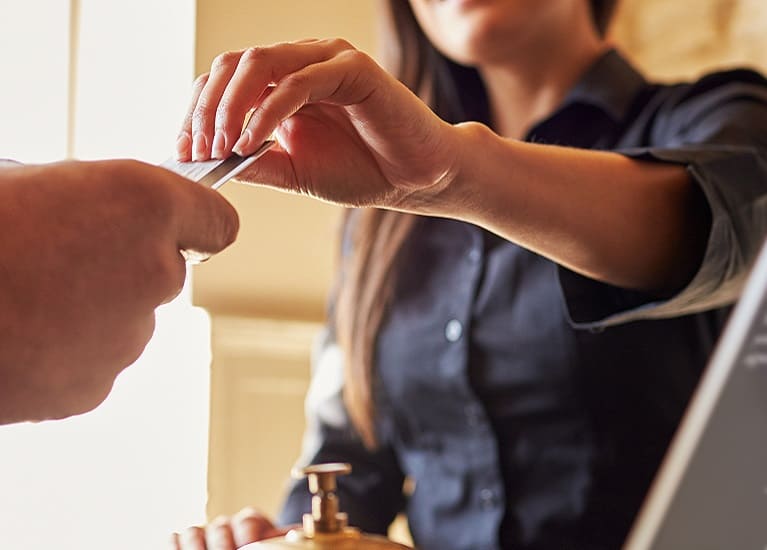 In the 1st part of this blog series, we provide a holistic view of where the hospitality industry is heading and the four major paradigms causing the change. In the subsequent blogs, we deep dive into each of these paradigms.

You hear it all the time: technology is revolutionizing our industry. It is going to change everything we know. AI, machine learning, the metaverse, hyper-personalization, conversational AI, and many more. Are these important for your business? Maybe, most probably, definitely, but how and why? There is so much buzz about what technology can do, so now we get past the buzz. In a series of blogs, we will dive into the various trends that are changing the way the hospitality industry, especially the hotel industry functions. We will look at trends like customer loyalty, operational excellence, sustainability, etc., and how and which technologies will play a role in transforming the industry in the near and mid-term future. 
Loyalty and sustainability in hotels
Let's begin with a long-term vision. What will the hospitality industry look like in 2030? We can imagine that the two most critical aspects of today, loyalty and sustainability, will still be the focus areas, but can they maybe be clubbed together? Will guests actively question how much their stay contributed to or hurt the planet? And will they shift their loyalty accordingly?
With the goal of a Net Zero business by 2050 becoming imperative, many players in the hospitality sector already view this as a critical target to achieve. How can technology help? As a first step, hotels can incorporate AI/ML, data analytics, and reporting dashboards to record carbon emissions per guest. This data can further evaluate the results and identify insights so that an action plan can be prepared to either go green or offset carbon emissions.
IoT is another game-changer here. The use of sensors to track water consumption usage and smart light systems to consume less electricity are some great ways technology can help you achieve sustainability. Food wastage is another major issue, and several technologies are available to tackle this issue. For example, AI-based smart kitchens could help track food wastage via a connected camera that measures how much food is being thrown out.
Sustainability and loyalty must be tied together to ensure a competitive advantage in the future.
Hotels need to explore these kinds of innovative digital solutions immediately, not just because it is good for the planet but because governments and customers are beginning to demand them. 
Hotel guest personalization
Another big revolution will be in the area of guest personalization. As per a report by Inc., 61% of Americans are willing to share personal data to make their stays unique. This data can be segmented in two ways for analysis and insights to provide personalized experiences:
| | |
| --- | --- |
| Micro-segmentation | This is based on guest history, travel time spent, and psychographics (which includes personality traits). |
| Macro segmentation | This is based on demographic groups, habits, and easy use of technology. |
Imagine your birthday today, and you are on vacation in your favorite hotel or imagine you travel to a new country. Can a hotel curate a personalized experience during your stay? Things like your favorite TED show reminder or your favorite wine or dessert, or a chauffeur who can speak your local language. Things like this could make a big difference in staying top of mind and driving loyalty.
A location-based method can also be used to create a personalized experience and sell services. For instance, a pop-up message for all in-house guests in the same hotel location informing them about a 50% discount at a restaurant after 9 pm (based on the intelligence of number of reservations/walk-ins and the existing food availability). This also links back to the sustainability goal, as selling these unsold items would lead to less food wastage.
Different areas of guest interest should be looked upon while creating personalization. Many guests are cautious about well-being, just like a wake-up service call from the front office if guests choose hotels to remind them about timely medication for a chronic disease or fitness-yoga programs. Creating memorable customer experiences with personalization will empower loyalty and, of course, will translate into revenue by increased revenue per available room (RevPAR).
Brand unification backed by data insights can help hotel chains scale quicker, drive profitability, and improve efficiency.
Hotel chains with multiple brands collect a lot of data pertaining to a guest, the insights of which can be used in upselling and cross-selling services. Hotels can build a central data warehouse for all brands within the hotel chain and leverage that data to enhance the guest experience in another property of the same chain. Apart from this, operational data of the various brands and properties can also be used to break the silos between different brands to improvise departmental costs, like that of housekeeping or preventive maintenance.
Smart technology: smart hotels and digital twins
Smart hotels and digital twins are revolutionizing hotel experiences like never before. Simply put, digital twins are the exact virtual replicas of physical hotels, and they provide a host of benefits for various hospitality businesses such as restaurants, hotels, amusement parks, cruises, casinos, etc. By offering digital twins to guests, businesses can:
offer real-time 3D visual experiences,
understand and analyze the use of their facilities,
improve configurations of areas with the maximum footfall for a better flow of guests and crowd management,
enable the remote ordering of food and beverages and remote controlling of rooms,
increase bookings, increase engagement rates, and do a lot more.
Smart hotels use an amalgamation of technologies, such as AI and IoT, to adapt quickly to evolving guest experiences.
From indoor navigation and predictive and preventive maintenance to smart parking and automated quality checks, tech-powered services provide quick and efficient management for the hotel staff and enable better and faster services to the guests.
Immersive experiences in hospitality
Technology has taken a giant leap with the introduction and rapidly gaining popularity of the metaverse in different domains. While many hoteliers may reject the metaverse concept as a gimmick, the introduction of specific futuristic tech has already shown drastic outcomes.
A report by Hospitalitynet reveals that in 2021 alone, Velma, an AI-powered hotel chatbot, helped increase direct online revenue by 11% by generating approximately $140 million in hotel booking requests.
The hospitality industry can explore many options to provide immersive experiences to guests and potential guests. For example, hotels can increase marketing and brand awareness with metaverse and other immersive technologies.
Right from a virtual experience of the best hotels in the world to other activities that hotels offer physically—relaxation therapies, culinary treats, curated tours of the property, virtual celebrations—the metaverse provides room for all these and more. Smaller events in a metaverse offer the hospitality industry a unique revenue generation opportunity by providing virtual event spaces that can be customized and monetized through virtual ticket sales, sponsorships, and virtual merchandise, allowing hotels and venues to tap into a global audience.
Another core area that the metaverse can help address is "upselling of services." This could include room upgrades, where the guest can experience the space before deciding. This may go one step further in the future, where NFTs (non-fungible tokens) are offered to guests with unique identifiers and secure for different property services. The introduction of these offerings can again circle back to guest loyalty and retention. The possibilities here are limitless.
Conclusion
We can safely say that the coming years will define a new period in the hospitality industry. The bottom line remains that all these new technologies need to align with the business vision; hotels should not blindly inject them in their systems just to keep up with the trends. Its pivotal that hoteliers are able to judge their existing systems and guest preferences correctly. And, they need to make the right offering through the right channel at the right time and price using the right technology.
As the dynamics of this industry keeps evolving, those in the hospitality business must partner with a digital engineering workforce and deliver the best possible value to the brand as well the guest.
We would love to hear your feedback on this article! For thoughts on this topic, or a quick chat on how we can work together to achieve your business targets through technology, mail our hospitality experts at hospitality@nagarro.com.