Article
8 Jun 2023
8 min read
Celebrating Pride month: Musings of a fellow Nagarrian
As we celebrate the pride month, we talk to a fellow Nagarrian and share her emotionally gripping tale of going from being Erick Daniel to Adradia. Join us for a heartfelt conversation with her as she gives us a sneak peek at this vibrant yet challenging world.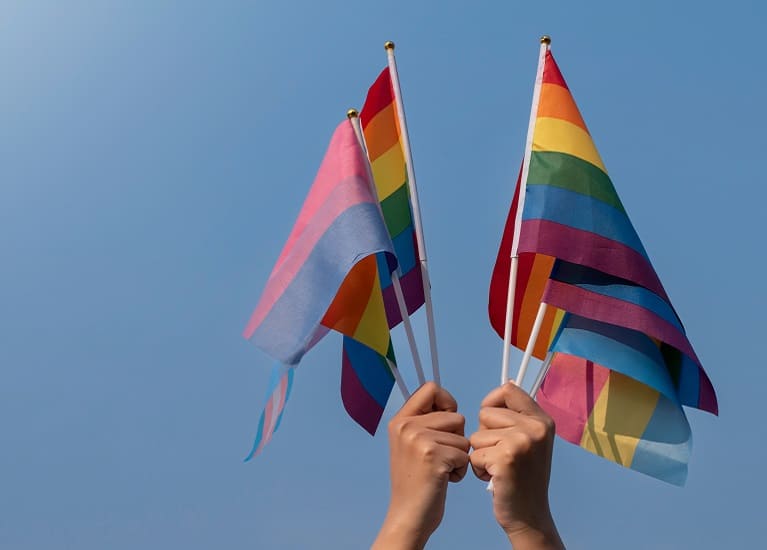 As we celebrate the pride month, we talk to a fellow Nagarrian and share her emotionally gripping tale of going from being Erick Daniel to Adradia. Join us for a heartfelt conversation with her as she gives us a sneak peek at this vibrant yet challenging world.

At Nagarro, we strongly foster our principles of no labels and advocate organization-wide inclusivity and diversity, going beyond gender, sexuality, religion, borders, or others.
As part of our pride month celebrations, we had the unique opportunity to connect with Adradia Tinajero García, a senior testing specialist at Nagarro. We got to know her journey, struggles, and opinions on how organizations can be more inclusive toward LGBTQ+ employees.
Adradia, formerly Erick Daniel, is a strong advocator of LGBTQ+ rights and currently helps run the international virtual community Simcha LGBT (simcha means happiness in Hebrew), where LGBTQ+ people can come together and connect in a secure environment without being judged.
Anushka: Hi, Adradia, thank you for being here today! Can you tell us a bit about your journey so far?
Adradia: The initial hints that I was transgender started early when I was 11. But as I come from a conservative family, I kept it under wraps for years. Also, when my mom realized the first signs, she freaked out, which made me think of this as a problem and that something bad was happening to me.
The pandemic time was a real eye-opener for me. The company where I worked during the pandemic fired me, giving me a lot of time for self-reflection. I gradually started giving myself permission to know and accept who I am. By the end of 2020, I had decided to identify myself as transgender completely. Finally, the struggle I had been going through for almost three decades ended. In March 2021, I started my medical transition and have continued the therapies for the last three years.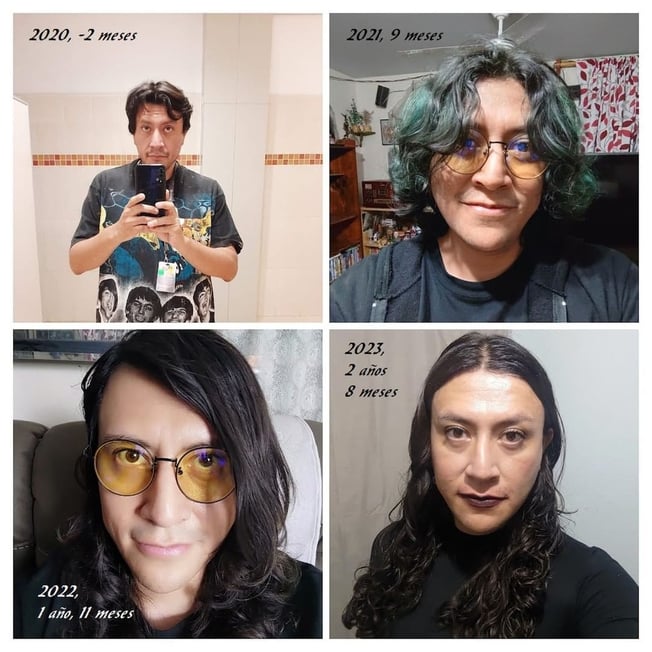 Adradia's transformation journey - from 2020 to 2023
Lisa: Wow! The pandemic worked in your favor, in a way! But when did you reveal your new identity to the world?
Adradia: Even after starting the medical transition, I had kept this hidden from my family and friends. The actual snowballing started when I was featured in Nagarro's pride month social posts last year. Everyone around me actually sat up and noticed this, and that was it. 😊
Anushka: That must have made it a bit easier for you, a little less challenging. But, then, you must have faced several other obstacles on the way as well.
Adradia: Yes, of course! Right now, I am going through a lot. My family is away from me, same with my now ex-partner. Neither my family nor my ex were ready to accept my transformation. They were kind of tolerating it until I mentioned that I would change my gender, look, and be more feminine. That was my breaking point, the major reason I had delayed revealing myself for so many years. But then, I thought its high time I started prioritizing myself, so I stood strong on my decision.
Fortunately, there are no medical barriers in Mexico, so my transition is happening smoothly, except that I can't donate blood until I change my gender legally.
Lisa: It's amazing how you stood your ground. I am curious…going by the timeline, you joined Nagarro when you had already started the transition. How was it coming into Nagarro's fold at that point in your life?
Adradia: Yes, you are right. When I joined Nagarro, I had already started my transition. But I did not inform my recruiters, as I feared that this might impact my possibility of joining the organization. Then the pride event happened, and I answered the questionnaire that was sent out because I felt I had to. As I told you previously, I was chosen among the others and got featured. From that time onwards, the support from Nagarro has been overwhelmingly positive. Honestly, I didn't expect a company to shelter me this way.
Even to the extent of telling my story to the world, like the video of March, it started because my colleague Barbara insisted that I participate. The company integrating me in their dialogues, their events, this kind of thing is unheard of in many other companies. I am really happy that Nagarro has been so supportive.
Anushka: Being a strong advocator of inclusivity yourself, have you been able to incorporate inclusivity in the workplace as well, especially from a gender identity and expression standpoint?
Adradia: I am involved in interviews, assessment cycles, and selection processes for new candidates. I try to be as much inclusive as possible in my interviews. Apart from being accommodative towards gender identities, I am also supportive of people on the autism spectrum. I try to create a stress-free environment for them. As a person who has ADHD (attention deficit hyperactive disorder) as well, I understand the pressure they face. I haven't had the chance to interview any transgender person yet.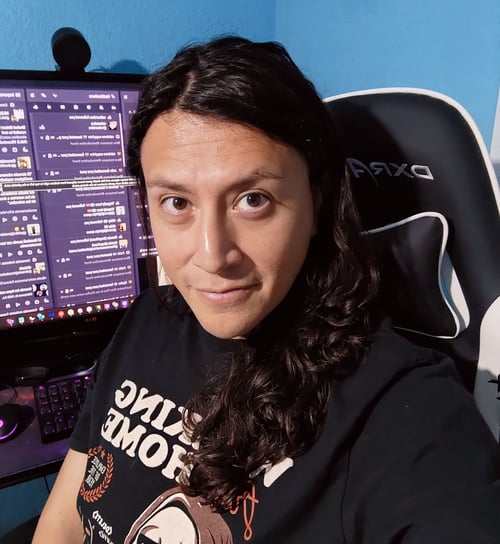 A work desk selfie
Lisa: That's interesting! Creating a safe, stress-free workspace should be the focus of every workplace. Any thoughts on how organizations can support the LGBTQ+ community?
Adradia: Actually, I do have my opinions about it. There are different levels at which companies operate. The typical ones put their face on the pride flag in June, in the pride month only, and they don't do anything else. Other companies increasingly engage with their employees on this front, for example, Nagarro. I have witnessed Nagarro's support to another colleague, who was also transgender.
I have yet to start changing my name officially; that's an extremely complex process, starting from government documents to significant changes in the workplace. I have calculated that I need to change names in 29 places, including government identification papers and credit cards. This process will take around four months to complete. I am hoping that the changes within Nagarro will be swift as soon as I provide my official documents. This is another tip I want to give companies; the transition should be quick and seamless with no additional headaches for transgender people.
Also, in a lot of companies, the employee is supposed to be either a male or a female; the non-binary spectrum is completely ignored.
In certain countries, laws for the transgender community are really harsh. It would be great if big global organizations could speak up about the community's rights, present themselves in government and legislation, and stand for their employees and the LGBTQ+ community as a whole.
In short, organizations should focus on creating such processes for inclusivity and make the systems as simple and stress-free as possible. The transition itself is a difficult process, and these minor changes will help transgender people get the right mental support.
Anushka: Certainly! These are deep insights. What do you believe are the important factors one needs to keep in mind while supporting individuals going through gender reassignment or transition?
Adradia: Gender reassignment surgery is the most invasive process in the entire transition journey. It takes a lot of time, money, and care. Something that companies could do is provide them with time and resources to take the time off for surgery and recovery. These individuals should feel safe and relaxed to return to the work environment.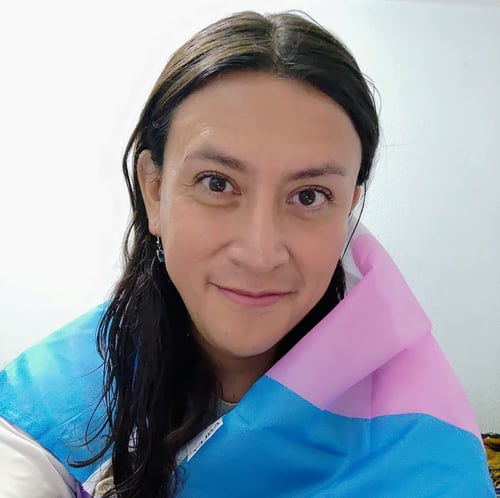 Proudly displaying the trans flag before a trans awareness march
Lisa: What about crowdfunding? When people contribute monetarily, they also try to eliminate the social stigma.
Adradia: Yes, of course. This will be when people say, yes, this is okay. This is not a problem. If transgender employees have a strong support system, they will rise above their physical and mental issues and perform excellently in their tasks.
Anushka: Coming to the topic of mental issues, you must have faced severe mental trauma during your journey. How did you cope?
Lisa: Yes, you said you have been struggling to identify yourself since you were a mere 11-year-old boy. How has your mental health been all these years?
Adradia: Oh, that! (long sigh) That's an entire topic by itself. I can go on and on about what I faced during my journey to self-discovery. In our societies, transgender people are not allowed to be themselves. They are suppressed over the years, messing up their mental well-being. They don't get to be happy, full, or complete.
If you ask me, I would go back in time and start my transition journey years back. Not only would I have faced fewer complexities in my name change documentation, but I would also have adapted myself to society better as I was much younger and in the growing stage.
Considering all the problems transgender people face, the biggest one is trying to fit themselves in a role others have set for them. You know it's incorrect, and you might make questionable decisions to balance it out and tolerate your situation.
So, the earlier people transition, the better it is for them.
Anushka: Anything that you do to keep sound mental health?
Adradia: Yes, I am the administrator of a strong online community for LGBTQ+ folks as well as Jewish and Jewish adjacent people. This group has been crucial in helping me with the family loss I am going through. They have made me realize that I still look fine in this new self and am okay as I am. These set of people share their experiences, their losses, and the extreme difficulties that some of us have gone through. At the same time, they share the joys, the smallest things normal for cisgender people but huge achievements for us.
We get our strength from each other and remind each other that there is light after the darkness, and we can come out of it happy. Self-exploration and self-acceptance is the key here. If no one is there, do it for yourself. That's enough.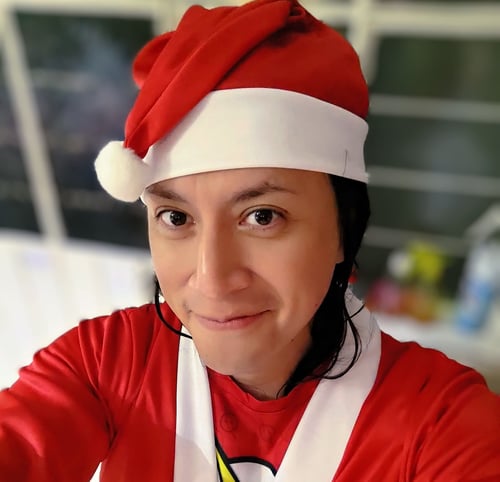 Dressed up as Santa during a 10k run
Anushka: Anything you would like to share with our readers, colleagues, and people struggling to come out of the closet?
Adradia: There are two things that will be very important to people wanting to transition. One is they need to ensure that they are in a secure environment during transitioning, considering the societal norms they are in and the government regulations their country has. They also need to remember that even if they do nothing at all, even if they don't have money or appropriate clothes or have no idea what the future holds, they are very much transgender. They will always be valid, and they are okay.
Now, there are many local organizations and support groups globally, and they can easily reach out to them. It is always good to surround themselves with positive people, even if it's only in the virtual world.
Lisa: To end on a lighter note, what's the story behind the name Adradia?
Adradia: Haha, it does not have any meaning as such. I gave this feminine name to myself in my video game characters when I started identifying myself as a female. Funny, right?
Lisa: Haha! I really thought it meant something deep. Thank you for this candid chat.
Anushka: Yes, it was an evening well spent. Thank you for being vocal about your journey and sharing these amazing tips for organizations and others still struggling with their identities.