Business resilience is now a keystone that balances the need of enterprises to adapt, lead, and sustain their business goals. Industry 4.0 is no longer just about creating smart factories. Today, Industry 4.0 also has a significant influence while developing new products and services and for enhancing the customer experience. This in turn creates new challenges for workers in the factory or those offering these new services. They must perform various tasks, often within a quick turnaround time and using complex machines or tools. To do so, workers must have access to data (static, near real-time, or real-time) to make informed decisions.
The ever complex and optimized processes require the workers to have access to data on the go, on devices such as mobile phones, tablets, and smart glasses. Assisted Reality is a critical enabler for bringing the Connected Worker use cases to life in an effective manner.
A brief introduction to Assisted Reality
Workers in a smart factory are already using computer terminals or handhelds to feed and access data. In the next evolution of a smarter factory or smarter service, we envisage workers leveraging multi form-factor devices such as smartphones, tablets, other handhelds, and smart glasses. Together, these devices create a new category of technology applications that we call Assisted Reality. "Reality" refers to the actual situations that are experienced by the worker. "Assisted" is the support that the worker receives through the information on these devices.
While mobile and tablets have been a mainstay of delivering assisted reality solutions, Smart Glass is the latest set of device to enable Assisted Reality. It helps the user view step-by-step instructions for assistance, use voice commands to navigate the workflow, and access information without using hands, while performing tasks. In many use cases, we have seen that this hands-free device operation improves worker productivity by up to 40%. The more complex the task, the higher the productivity improvement.
Use cases for Connected Worker
Based on our experience, we believe that 6 categories of use cases are best suited for Assisted Reality applications: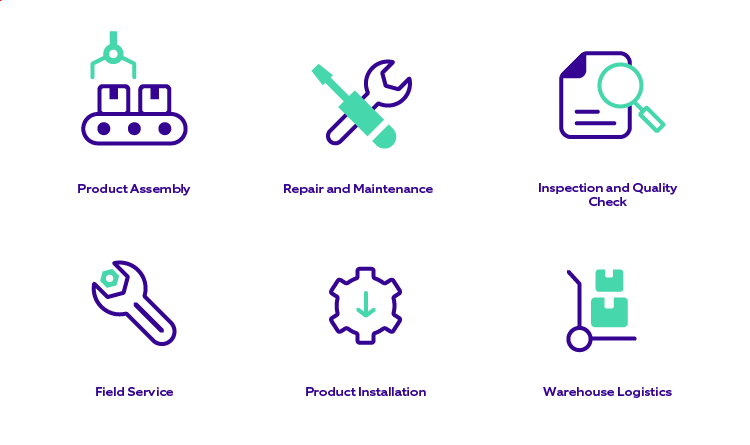 As evident by results across various customers and industries, these use cases have been able to:
Increase worker productivity by providing step-by-step instructions to workers.
Reduce on-the-job errors through easy access to information in the form of records, images, or videos.
Streamline the digital thread of a process with workers capturing notes (text-based or voice-based), images, and videos to record their work outcomes for audit purposes.
Improve first time right (FTR) through collaboration with remote experts for resolving an issue (you-see-what-I-see).
How to initiate a Connected Worker solution
A couple of years back, we spoke about the need to follow a step-by-step approach when starting with a solution to enable the Connected Worker. We explained this framework in our article: Ideation to adoption: A framework approach to enable Assisted Reality field trials.
We believe that this step-by-step approach is still applicable and can optimally manage adoption complexity and investment requirement. But we have made one change to this framework. Since Assisted Reality technology has now been proven across multiple use cases, we believe that there is no need to create a proof of concept to demonstrate the efficacy of this technology. Instead, a proof of value (PoV) is a more apt starting point as it can help determine the business value of a use case.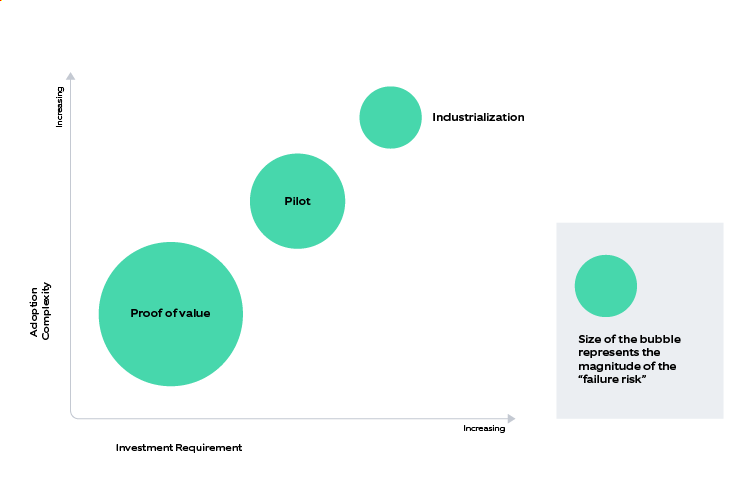 The PoV approach ensures that we select the right use case, data set and devices to help workers make better decisions. The proof of value apporoach allows participation from multiple stakeholders to help develop the use case and experience a lightweight application (with minimal features). It gives the stakeholders and workers an early indication of the challenges involved in using the device and data for completing their work. The proof of value should also seek inputs on user experience.
We have seen better results when a proof of value is followed by a pilot project to test a minimal viable project (MVP). This MVP is ideally tested in the field for 2-3 months by a select group of workers. Since a field trial can have many goals, it is important to identify the key metrics before beginning any project. The most common metrics are:
(1) Ease of using the application
(2) Improvement in the productivity of the worker who uses the application
(3) Reduction in errors by the worker who uses the application
(4) Reduction in dependency of workers on experts
(5) Improvement in end-user experience
This approach identifies the key risks associated with the deployment of a use case and tests them with the workers in the field. This helps reduce any future investment risk when making a product and scaling the deployment to a broader number of users.
The shift that we see
Assisted Reality technology is now mature and it has powered Connected Worker solutions across multiple use cases and industries.
Connected Worker applications that leverage the principles of Assisted Reality utilize a wide array of devices, including smart glasses, mobile phones, tablets, and other form factors. Since devices such as mobile phones and tablets are ubiquitous, Connected Worker solutions can be used to provide workflow instructions and work order-related information to the workers to help them accomplish their work goals accurately. Smart Glass can further augment these solutions by enabling hands-free access to information and instructions to further improve worker productivity.
The Covid-induced challenges require an extra level of workforce resilience to avoid disruptions at work, whether on a shop floor or in the field. The general need to quickly develop and deploy digital solutions is also influencing the use cases for Connected Worker. Key applications are being developed and deployed in weeks, not months, and the expectation for return on investments is now in months and not years. This velocity for enabling Connected Worker solutions is being driven by three trends:
mature hardware that results in less issues in the field
well-tested software which helps create better user experience
stakeholder engagement that helps provide early feedback on the use cases
How can Nagarro help?
Assisted Reality driven Connected Worker solutions make the enterprise more resilient by:
improving workforce productivity
reducing errors in task execution
enhancing worker agility
helping in improving the quality of services to end-users.
Nagarro has developed a suite of software accelerators with key functionalities that form the basis of the most common Connected Worker use cases. These accelerators have been field-tested and can be integrated as per the use case, leading to faster solution delivery.
Our team collaborates closely with our clients to develop Assisted Reality solutions, conduct field trials, and then scale and roll out solutions. In this process, we have gained extensive experience and developed best practices for adopting Assisted Reality to enable Connected Worker solutions across a wide array of use cases. Inspired by our Thinking Breakthroughs approach, we have created frameworks and toolkits to assist in use case identification and their agile development. Depending on where you are in your Connected Worker journey, Nagarro can help create a proof of value, a minimum viable product, or a complete solution. Our partner ecosystem further creates a multiplier effect to support you along that journey.
Want to know more? Are you looking to start or accelerate your Connected Worker journey? Explore our offerings and get "Connected" with our experts. We will be happy to help!