Feeling low? Just binge on those chocolates, and voila, your mood has instantly lifted!
Some people eat to live, while some live to eat! For some, food is just a necessity to satisfy basic needs. For the others, food is much more than just nourishment; it's their vehicle to communicate sentiments and create memories.
Foodies are generally experimental. They like to try out every new food and explore every modern cuisine. Hey, I am certainly not talking about eating those weird things on the planet (for me, at least) like cockroaches and tadpoles (certainly not bats!) – that's an individual choice, of course😊. Still, food can give a sense of satisfaction and accomplishment, if you really loved what you ate.
At Nagarro, food is a shared experience; lunch breaks and coffee breaks are the moments we rewind and cherish. Food brings us together and increases team intimacy, regardless of any cultural boundaries. I'm sure you've seen how people have transitioned from being 'a colleague' to becoming a 'bestie' over a few glasses of beer and sumptuous food😊.
Keep calm and eat healthy
The current COVID-19 outbreak has only amplified the stress levels for many people. Foods like dark chocolate, citrus fruits, almonds, herbal tea, and a healthy balanced diet act as great stress busters. So, eat good food, eat healthy, and don't forget to love your food!
The way we do it!
Food is an integral part of all our celebrations. We Nagarrians need an excuse to eat and celebrate, which again brings us together and closer, regardless of culture or region.
Sandra Duiuleasa from our Timisoara office is a self-declared gourmand. She was reminiscing about the days when she was not working from home but enjoying home-cooked food at work with her colleagues, just before the COVID-19 outbreak expanded to Germany. "We think we're different because we come from different cultures. And one of the best ways to bring down barriers is to find common ground", says Sandra. "Everybody needs to eat. What better way to know your colleagues than by seeing their happy face when they smell something yummy?''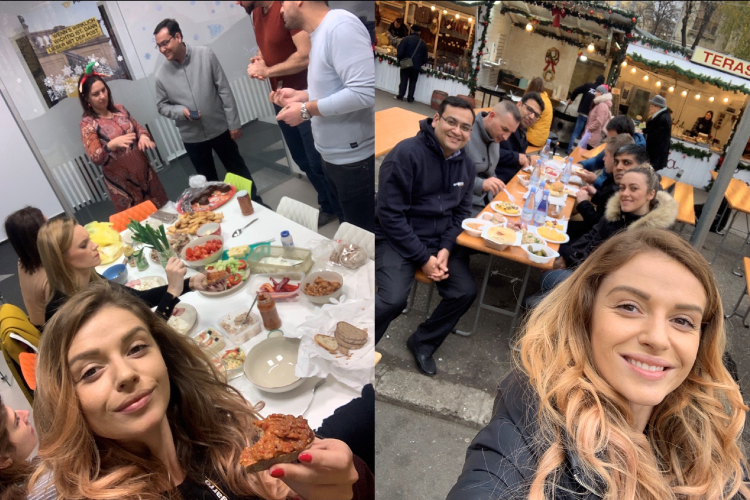 Sandra having lunch with colleagues
And most Nagarrians from India seem to be hard core foodies! Be it Eid, Diwali, Holi, or Independence Day, Nagarro's offices in India ensure that the cafeterias are filled with dishes that suit the occasion. On Diwali, Nagarrians flaunt their ethnic look and relish the wide spread of street food on offer. During other occasions such as Independence Day and Holi (the festival of colors), Nagarrians indulge their sweet-tooth and gorge on the tri-color barfi, gujiya, and many other traditional delights.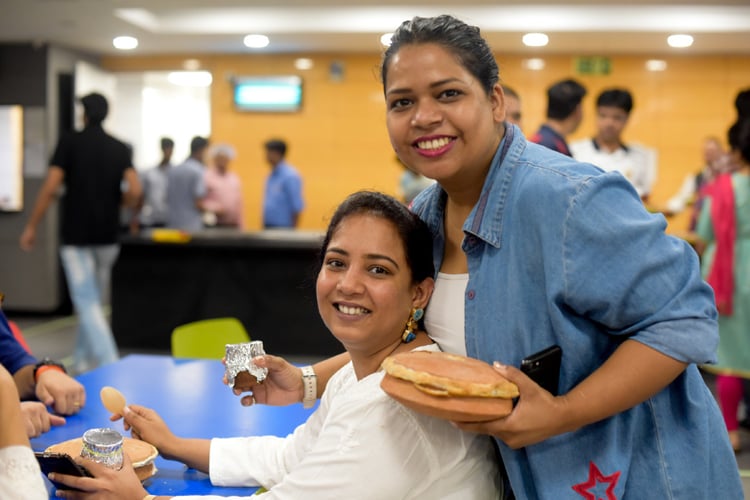 Our colleagues from Gurgaon relishing the traditional biryani distributed as part of Eid celebrations
Raveesh Shrivastava from Gurgaon, has made this lockdown phase very sweet, quite literally. Along with his wife, he has been busy preparing and enjoying delicacies like mango shrikhand, homemade ice-cream and rajma rice. Pictures of the couple's beautiful dishes have been featured in the local newspaper.

Mango shrikhand (left) and rajma rice
Every Christmas, Nagarro celebrates the Nordic tradition of Julboard (a traditional Christmas dinner in Scandinavian countries) in a unique way every year. A food truck from Nagarro's Sweden office goes to clients' offices and serves delicious lunch to everyone out there. Every year, the cuisine is diverse, and reflects Nagarro's global culture. Our clients seem to look forward to this lunch treat – we see quite a few serpentine queues in front of the truck in freezing temperatures!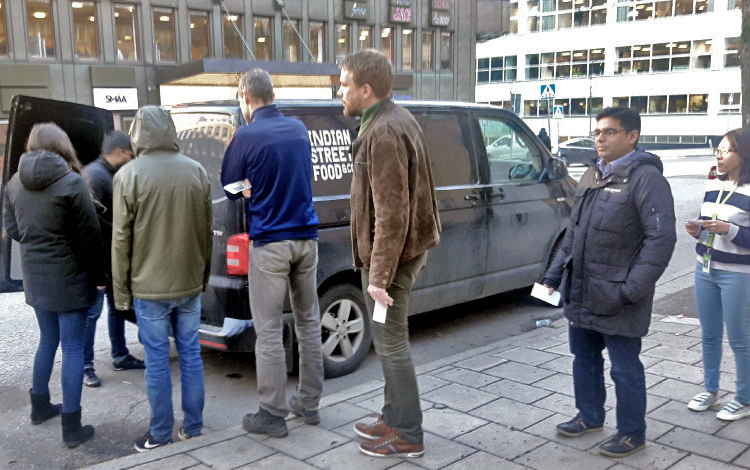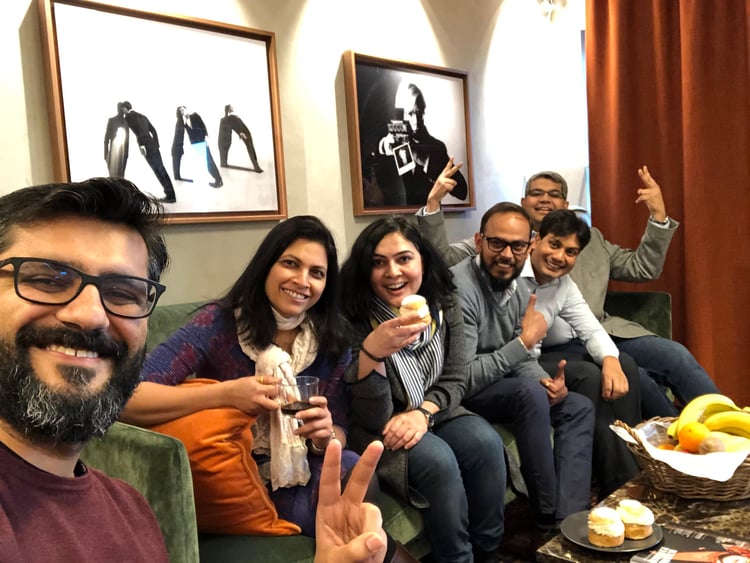 Nagarro Sweden office celebrating Semmeldagen with delicious Semlor and Swedish coffee
Donning the chef's hat
From gorging on scrumptious meals to preparing mouth-watering dishes, we do it all, with elan 😉. At Nagarro, cooking is considered a valuable talent - the number of Facebook friend requests from colleagues go up exponentially when you get known as a good cook. And for some of us, food sharing is CARING - the sense of joy we receive when sharing our food with others, and getting appreciated for our culinary skills, is priceless.
Regular food contests around the globe pique the interest of our colleagues and maintain the level of excitement and involvement. As Preshak Dwivedi from the winning team of Jaipur's Corporate Chef Challenge says, ''There is no doubt that the contest was a great success. It gives us immense pleasure to share that it was a great platform for new and young chefs who have cooking as a hobby and passion. For all of us, if was less of showing our skills and more of team bonding with team-mates by getting to know each other formally and informally. Overall, it was a fantastic experience as we created a strong connection between us, which will also help in working together in future at Nagarro."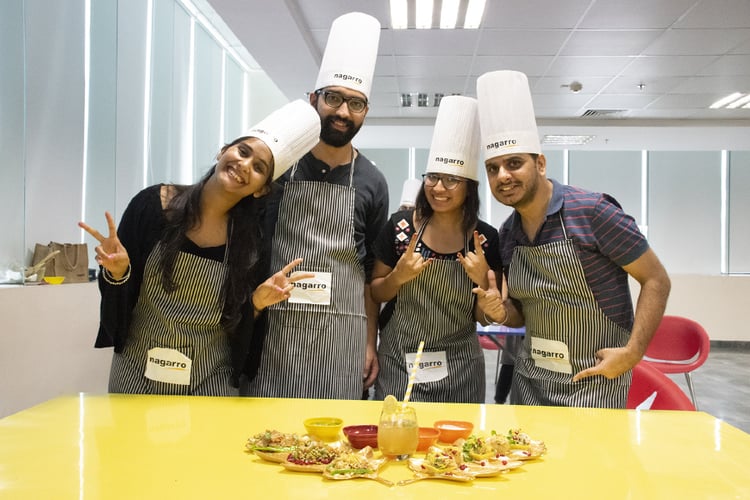 Corporate Chef Challenge, Jaipur (India)
Even COVID-19 can't keep our cooks and salivating epicureans down! Our Austrian colleagues recently organized a virtual cooking competition so that budding and seasoned chefs could connect and have a fun time during this lockdown period.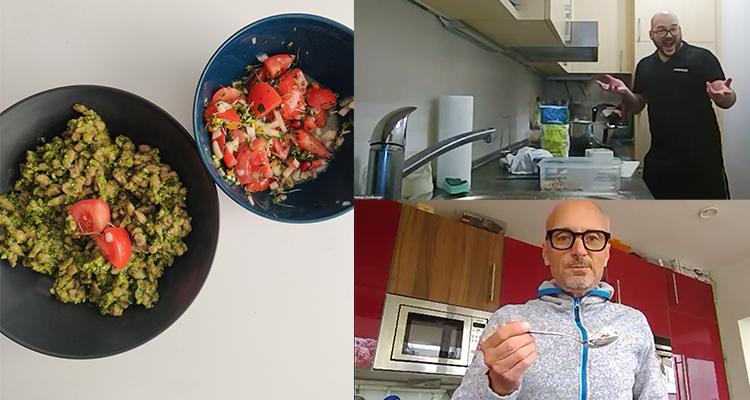 Quite a few cooking tips were exchanged during the virtual competition
Eating without guilt
Eating consciously and eating right is the mantra these days. However, if we do indulge, and our inner voice makes us realize we have been overeating, we hit the Nagarro gym. I personally enjoy the yoga sessions by our in-house trainer as they keep me fit and flexible. On the other hand, my ultra-energetic colleagues can often be found enrolling for the Zumba classes, so long story cut short – we eat without guilt😊.
Currently, we are all working from our homes due to the COVID 19 pandemic. Things are not the way they were a few months back, but we continue to connect with each other to raise a toast virtually over video calls. We are optimistic and believe that things would be better soon, and life would be back to normal. And yes, we do know the art of cooking inside out! Who else can think of baking a pancake while taking a call?