Can technology trace the origin of the cotton fabric you are wearing, down to the farmer? The answer is yes. With blockchain technology, it is now possible to trace cotton fabric down to the fundamental level of raw materials or crop, and ensure transparency that the final product is actually 'organic'.
Cotton is the most widely used fabric all over the world and accounts for over 40 percent of the total global fiber production. To meet this demand, farmers use high-yielding genetically modified plants, with excessive pesticides and fertilizers. The crop pollutes the environment and the end products are full of chemicals and can cause allergic skin reactions.
Owing to this, organic cotton has assumed significance in the global apparel & fashion and textile industries. Organic cotton is important because:
Longer fibers make the fabric durable, rendering better value
Customers having allergies to clothes are better served with hypoallergenic fabric
Environment-conscious consumers are seeking sustainable options. They are doing their bit by endorsing the organic movement and by purchasing products made from organic cotton.
To a certain extent, this has now become necessary. As per the data released by the Organic Trade Association in 2014, cotton covers only 2.5 percent of the global cultivated land but uses as much as 10-16 percent of the world's pesticides, more than any other single major crop.
Organic cotton and its far-reaching benefits
Compared to conventional cotton, organic cotton is far better for the environment. Grown organically from non-genetically modified plants organic cotton does not use any synthetic or toxic agricultural chemicals. Besides this, the methods of growing organic cotton have a very minimal impact on the environment. This helps replenish and maintain soil fertility, thus enabling a biologically diverse ecosystem.
Efforts to promote organic cotton
Continuous efforts at the individual, institutional, and government levels have led to the creation of country-specific regulations that govern the labeling and selling of products which are classified as "organic."
Additionally, CSR initiatives by corporates and the concept of "organic cotton" being marketed by brands and retailers in the industry have also helped in enhancing the popularity of organic cotton. Today, the demand for organic cotton far exceeds its supply, and it is expected that the industry will continue its double-digit growth in the coming years.
Blockchain- A groundbreaker in the apparel and textile industry value chain
Today's apparel and fashion industries are confronted with a big challenge to ensure product transparency and tracing. Products must be traceable to their source. Since the supply chain in these industries is highly fragmented and complex with many players, it is not easy to trace the finished products and raw materials to their origin.
This is where blockchain can play a significant role.
Through blockchain and technologies such as IoT, it is now possible to trace the origin of organic cotton right down to the farmer. This means that now, it is possible to map the entire product journey - from the field (crop) to a brick and mortar store or an online shop (garment).
This development is a significant breakthrough in this field because one thought that always stays in the mind of a consumer is: Has my "organic" product (for instance, an organic cotton shirt or a dress) actually been made from genuine organic cotton? After all, there have been instances of fraud in sourcing organic cotton.
Blockchain 101- In a brief
Blockchain is a technology that comprises a list of records known as blocks. It functions as an open, distributed ledger, allowing its members to record their transactions in a digitized, decentralized data log maintained on a network of computers, rather than on a physical ledger or on a single database.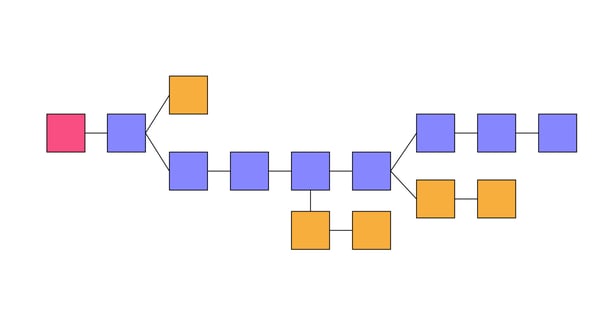 Blockchain representative diagram, "The main chain (blue) consists of the longest series of blocks from the genesis block (pink) to the current block. Orphan blocks (orange) exist outside the main chain."
Source: https://id.wikipedia.org/wiki/Berkas:Blockchain.svg
Participants view the transaction through the distributed ledger and verify its accuracy by using a specific protocol for peer-to-peer communication. Subsequent transactions are handled in the same manner and get recorded into the ledger. Unlike typical monetary transactions, blockchain transactions are unique. Every blockchain transaction serves as a record that is encrypted and stored on a computer network that includes all the participants in the transaction.
Thus, the chain keeps expanding through verification by the network. The chances for fraud are minimized because once the data is entered in a block, it cannot be altered unless all subsequent blocks are altered, which requires a consensus in the network.
Role of blockchain in tracing organic cotton and proving its authenticity
Blockchain can help in organic cotton traceability to its origin by meticulous handling of data, which is sourced by using sensors and IoT. Through this, the movement of organic cotton can be traced back to as early as the time when the cotton is harvested on the farm and put into bags.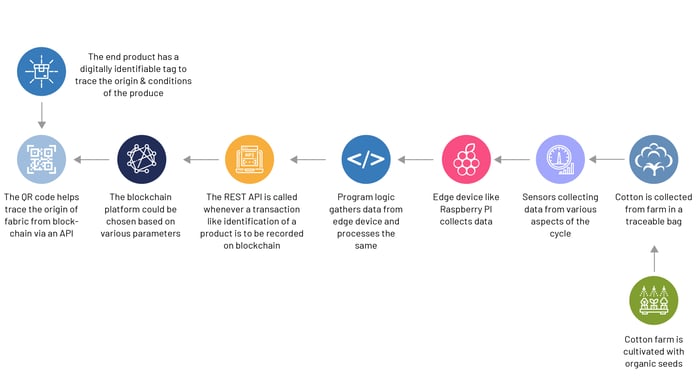 Outline for organic cotton traceability
Such effective use of blockchain technology in organic cotton traceability brings recognition to the organic cotton farmers and their efforts. Through this, others can also start using 100% genuine organic products and can realize their benefits. Often, people are unable to appreciate the value of an organic product because it does not turn out to be authentic.
Blockchain also serves as a capable mechanism to prevent bio-fraud, that can offer verified garments and textile products to consumers. It is natural human tendency to buy a product when one is absolutely sure about its origin.
At the heart of this mechanism is blockchain's unique feature to record and share transactions across the supply chain permanently.
Nagarro has a COE focused on Blockchain.
As retailers and distributors in the apparel and textile industry have started experimenting with blockchain, they are seeking partnerships with technology firms to identify use cases that can leverage blockchain in their work.
Nagarro's 3D Framework is well-suited to build blockchain applications.