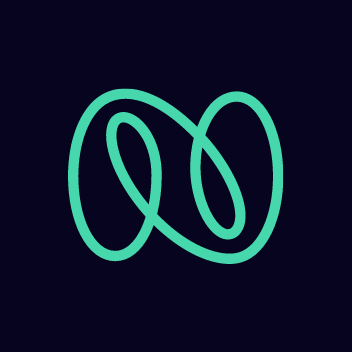 By allowing digital information to be distributed but not copied, Blockchain is an undeniable technology advancement due to its decentralization of data in a trustless environment.
Traditional ledgers are centralized and use 3rd parties and intermediaries to approve and record transactions. On the other hand, Blockchain safely distributes ledgers across the entire network and does not require any middleman. Moreover, the technology maintains multiple replicas of the distributed ledgers using different nodes in the network.
Data generation and analysis is the backbone of IoT but protecting data throughout its lifecycle is critical. Managing information at all levels is complex because data flows across many administrative boundaries with different policies and intents.
Blockchain comes in as a great technology to assure the protection of data in a public infrastructure and the ability of different applications to interact directly with each other.
IoT and Blockchain can work together to leverage the capabilities of the Ethereum Blockchain protocol for building large class decentralized applications.
Here are some examples:
Supply Chain — Track objects as they navigate the import/export supply chain while enforcing shipping and line of credit contracts and expediting incremental payments
Warranty — Parts Tracking/History — Maintain indelible history of parts and end assembly through the supply chain, potentially including critical events that affect life or scheduled maintenance.
Interconnecting Devices — Enable distributed devices to request and pay for services through distributed role management and micropayments
Device as a Service (DaaS) — Companies opting for a DaaS model can lease devices for a length of time, and customers pay a monthly fee for the services used. Payments can be made automatically using a token-based smart contract platform
Equipment or Business Process History — Track equipment or business process history in an immutable record and enable easy sharing of this information with third parties
Below is an example of a Blockchain IoT Platform. Let us call it Nagarro iQChain.
Nagarro iQChain is a platform that provides Blockchain integration for Smart Devices, allowing a user/enterprise to communicate, get information, analyze, and monitor any smart IoT Device.
Nagarro iQChain has 3 main components:
1. A cloud IoT Platform which is used to:
connect devices
gather, display and store telemetry data
view device insights
control devices
2. A smart contract platform based on Ethereum Blockchain. The platform will have tokens minted which will be used by the end-customers for different operations. The tokens will be bought by the users at exchanges using FIAT currency or cryptos like Bitcoin, Ethereum or Litecoin.
Store all the transactions between the customers and the IoT Platform:
device registrations
platform utilization fees
device/machine interactions
Each machine connected to Nagarro iQChain will have a private wallet where the administrator from the customer side can transfer tokens which can be automatically used by the machine for maintenance tasks (order consumables).
3. A middleware platform that facilities the interaction between the IoT Platform and the Smart Contract Platform. Smart contracts live isolated, and they cannot fetch external data on their own. Tools like Oraclize or ChainLink allow smart contracts to interact with the outside world. These platforms act as a data carrier, a reliable connection between an external service and the Smart Contract Platform.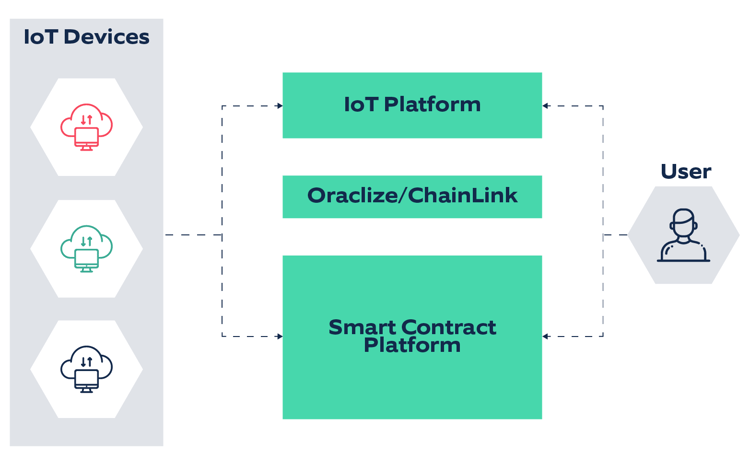 Nagarro iQChain

Use Case 1: Parts and Service Management
Keeping service and maintenance history in a secure and unalterable store, using Blockchain technology.
Let us assume a device is broken:
A smart contract is initiated in the platform and stored on the Blockchain
Using the middleware platform, the smart contract creates a ticket in the IoT Platform
The device is fixed by an external entity
Information regarding the fixing and the actions that were performed are written back from the IoT Platform to the Smart Contract Platform using the middleware platform
Use Case 2: Advanced analytics
Industrial CNC milling machine purchased by a customer produced in series.
Usually, these machines work in a 24/7 environment, and any interruption can cause production loss. That is why is very important to detect problems in early stage and replace the parts that can cause a machine breakdown and production loss.
The IoT platform contains milling machines from the same producer, used by different customers, which upload telemetry data to a cloud storage.
Using Machine Learning algorithms based on the historical data, predictions can be made based on the incoming telemetry readings.
Here is a flow:
1. The customer requests an analysis from the IoT Platform
2. The IoT Platform initiates a contract
3. The customer pays using the tokens minted by the platform
4. The Smart Contract Platform creates a new block to store the transaction
5. The required analytics are provided to the customer
The advantage of this method is that the customer will not have to buy complicated analytics tools and will leverage the IoT Platform computing power and insights.
So, although it is still in the early stages, the integration of Blockchain technologies into IoT can become game changer in future ecosystems.