Have you ever been unwell and chosen to Google your symptoms instead of asking a doctor? Admit it or not, we have all been there. While Google gets most things right, diagnosing your symptoms isn't probably one of them. But there is a growing number of online portals and communities that can help you understand and treat your ailments without stepping out of the house.
The life sciences and the healthcare sector have been slow to adopt social media. That changed due to the pandemic. Struck with unprecedented fear, anxiety, and apprehension, people turned to social media for medical advice and information during the lockdown. High-risk group patients such as expecting mothers leveraged online platforms and equipped themselves with information to battle Covid-19 by reaching out to healthcare professionals, organizations, NGOs, and authorities.
This opened new avenues for organizations in the sector to connect, communicate and forge bonds with existing and prospective customers. A global pharma giant from Germany used social listening to understand the major concerns faced by pregnant women during that period and followed it up by educating and informing them about the pandemic, its prevention, symptoms, and treatment. Social listening involves assessing social media interactions to understand what is being said about a brand, industry, or individual.
The project was spread across Nigeria, India, Pakistan, the United Kingdom, Cambodia, Kenya, and Romania. It involved observing conversations on social media platforms to identify the major concerns. They tied up with influencers like WHO, UNICEF, and others to address these concerns with 4,60,852 social media posts. As a partner, Nagarro presented the project to a premier global healthcare organization which termed it a 'game changer.' "I want to congratulate you. This is a powerful set of insights that will help to advance the public health agenda," said a NGO representative and advised that the program be expanded to a wider audience.
Healthcare sector and social media
Social media has become an integral part of our lives. Organizations across sectors are leveraging it to connect with their customers. The life sciences and the healthcare sector have been slow to warm up to social media primarily due to the number of apprehensions and legal restrictions. The pandemic changed that and compressed years' worth of behavioral change into months.
Besides the online medical and healthcare portals, social media played a significant role in disseminating information, forming opinions, and busting myths about the virus, medicines, and vaccines. In 2020, about 4% of the world's research studies were dedicated to the disruptive COVID-19 virus. A torrent of medical publications on all subjects started populating various social media platforms, including blogs and forums.
The pandemic revolutionized how these platforms are being used, from evolving virtual learning, increasing access to conferences and remote conversations, and creating safe communities for all audience types and topics. Patients can now do virtual doctor visits, ask for a second opinion online, share experiences with other patients, research their treatment options, seek emotional support, and raise funds.
The sector has also seen the emergence of medically focused professional communities where healthcare professionals share and discuss the latest research and trial findings. The new virtual setting allows doctors to follow professional events and learn without physically attending these events. Platforms like Sermo and Doctor's hangout are preferred for their more focused community feel, as they enable doctors to discuss treatment options and debate healthcare policies and practices.
What is 'Digital Social Insights' and how it benefits the healthcare sector?
Digital Social Insights (DSI) is a combination of social listening and cultural ecologies. It is a proactive approach to extracting and analyzing open-source data from social media platforms and connecting these insights with the business DNA. Starting with the 5Ws, DSI helps healthcare organizations and professionals identify where their message resonates the most, who needs to hear it, where they can find their consumers, and how they can connect with them.


Who – Who is leading the conversation within the ecosystem? Knowing the main champions that identify with your brand, products and services, mission, and vision is a must.
What – What is the topic of conversation t? Is the discussion positive or negative? Is there room for improvement and innovation? Is the noise distracting the audience from the main issues?
Where –Which is the preferred social media platform for your target audience? It's best not to make assumptions like millennials are only on TikTok. Consumers visit other platforms where they engage in meaningful conversation and share their experiences, challenges, and unmet needs – you must o find them!
When –While people use their phones throughout the day, they are only receptive to your messages during a short window that must be utilized. It's best not to ignore events such as World Cancer Day or World AIDS Day.
Why/How – Other critical questions to assess are why certain topics are trending. Why are some people more susceptible to misinformation than others? How do cultural and social economic backgrounds influence vaccine hesitancy?
The wealth of patient and HCP-generated content that all social media networks provide constitutes a valuable source of insights for pharmaceuticals companies to:

Use insights from the online conversations about products, services, and treatment options to build consumer journeys
Discover pain points and features that don't work for patients and reinvent them through social listening
Avoid blind spots and mitigate the crisis by keeping up with trends in real-time
Engage with the target audience to determine topics that interest them
Identify product or service's fit in the marketplace
Learn how competitors position themselves in the ecosystem
Find your brand champions and digital opinion leaders to enhance the reach of your message
Ensure continuous education of the HCPs and help improve the patient-HCP relationship

The German pharma organization's campaign for pregnant women is just one example of how DSI can help pharma and healthcare companies help better inform and connect with their patients. From a marketing perspective, using DSI can help measure the strengths and weaknesses of the marketing efforts and optimize the content, strategy, and target audience.
By using insights from both ends of a marketing action spectrum, DSI becomes a continuous learning opportunity whose evolution is based on the changes happening within the ecosystem. Coupling that with predictive models, the healthcare sector can stay ahead of crises and help build a healthy future.
The German pharmaceutical organization also partnered with Nagarro for a social media project that helped increase its sales by 10% and increased social media engagement through an omnichannel strategy. The client witnessed 3,50,000 visits, 4,00,000 impressions daily, and an average engagement rate of 20%. As a part of the project, we created seven different digital personas tailored to HCPs, patients, caregivers, decision-makers, and employees. The project also included the following:
Monthly local market digital listening landscape Analysis for multiple therapeutic areas
Digital opinion leaders' mapping
Digital listening around key events (i.e., ASCO, ESMO, internal campaigns)

We co-worked on a similar project, a US-based healthcare organization that also saw substantial business gains.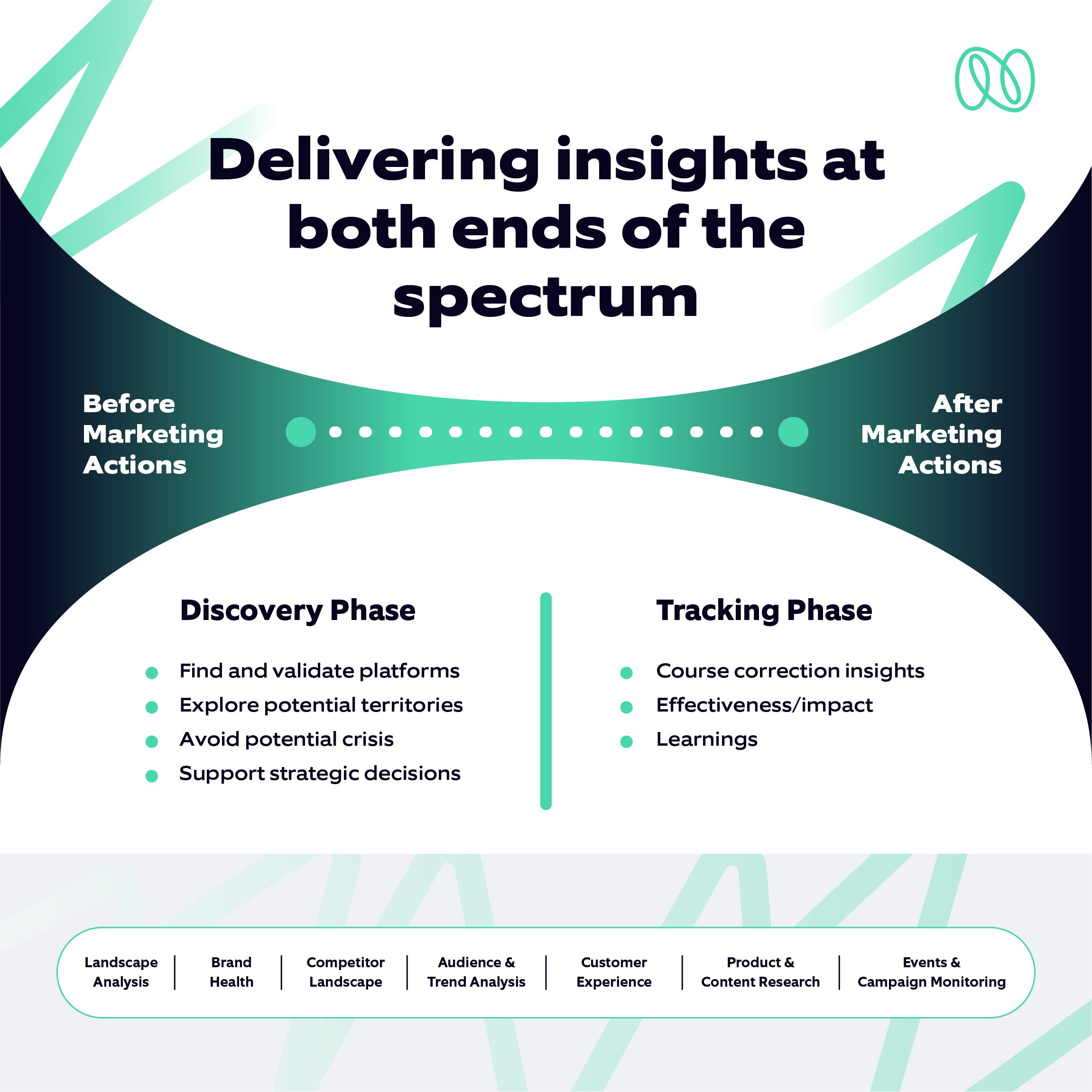 Covid-19 threats have subsided, but outbreaks continue across the world. Now more than ever, it is essential for the healthcare sector to use these open platforms and connect with their patients and doctors. Social listening doesn't just help the community but also enables businesses to deliver better products and services by interacting with their existing and prospective customers and tracking the competition's strategy.
It's time to use social media's power to create and deliver better healthcare products and services.