As an organization, do you know that you can provide your partners with a Partner Enablement Platform/Portal – a one-stop shop providing them access to critical resources such as product details, training, lead management tools, etc.?
What is partner enablement?
Partner enablement is the process of providing tools, resources, and support to partners, which typically include service providers, resellers, and consultants, to help them succeed in promoting and selling a business's products or services. This includes various activities, such as providing access to product updates, sales training, marketing collaterals, and event information, and establishing communication between the business and its partners.
For example, M&K Tech is a startup and an innovative B2B product. With its strong positioning in the market and problem-solving capability, the B2B product has acquired a few big logos lately. One of its goals now is to grow business through channel partners like Oven Networks, a managed services/solutions integration firm.
What should M&K Tech do to enable its partners to sell its solution better and expand its partner base? A partner enablement portal can come to the rescue here.
What is a partner enablement portal, and why do you need it?
Building strong partner relationships that are nurtured efficiently is pivotal for all businesses to succeed at partner marketing. One of the ways is by providing them with a customized portal experience. This portal would go beyond a web interface for publishing information to a web-enabled communication and collaboration platform with all the latest and greatest content.
A partner enablement portal helps in:
transparently communicating product updates, marketing programs, sales enablement tools, and more to improve a partner's conversion ability,
improving CSAT by effectively training partner's technology and sales team about your product, and,
scaling a business by providing your partners with all the required tools and resources 24/7.
The partner enablement portal acts as a key enabler for the partner, contributing to increased sales and revenues.
As companies decide to set up their partner enablement portals, we are listing the top six imperatives that will help build an effective enabler for partners to grow and excel in their businesses:
1. Content enrichment for partner enablement
Detailed categorization of content makes it easier for partners to search and utilize content effectively. Members of the partner marketing (sales/pre-sales) team search for relatable success stories, detailed product information, solution docs, etc. These frequently accessed content include:
Ideal customer profiles
Product demos
Implementation resources like getting started plans, API guides, and more
Industry insights like viewpoints, thought articles, and other content
Brand asset
Stories by persona
A case study highlighting outcomes and KPIs
Solution brief with feature details, demos, comparisons with competition, product positioning, etc.
Implementation deliverable
Price lists, order forms, and invoice samples
Campaign content and email samples
2. Design and navigation
Enterprise adoption of an application depends on an intuitive and interactive user interface. UI/UX of the portal must be personalized, focusing on the partner's business needs.
For example, partners have monthly access to the portal for billing-related information or invoice status tracking. In that case, partners should be able to view the finance/account section on the home page instead of navigating through multiple links. Similarly, important notifications, deadlines, reminders for subscription renewal, new product launches, events, etc., must be visible the moment a partner member logs in to the portal.
In addition to a superior UI/UX, the below features should be part of the design for partners to navigate through the portal easily.
| | |
| --- | --- |
| Features | Description |
| Context-based search | Contextual searches help beginners to search across topics and professionals to get a larger picture of a topic across the organization. |
| Inbuilt content viewer | Portals must not display content outside the application architecture. It would be capable of displaying all the required formats for text, image, audio/video, CAD, or any other required format. This also ensures that the application is accessible on different platforms (mobile, tab, and web). |
| Keyword-based tagging | Content tagging is mandatory to establish a referenceable knowledge repository. The system shall be capable of auto-tagging, leveraging AI/ML capabilities. |
| Workflow-orchestration module | This helps standardize content processing and access management. This also enables leveraging tech capabilities such as RPA, AI/ML, and others. |
3. My (partner) Space
Workspace for partners helps them conduct several operational activities like quotes, project management, renewals, contracts, etc., in the draft, collaborative mode with their teams. This workspace also has the following supporting functions:
| | |
| --- | --- |
| Function | Description |
| Profile | Profile allows a partner to manage permissions and set preferences about how they do business through the portal. Advanced profile capabilities allow them to define their teams, manage roles and set collaborative workspaces to manage projects and opportunities. |
| Finance and Accounts | All financial transactions, status tracking, updates, and communications are performed securely through the workspace. |
| Notifications | Public and partner-related notifications are displayed in the partner workspace. |
| Enablement guides | Self-enablement tutorials, videos, and other helpful material are always available for new partner members. In addition, this material is updated with changes in portal functionalities. |
| Grievance redressal | Any issues or hurdles faced in proceedings are taken up through the grievance process. These can be initiated via conversational chatbot also. |
| Dashboard and reports | The portal has the capability to generate (statistical and analytical) periodic reports. |
4. Portal Governance
One of the key aspects is to understand the level of governance required. While it may vary for organizations, these are the key elements:
Authentication

A secured access and authentication mechanism is the core of the application. It enables data security within multiple partners accessing the portal simultaneously.

Categorization

Partners are categorized based on the nature of their services to the organization.

Classification

With partners in different categories, it's typical to introduce partner tiers. These tiers drive the governance. Partners in their respective tiers may have access to different product lines, promotions, notifications, commission structures, types of opportunities, and more. It helps the organization by providing the required support.

Administration

Administration allows companies to govern the partner portal effectively. It is typically run by the IT teams, sales support, or customer success teams of the product company.
5. Collaboration enablers
The usability of the partner portal is the highest once it allows members to connect with counterparts. This can be done by building communities and implementing AI/ML-based conversational chatbots.
Communities

With a large network, topics of interest among partner networks must be encouraged to be discussed effortlessly. This accelerates provision for innovation, improvement in operational processes, adapting to the latest tech/process/policy, and other tangible and non-tangible benefits, which help an organization to grow in the long term. Communities should have the following:
o Classification options (private and public)
o Discussion forums
o Content sharing

Conversational chatbot

An AI/ML-based bot that can push nudges to partners, enhance partner engagement and well-being across, bring agility in systems, accelerate skill development & knowledge management, reduce operational costs, and increase overall effectiveness.
6. Integration Capability
Seamless integration with other applications in the organization needs to be done to unlock the full potential of a portal. For this, the portal shall expose web services/APIs or have plugins/adaptors to provide a seamless user experience, such as:
Webservices/APIs to expose or consume content, such as:
Authentication
Content search
Content View
Content upload
Plugins for enterprise applications like CRM, ERP, ECM, BPM/RPA systems, and others
Email clients
Content customization with Office 365 and other business suites
Custom interfaces for quote generation, order form creation, procuring licenses
Integration with the lead gen system to capture contacts and opportunities from partners
Tooling framework for effective partner enablement
Please refer to the below framework that highlights a confluence of tools to implement the key imperatives for building an effective partner enablement portal: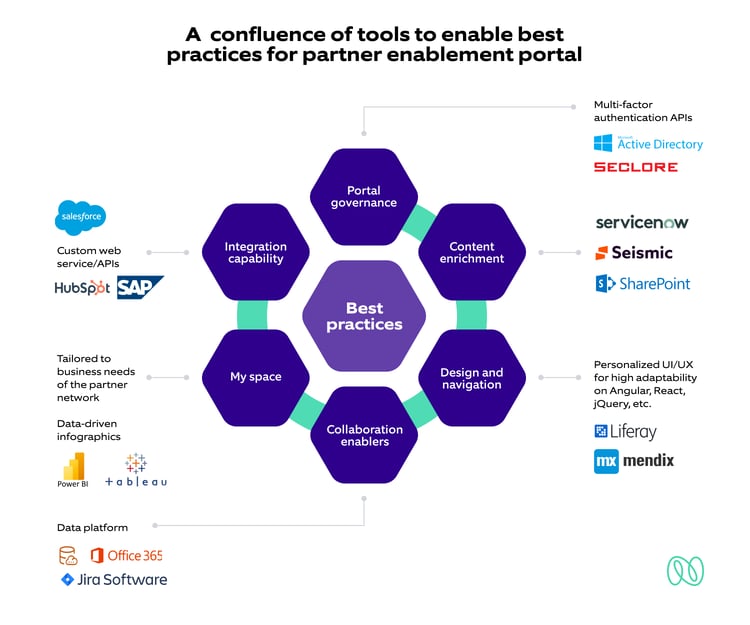 Conclusion
Your partner's success is eventually yours. By enabling them to proficiently communicate and sell your products, you help them grow your business. Its time you get a partner portal, tailored for your business needs, that can foster success through channel marketing strategy.
To discuss more on this topic or talk about a custom solution that aligns with your business and ways of working, get in touch with our experts by clicking here.