With digital transformation happening at breakneck speed, IT infrastructure and data security have become central issues. Organizations increasingly rely on cloud-based solutions for operations, which is why the security of these platforms become critical.
Organizations using ServiceNow (a leading cloud-based platform for IT service management) are at an advantage, since ServiceNow provides extensive capabilities to its customers to configure their instances per their security policies and requirements. However, ensuring the security of a ServiceNow instance requires careful consideration of several topics, including configuration parameters within the product, infrastructure, and technologies and how they are integrated. In this article, we will discuss some best practices and recommendations for securing your ServiceNow instance.
Securing ServiceNow: Best Practices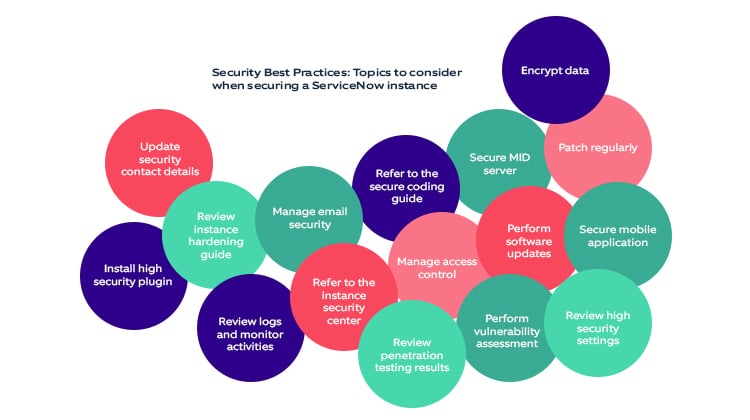 Update security contact details: ServiceNow Security Office (SSO) is responsible for relaying security-related information directly to the appropriate information security contacts within an organization. This includes informing about security issues, alerts, or details of important software updates, etc. To ensure that your organization is aware of the security-related issues, it is important to keep your security contact details up-to-date with SSO.
Install high-security plugins
ServiceNow provides high-security plugins that are automatically activated in new instances. This plugin enables High-Security Settings, which include:
centralizing critical security settings, creating a distinct security administrator role, a default deny property, and others.
Installing and activating the high-security plugin can easily and efficiently secure your instance.
Harden your instance
To make your ServiceNow instance completely secure and resistant to unauthorized access, it is essential to examine the configuration, coding practices, and wider aspects of the deployment, such as integrations or policies. The Instance Hardening Guide, Instance Security Center, and Secure Coding Guide provide useful resources for hardening your instance.
Manage email security
Email is a common method of communication for organizations and can be a potential source of security breaches. ServiceNow provides multiple capabilities to enforce email security policies, including controlling which inbound messages are accepted and from whom, encrypting the transmission of outbound messages, and scanning the attachment content for malicious material. By utilizing these capabilities, you can effectively manage email security and reduce the risk of security breaches.
Logging and monitoring
Detailed logs are already provided by the ServiceNow platform. These logs are a valuable source of security information that can help highlight suspicious or malicious activity. By adequately monitoring these logs, you can detect security threats and take appropriate action to mitigate them.
Use access control
Access control is critical for securing your ServiceNow instance. This includes user authentication to verify identity and authorization to control access levels and permissions. Changing the default login credentials (if possible) is recommended. Additionally, integrating SAML authentication with MFA can further enhance access control. The ServiceNow Access Control plugin can also be leveraged to control ServiceNow's access to instance(s).
Secure the MID server
MID server is a component of the ServiceNow platform that allows integration with external systems. Ensuring the MID server is in a physically secure, controlled location and that the operating environment has been secured and hardened is essential. Enabling only the minimum connectivity between the MID server and the internal and external network and allowing for required services and infrastructure can further enhance security.
Encrypt data when necessary
Data encryption is essential to data security. ServiceNow provides the capability to encrypt data to maintain its confidentiality and integrity. Encrypting data at rest within the instance using the method that best suits your needs is recommended. Additionally, configuring web browsers to use only TLS 1.2 or higher when connecting to instance(s) can further enhance data security.
Apply software updates: Applying patches and upgrades made available by the ServiceNow Patching and Upgrades Program is essential to ensure the highest level of security for your instance(s). Keeping your instance(s) up-to-date with the latest patches and upgrades can help mitigate security vulnerabilities and reduce the risk of security breaches.
Ensure mobile application security
Another crucial aspect of securing a ServiceNow instance is mobile application security. It's recommended to employ multi-factor authentication (MFA) along with a preferred authentication mechanism to ensure secure application access. Additionally, built-in controls for application access, clipboard, and screenshots should be used to avoid unauthorized access to sensitive data. It's also important to avoid storing record data on a mobile device. Also, utilize an Enterprise Mobility Management (EMM) solution for secure management of mobile devices and applications.
Perform vulnerability assessment and penetration testing
ServiceNow offers a sophisticated vulnerability testing and remediation program, and published the penetration test reports. However, suppose you wish to perform your own annual application penetration test. In that case, you must ensure that you have first installed the latest updates, hardened the instance, and fulfilled certain pre-requisite conditions before scheduling the test in the Now Support Portal.
It's important to note that how a ServiceNow instance is set up greatly affects the security of the data it contains. Maintaining security is an ongoing process, and it's crucial to monitor activity, stay abreast of new developments, implement relevant changes, and verify the results regularly.
Securing a ServiceNow instance is a complex and ongoing process that requires attention to detail and adherence to the best practices. Implementing the recommended security measures ensures your data is protected and the ServiceNow instance remains secure.
Nagarro's role as a ServiceNow implementation partner
We help address the challenges enterprises face in the fast-changing technology landscape by streamlining and automating business processes and removing siloes by connecting people, systems, and departments. Leveraging ServiceNow products and platforms, we help enterprises move from multiple silos-based systems to a single powerful platform.
Nagarro's ServiceNow practice has helped a market-leading insurance provider with vendor risk management. Sensitive information, compliance with regulations, and making effective governance, risk, and compliance (GRC) a priority, were a few challenges. We configured the service portal to enable easy access to policies and automated approval processes, associated risks, and links to regulations, while ensuring end-to-end security.
We can help you kick-start your ServiceNow journey, adhering to the best security practices. To learn more about our offerings and connect with our ServiceNow experts, click here.