Over-the-top (OTT) media revenue is expected to exceed 167 billion U.S. dollars by 2025, more than double the 83.3 billion generated in 2019. People are spending more time on OTT apps than ever before. The ongoing Coronavirus crisis has given OTT platforms a push, exponentially increasing their usage.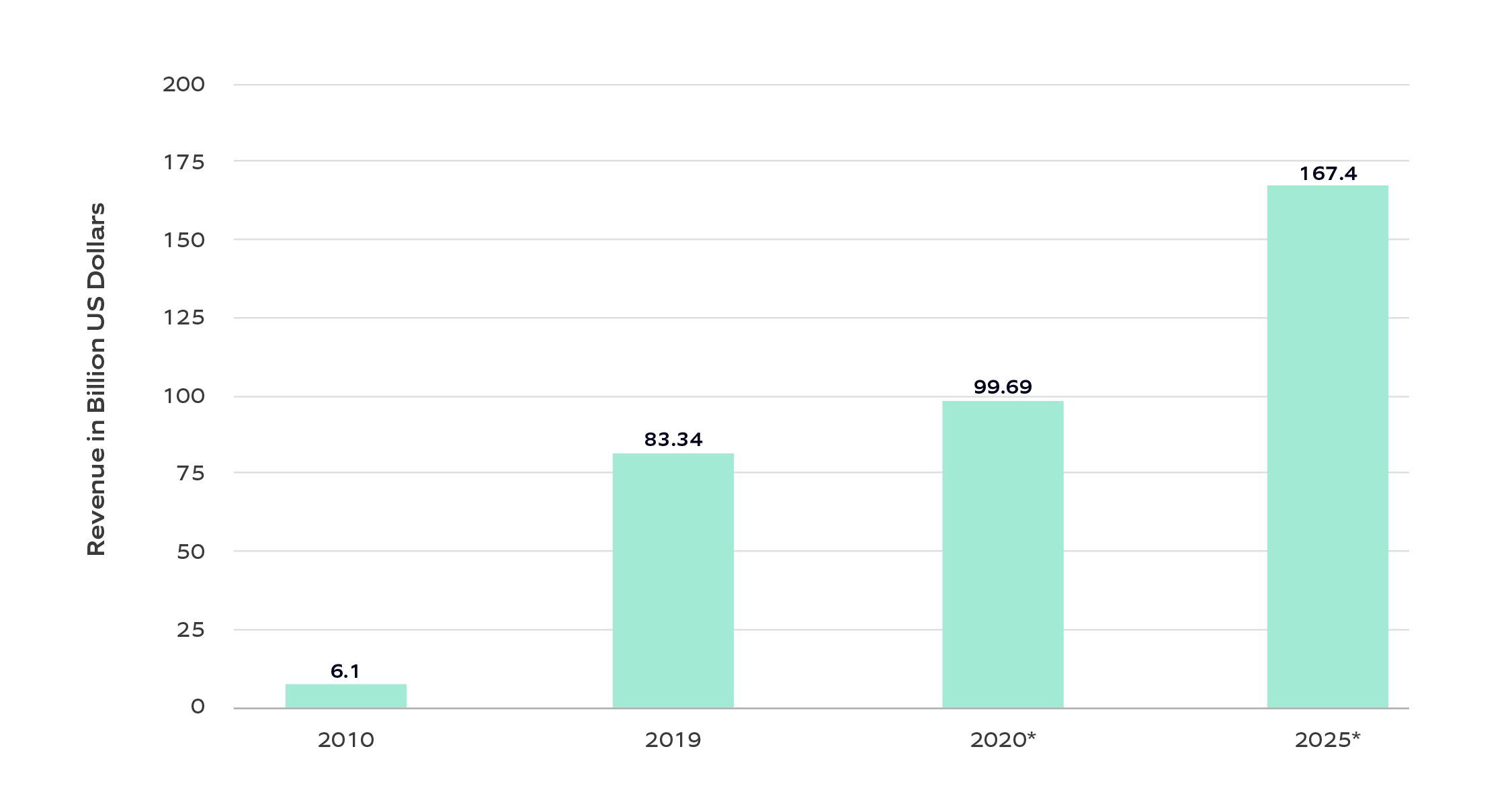 It has been more than ten years since Netflix released its first app for iOS. Developing an OTT app ten years ago was a colossal task that required:
Maintaining a direct relationship with a hardware and software vendor.
Conforming to the business logic of the app for that platform.
Implementing an app with 80% of an SDK.
Passing a certification process inspired by the movie Brazil.
There are war stories OTT veterans can tell, and indeed, shipping your first app can leave some scars. Thankfully, the market and platforms have matured, and it has become far more accessible today.
Outsourcing OTT app development
With experience, building and shipping OTT apps can be planned, executed, and delivered in a predictable cadence. If you do not have that expertise, you can buy it (hire expensive OTT architects), rent it (work with an experienced third party) or earn it (suffer through the peculiarities of delivering a finished OTT app).
For many, outsourcing something as critical as this could sound intimidating. In this blog, we will discuss some best practices to help you successfully outsource OTT app development.
Eyes on the prize
In Geoffery Moore's classic Dealing with Darwin, he talks about market maturity and how companies can stay ahead of the inevitable commoditization of a market. Simply put: how do you innovate and add value once the process of building a product is a solved problem?
Moore's answers for innovating in a mature market are focused on process efficiencies, experiential innovation, and then market/business model innovations.
The key point is that the OTT development team should focus on:
Streamlining content management workflows.
Ensuring the platform promotes relevant content to customers.
Making it easy for customers to migrate from AVOD offering to SVOD service.
What your team does not need to be focusing on are:
Updating your app to a new mobile SDK.
Implementing new analytics tags across five apps.
Updating a new hero image specification on your fourth most important platform.
Move your best and brightest up the value chain.
Drawing the line
At Nagarro, we have spent decades working with technology companies to divide the labor into software projects and platforms.
The three most obvious things to hold on to are:
The backend (keep investing in process efficiencies)
The user experience (it is your brand, your customers – own that connection between your media and your customers)
The architecture of your applications (how are you going to deliver the content feed, what is the analytics architecture and what are the backend components for capturing revenue)
Doing the work
If you are moving from a model where your resources are developing the apps to focusing on the higher value/complexity aspects of your OTT business, your development partner would love to have the documentation. But an experienced OTT outsourcing partner can also work with:
A summary of the principles of your app strategy.
Some question time after reviewing the existing code.
The backlog for the initial sprints of new work you are transitioning.
From there, the projects just become a process of managing expectations and communication, just like moving into an apartment with a roommate.
Be open-minded
Companies sometimes think that their OTT apps are too complex to share with a third party, believing that only they can maintain the app or platform. Yes, this can sometimes be true, but a capable OTT outsourcing partner would have worked on product transitions dozens if not hundreds of times. Your partner will articulate what they will need from you to integrate their team with your project successfully. Outsourcing relationships rarely fail because the software platform they are working on is too technically complicated. They fail because the two teams cannot successfully communicate about the problems and are responsible for solving them.
Conclusion
In 2021, the OTT market has matured to the point where developing and publishing applications to all possible OTT platforms and devices is a well-traveled road. Media companies publishing their content face an incredibly competitive marketplace for both customer acquisition and retention.
To take the lead in the competitive OTT market, your focus should be on optimizing process and user experience efficiencies, retaining customers, not on having your best architect thinking about OS compatibility issues.
Have you got an OTT project in mind? Or are you looking to step up your OTT game? We at Nagarro can help, check out our offerings, and speak to our experts.