Industry 4.0 is the fourth industrial revolution that aims to transform industries by making the factories and their ecosystem smarter and connected. As the factories and the ecosystem becomes smarter, the worker's role will also evolve. This evolution will require industrial workers to be empowered with newer set of tools and technologies to become Connected Worker 4.0.
Several technologies have emerged to support the vision of a Connected Worker. One such key group of technologies comprises Assisted Reality (aR), Augmented Reality (AR), and Virtual Reality (VR) – collectively known as "Reality technology".
Assisted Reality is becoming an important breakthrough technology in implementing Connected Worker 4.0 solutions. Through this technology, workers receive contextual information in their field of vision by leveraging smart devices such as Smart Glass, Smart Watch, etc. This technology has helped improve productivity and efficiency for Connected Worker 4.0. In this article, you will learn about the potential of Assisted Reality technology and share some of our insights to help plan and implement your first Assisted Reality solution.
Potential of Assisted Reality
Assisted Reality (aR) helps empower the workforce for Industry 4.0. With Assisted Reality, workers have access to relevant information in the form of smart data such as instructions, images, videos, etc. while wearing a smart glass to make smart decisions. The combination of smart data, smart glass and smart decision is transforming the way workers manufacture, assemble, operate, install, and service products.
Some of the most popular industrial use cases where Assisted Reality can provide impactful benefits are: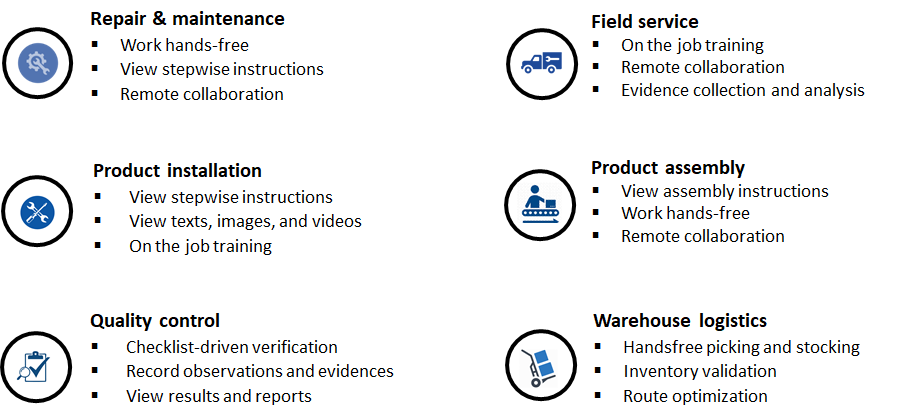 These use cases are likely to provide high returns on investment through productivity improvements, lower task resolution time and reduced errors. These benefits are made possible because workers can use simple voice commands to navigate through the work instructions on their display. The voice commands enable them to be hands-free on any device, enabling them to work faster, with fewer errors. This technology can also replace printed manuals because all the relevant information about a task (along with its relevant images and how-to videos) can be viewed on the smart glass. Apart from this, the Connected Workers can also make video calls to experts who can then provide real-time assistance. Therefore, your worker can avail remote assistance, thus saving the travel time and travel expenditure of an expert.
These are just a few potential benefits that we have highlighted. However, there are several other benefits associated with each use case, but they depend on the business context and the digital maturity of the workers and the use case.
Planning for Assisted Reality
Before you start your Assisted Reality journey, you need a game plan. Based on our experience of working on multiple Assisted Reality projects across industries we have outlined five areas which can jumpstart your aR journey. Some of these points will give you a tangible outcome while the outcome of others might not be quantifiable. Nonetheless, they will have a significant impact on the success of the project.
1. Use case choice: Making the right use case choice is important. Before starting the project, brainstorm about possible use cases and prioritize them. We have curated a list of 15 factors that influences the choice of the right use case, which include:
Use case complexity
System impact
Business value

2. Device selection: aR technology is very tightly coupled with the wearable and mobile devices. Many options are available in the market. There are more than 50 parameters which can influence device selection. Some areas which are regularly ignored but are still very important include:
Where is your work environment located - indoors or outdoors?

Do you need to work handsfree?
Are you working in a noisy environment?
3. Development preference: There are multiple approaches to develop an Assisted Reality solution. A key choice is to either take a platform approach or to develop a native solution. We have more than 20 parameters which can influence the decision-making. The most widely discussed parameters are:
Total cost of ownership
Project timeline
Scalability
4. User experience: For an aR project, we follow a list of 25 best practices to ensure high quality user experience. As a rule, we always think about these basic things, especially for a smart glass-based solution:
Display size
Ease of navigation
Information hierarchy
Having said this, we should also consider user profile, connectivity, accessories, etc. as they enhance the user experience.
5. Stakeholder involvement: Constant stakeholder involvement is important all through the project. For Assisted Reality, it becomes even more important due to the large paradigm shift created by the technology. Three areas that requires special consideration are:
End user involvement
Management sponsorship
Agile development practices
While this framework provides a good starting point to guide you through your Assisted Reality journey, we recommend getting a subject matter expert on board for uncovering the many unsaid potential challenges associated with your unique use case.
Prototype for Assisted Reality
Once you have decided to develop your first prototype for Assisted Reality, you should decide the implementation approach. Based on our experience, we are sharing some basic steps to enable your journey for successful implementation and adoption.
Ideation workshop

: Bring stakeholders together to ideate and shortlist a use case based on "use case choice" and other parameters mentioned above.

Be creative

!

Create prototype: Once a use case is shortlisted make a choice between creating a prototype, MVP or full project implementation. For your first Assisted Reality implementation, we recommend creating a quick prototype as it allows you to experiment without investing too much time and effort. Be agile!
Demonstrate and collect feedback: Once the prototype is ready, demonstrate it to obtain stakeholder feedback. Based on the feedback received, scale the prototype and pilot the solution. Even if the feedback is not positive, please don't stop experimenting with new features or with a different use case. Be brave!
Once you have completed the prototype phase, you are ready to scale to a pilot project or to an industrialized implementation. We will describe our recommendations for pilot project or industrialized implementation in our subsequent article series.
Conclusion
Assisted Reality is a key technology to enable the vision of Connected Worker 4.0. Getting started with aR is not challenging, however there are certain considerations around use case choices, devices, stakeholder management, user experience, etc. must be thought through. For your very first aR project, we recommend that a prototype approach will be most appropriate in learning about some of these considerations for your business.