As someone who has been working in the wood manufacturing industry for a while, I have experienced a palpable change in the industry's approach toward data. Though a little late, businesses in this sector have also realized the value data and analytics can add and have started driving digital transformation efforts across the industry.
There is a considerable shift in data treatment and application across the value chain. Traditionally, organizations in the sector often manually tracked performance indicators at manufacturing mills and distribution centers, and this data shaped critical business decisions. But now things are changing. For instance, Hoods Industries, a leading US wood manufacturer, digitized their entire data reporting process and saw an uptick in the quantity and quality of insights. The project driven by Nagarro included grabbing all the existing data and creating an application that automated the reporting process. Now, they are reporting data and making predictions using AI models.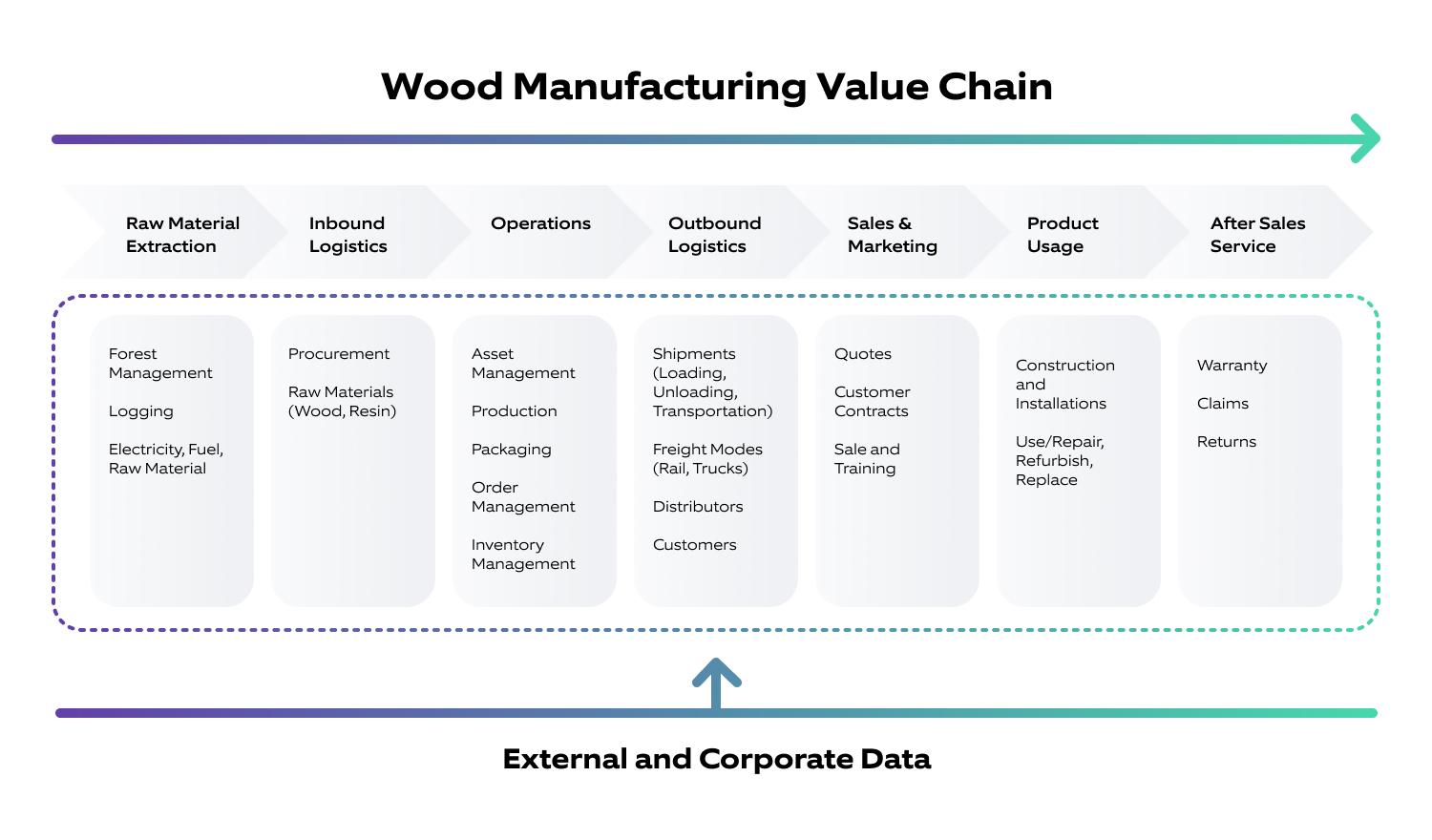 Analytics in the wood manufacturing industry
Organizations in the sector are moving towards smart manufacturing by utilizing the latest tools and techniques to support their business functions to enhance profitability by mills, products, customer regions, and distribution channels. Manufacturers are deploying analytics to optimize their product mix, which includes the log thickness, mill distribution, optimal cuts, and price forecasting. The strategic approaches help them design a supply chain network by determining the optimal mix of locations, production facilities, and distribution. Analytics plays a major role in this transformation.
Predictive maintenance, for instance, helps organizations carry out analysis to pre-empt machine breakdowns and schedule maintenance accordingly. Unscheduled downtime leads to revenue loss, production loss, and resource and material costs. AI models and neural networks analyze the machine's data to identify patterns and predict the state of a machine at any given point. This helps detect equipment that leads to unscheduled downtime/production loss, identify repair costs (material & resource) associated with this equipment, and calculate ROI for investing in the predictive maintenance technique.
Analytics use cases in the wood manufacturing industry
While the analytics applications in the industry have various use cases, I believe the following use cases have a higher return on investment potential.
Sales and marketing: Analytical models can be deployed to help organizations identify potential customers and enhance product development. It allows the marketing and sales teams to do effective customer segmentation and price optimization and help in real-time monitoring of usage patterns and customization of after-sales service. In sales, data analytics can help increase conversion rates. Hoods Industries, for instance, has adopted AI-based predictive analytical models to improve sales forecasts and promote better demand planning and strategy creation.
Manufacturing analytics: There is immense scope for organizations to leverage analytical models for detailed insights on cost breakups & material composition of products across different manufacturing locations, mills, and plants. Let us consider a case where a manufacturer is seeing no production loss, but its maintenance costs are still high. How do we identify the cause of high maintenance costs? Analytics can help identify the correlation between maintenance activities and production loss, enabling organizations to optimize their maintenance activities.
Product line profitability: Analytical models enable organizations to compare sales forecasting versus actual orders, key customer contracts, product features and attributes, price lists, rebates, and discounts. A leading wood manufacturer from the US is using data analytics to gain real-time visibility on their customers, delays in order processing, and support on advanced product configurations. Nagarro supported their data journey by creating 30+ data models that drive the analytics. The project has helped the client accelerate business growth by yielding real-time access to data.
Procure-to-pay management: Organizations can also track and optimize their procure-to-pay (P2P) lifecycle by visualizing data from purchase requisition, purchase orders, receipt, and invoice management. Analytical reports help in providing details on expenses, invoices generated, returns, and canceled orders. Analytical models capture detailed information on financial transactions (Invoice history, credit information); supply chain transactions (availability of promised goods, new or changed sales order visibility, and order history), and automated quote creation. This allows business teams to base strategic decisions on transactional data from multiple source systems.
Management reporting and dashboards: In terms of reporting, analytical models can help companies create a reporting platform to provide executive dashboards, organizational KPIs, and metrics, enabling the leadership team to make critical business decisions. Nagarro worked with one of the existing clients to enhance their reporting platform by bringing efficiency to the existing data ingestion (Manufacturing, Sales and Distribution, Finance) using intelligent alerting, enabling sophisticated data-driven alerts.
Enabling analytics with quality data
In my experience, the success of any analytical model hinges strongly on data integrity and quality. A lack of data inaccuracy, relevance, and consistency can derail your data value chain. Distributed and siloed systems lead to difficulty in data discovery and the kind of data modeling required to solve business problems.
How do you ensure data quality and consistency? A data governance framework combined with a data integration strategy and data compliance and monitoring can help ensure the success of your data projects.
Data integration: As the organization grows, capturing distributed data across multiple sources becomes critical for efficient utilization. This may include integrating internal and third-party systems for planning, forecasting, and asset utilization.
Data governance framework: Data quality should be the top priority of any organization under the data governance framework.
Data compliance and monitoring: At a time when organizations are increasingly migrating to the cloud and have to comply with GDPR and other regulations, data compliance and monitoring are extremely critical.
A data-driven future for the woods manufacturing industry
In the coming years, the wood manufacturing industry will see a significant tech-driven transformation, with many processes and workflows being automated or augmented. One particular process where I anticipate increased analytics application is the tracking of warranties and policies to amend licenses/subscriptions remotely based on equipment health.
For example, warranties are generic and consist of a "one-size-fits-all" approach leading to uncertainties and unexpected problems. Companies can improve products and reduce failure and costs by applying advanced analytics and capturing data from active warranties. This will help them ensure more informed production planning, which reduces field complaints.
Technologies like AI, ML, simulation, and robotics will lend more flexibility and customization to the manufacturing sector. Mills and production facilities will likely start receiving orders digitally. These orders will help with production-related data that helps avoid failures at the end of the production line by predicting failure before actual production begins.
As technology drives a change in the industry landscape, data and analytics will play a key role in combatting challenges in driving business growth. Analytics can help improve overall equipment effectiveness, which according to a McKinsey study, can help save up to 10% in losses. Additionally, by leveraging data for business intelligence, manufacturing organizations can build business resilience. This further equips them to withstand unfavorable external events like the ongoing geopolitical crises and international sanctions.