Michael "Mika" Frank and Vladimir Fisic are two people who consider coaching a huge part of our lives. If you are wondering who they are, that's us, the authors of this article. In our professional lives, we don the hat of agile coaches at Nagarro, and in our spare time, our football and boxing gloves come into play! Mika is an American football coach of the same team he had played earlier as a quarterback. I (Vlad) am an active boxer and boxing trainer. Our vast experiences in both roles have taught us what agile coaching can learn from sports coaching and vice versa. Would you like to know more? Let's dive into it!
As coaches, we strongly believe in our work and the value it can bring to people and organizations alike. We do our work to unleash people's true potential and enable them to follow a shared vision and common goals. You must have a strong individual basis to excel in a team and organizational environment in both sports and business. As coaches, we can have a positive impact on this. We believe that the best coaches in sports can rally people behind a common goal, inspire everyone to act, and help the team succeed.
A valuable tool for businesses as well, right?
So what do we do? Here's our 3-pronged approach:
I. Envision reaching a clear goal!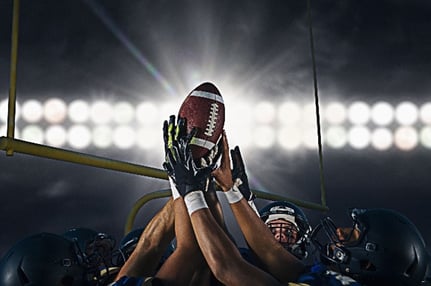 In any sport, the goal is clear – you want to win.
If it's boxing, you want to be better than your opponent (either by KO or points), and if it's football, you want to score more goals than the other team.
But, if it's a company, when does it win? That's something each company must figure out basis their purpose and vision.

As agile coaches, an essential part of our job is to help companies design their winning scenarios. In the business context, it might mean achieving the strategic objectives set for the given year, for example, an 'x' percent increase in revenue, venturing into a new market, and boosting employee satisfaction by x percent compared to the last health check so on.
We teach companies that one of the winning conditions should be the happiness of people - customers and employees alike! This concept coincides with one of the Modern Agile principles – "Make people awesome."
Once we have defined our goal in both fields, making progress towards that goal is the only way forward. We collate experiences and aim to get closer to our goal daily.
II. Devise a strategy to achieve the goal
After establishing the goal, we need to devise a strategy to achieve the goal (how will I/we beat my opponent, how will I/we be better tomorrow than today). In business, we call this a roadmap. In both scenarios, employees and athletes must understand HOW to reach that goal successfully.
So, we make expectations explicit – either by setting milestones on the goal-oriented roadmaps. In sporting terms, this means pinning down the play to the T by deciding which skill each athlete in a specific unit will have to bring to the table and which play we will call during a game. So everybody knows what and how she/he can contribute to the team.
A strategy gives employees in an organization and athletes in a game a sense of direction and alignment.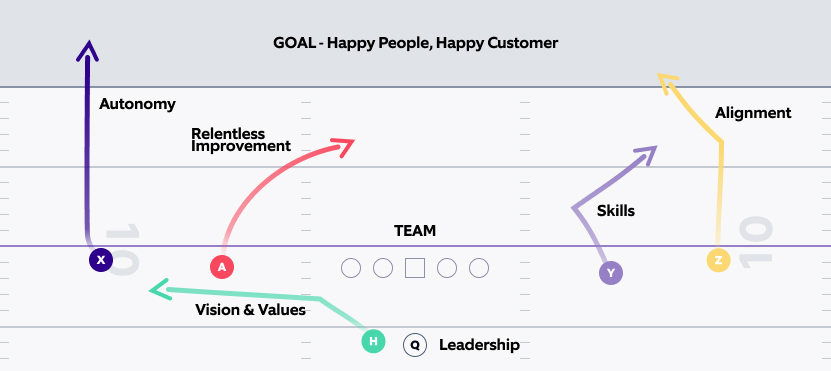 A roadmap (or playbook, in American football) is necessary to know how to approach your goals 
III. Be open to change and adapt to changing circumstances
Agile coaching techniques are quite similar to sports coaching in adapting to change. We coach for performance and results (efficiency and effectiveness). We measure them by the growth of value and impact created by our teams. So, when things get tough, we help you get over the line and improve. Sure, this hurts too at times, but the gain is worth the pain!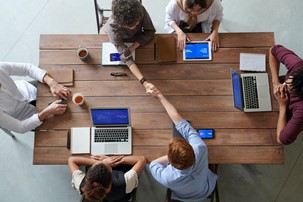 Many so-called Agile Coaches don't understand that you as an Agile Coach can only be successful if the team(s) under your wings are successful.
Establishing a Growth Mindset!
You don't take the playing field, and your success depends on the people you are coaching. So we must recognize how much stake we have in the success of our teams. We can't back down but can establish a mindset of relentless improvement – we are talking about a Growth Mindset.
What's that?
A Growth Mindset harnesses the ability to see failure as an opportunity and maybe even have fun while experimenting with processes, tools, and ways to generate value. The basis for all that is trust and psychological safety. People shy away from trying new things when they get blamed for mistakes. We would never even try new things if somebody told us, "don't even try; it's not gonna work." The Growth Mindset encourages you to harbor thoughts like, "Let me try something new; maybe it's even better than what we did before?". So we see failure as an opportunity to learn, improve, and even welcome it. In business terms, this mindset encourages us to experiment frequently and quickly validate if the results are valuable and relevant for the client.
We have often heard coaches say things like, "I've told them a hundred times what to do. They just don't do it (so if they fail, I'm off the hook)." Well, we call that bulls***. Try something different. Show them. Change your methods. You are accountable for the success and the failure of your team. That's what we owe to our teams - to maintain the integrity of a coach – be it in sports or business.
There's no shame in failing – it's a shame only when you don't get back up and try again.
Nagarro is a company we feel so connected to – our actions are rooted in our CARING values, and "our clients' success is our success." As agile coaches, we take that approach seriously and work towards building an agile enterprise.

Do you want to get better at what you do or simply exchange ideas about coaching topics? Connect with us or drop a note at aqt@nagarro.com. We look forward to chatting with you!