Have you ever walked into a mall and wondered how the display board so accurately suggests what you might want to shop next? Were you surprised to see a hotel ad on your laptop right after you booked a flight using a mobile app? That's the magic of advertising technology, which understands consumer behavior, interests, and serves the right ad at the right time.
To understand this better, let's take an example of personalized content – the display window at McDonald's. When a kid walks by, the display shows kid's Meals. In contrast, adults passing by will see a burger or salad, with a coupon code for a free strawberry shake, to compel them to walk in.
A new era of advertising
The advertising industry has changed dramatically over the last decade. New consumer patterns and advances in advertising technology pushed the industry to peak growth. But the COVID-19 pandemic hit everyone hard, and reduced advertising avenues led to a sharp slump. However, with quick adaptations and changed consumer behavior, the ad-tech industry picked up again in 2021.
As the industry evolves, certain trends are defining the future of the industry.
Trends driving the advertising industry
1. Removal of third-party cookies
For a while now, third-party data has been driving programmatic advertising. However, third-party cookies are now being blocked – initially by ad blockers and later, by popular web browsers. Recently, Apple announced limiting the IDFA (the Identifier for Advertisers) functionality for iOS. Estimates indicate that this change will drop targeted impressions by up to 50%. Firefox and Safari browsers already have these types of blockers in place. And, with Google announcing the removal of third-party cookies from Chrome, advertisers are in jeopardy. Advertisers will need to devise new ways to keep ads relevant to viewers.
2. Use of AI and data analytics
Programmatic advertising has automated the process of buying and selling ad inventory by merging AI and real-time bidding across mobile, display, video, and social channels. Each visitor's behavior is auto-analyzed, and real-time campaign optimization is enabled. In 2015, The Economist created 60 creative assets targeting 650K prospects who read similar stories. A lookalike audience was created as the target audience. Over 3.6 million people took the desired action, and the newspaper achieved 50% of its target within 9 days!.
3. Ad fraud
Ad fraud or invalid traffic (IVT) is the act of fraudulently representing online advertising impressions, clicks, conversions or data events to generate revenue. Hiding video ads behind a banner ad and capturing fake clicks is one such example. These frauds have increased due to higher digital consumption in every sector - shopping, banking, gaming, OTT, etc. A recent report predicts that the total loss of mobile advertising spend to fraud will increase from 26,000 USD in 2018 to 62,000 USD in 2022.
4. Experimenting with new devices
Obviously, advertisers want to invest in channels used by their target audience. Historically, advertisers had a limited number of platforms in which they needed to divide their ad spend. But now advertisers must pay attention to trends to catch their consumers where they are. An increasing number of viewers are moving from TV to streaming platforms, and the younger audience is trying live streaming, wearables, voice-activated devices, and other newer tech.
Juniper research predicts over the next five years, growth in voice assistant categories will be found in smart TVs (121.3% CAGR), smart speakers (41.3% CAGR), and wearables (40.2% CAGR). Ad impressions over Connected TVs (CTV) were 41% in 2020, digital out-of-home (DOOH) is expected to rise to USD 15.9 billion in 2027 as compared to 6.7 billion in 2019.
5. Mergers and acquisitions
The strength of advertisers lies in their creativity. Advertisers are strengthening their ties to show the most relevant ads at the right place and time and to the right people. The world is increasingly looking at ad-tech and market-tech together rather than as standalone entities. Companies are launching new products that integrate with Demand Side Platform (DSP) and Marketing Automation Platform (MAP) to run advertising and marketing campaigns in tandem for better conversion.
The new advertising landscape
1. Targeting first-party data
Cookie-less browsers present the challenge of first establishing user identity and then showing appropriate advertisements. With most of their data on gadgets, consumers have become even more concerned about privacy. First-party data is of high value and it is essential to handle it carefully. Well-structured user databases will help test and establish good models for return on advertising spends. For example, Adform recently launched its platform that helps advertisers buy targeted ads based on first-party data.
2. Creating smart advertising systems
AI is transforming the world of advertising at every level, from ad creation to audience targeting and ad buying. In 2018, Lexus released the first advertisement scripted by AI. Advertising platforms generate plenty of data to work with, such as measurable impressions, click-through rates, bid levels, demographics, all of which can help create intelligent advertising systems.
Data analytics can help cater to consumers who want personalized advertising communications. Brands can use analytics to intelligently identify and segment audiences, build creative assets, personalize ads, improve performance, and optimize spends—automatically, in real-time, and at scale. Better personalization and behavioral targeting are the cornerstone of digital advertising.
3. Fighting the frauds
Ad frauds are not restricted to a particular industry. Frauds have crawled their way into finance, shopping, gaming, and more. According to the World Federation of Advertisers, ad fraud will become a $50 billion market for organized crime by 2025. Multilevel blocking, including blocking invalid traffic, is the only way to fully mitigate risks associated with ad fraud.
4. Catering to omnichannel experience
The consumption pattern has changed today, as users switch between channels and perform most of their everyday activities (reading, viewing, shopping, etc.) online. To cater to multichannel and multidevice consumption, advertisers are coming up with new advertising formats.
This multichannel advertising could become even more prominent with advancements in communication technology, like 5G. The higher bandwidths of 5G will provide more reach at a higher speed through different channels. Technology has performed the miracle of showing the same ads on big screens (TV), small screens (mobile), smaller screens (wearables), and even voice-assisted devices, delivering an enriched experience.
5. Converging ad-tech and market-tech
Advertisers who want to know their audience well drive campaigns towards direct targeting. The lines between advertising and marketing have blurred and to scale up, the industry is growing through consolidation. Today, investors are seeing higher ad-tech evaluations, partly due to the ongoing marketplace consolidation. This convergence, also referred to as MadTech, helps reach and measure consumer interactions across different channels and touchpoints. In the third quarter of 2019, 33 ad-tech deals were completed worldwide. The following diagram shows a consolidated (MadTech) ecosystem and how it works.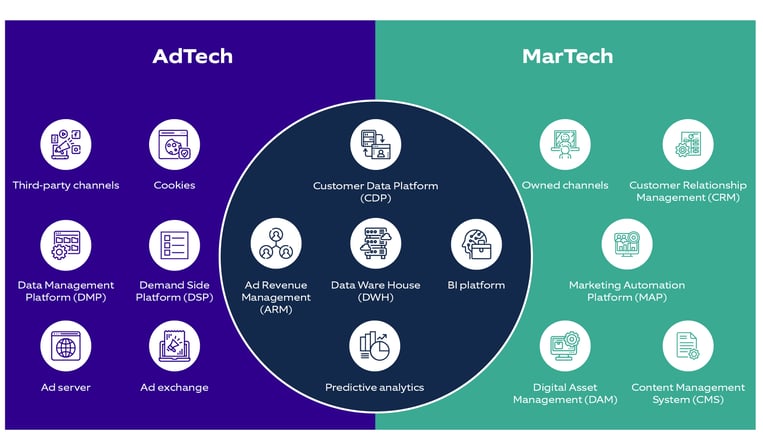 Closing thoughts
Backed by technology, the advertising industry is on a growth trajectory. User preferences, data privacy concerns , new regulations like GDPR, and newer technologies make the ecosystem more complex every day. To thrive and create a safe, personalized, seamless, and smart ecosystem, advertisers and marketers must stay abreast of technological innovations and regulations. Are you in touch with the trends? We can help you get there: connect with us today!