Ever wondered what goes into getting a product delivered to your doorstep? After all, there's got to be a system to track and ensure that you receive your order, in time. Yes, it's indeed a complex process involving multiple stakeholders and several factors such as distance, weather, and the product. Apart from this, it also requires all stakeholders to function in perfect unison, just like an orchestra. It's only then that the entire shopping experience sounds like music to the ears of the customer.
Over the last few decades, organizations have perfected their operations to fit into the global supply chain schema. But then, the pandemic happened, and disrupted the decades-old cadence. Suddenly, the 'global' factor turned from a boon to a bane.
Hit by pandemic-driven transport restrictions, manufacturers dependent on suppliers located in different parts of the world found themselves in the lurch. It led to a demand and supply gap that escalated the cost of raw materials even further.
On the bright side, the pandemic highlighted the need for resilience and agility. It pushed companies to lean on emerging technologies and became a catalyst in their digital transformation efforts. The advent of Industry 4.0 saw companies adopt tech innovation quite aggressively.
But despite all this, some organizations are still quite far from fully utilizing technologies to their benefit. Advanced analytics, for instance, continues to see limited application in the supply chain industry, even when it holds the power to uncover key opportunities and address challenges by extracting actionable Insights from data.
According to Statista, the global supply chain analytics market revenue worldwide will reach 7.1 billion USD by 2023, doubleing its size in 2018.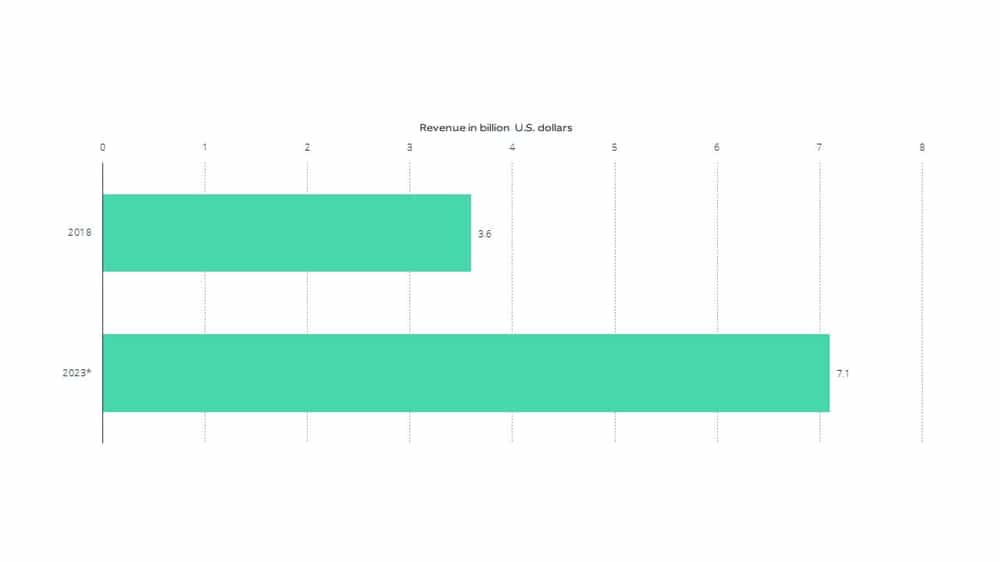 Figure 1: Supply chain analytics market projection (Source: statista.com)
In a 2022 survey, 77% of organizations from different industries worldwide revealed that they expect Big Data and Analytics to have a moderate to major impact on supply chains by 2025.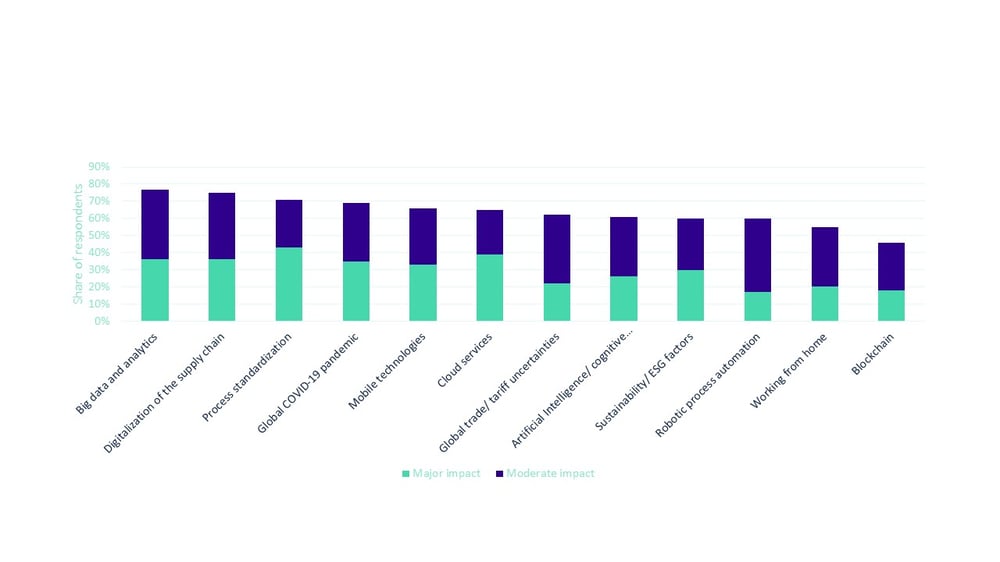 Figure 2: Growing impact of big data and analytics on supply chain across industries
Let's look at the major supply chain functions and how advanced analytics can help streamline them.
Planning and procurement
A supply chain begins with the procurement of raw materials, and organizations must make the most optimal choices during this stage. Companies often face challenges while deciding optimal quantity and time at which it should be procured. Production planning based on demand/sales forecasts can help address this challenge.
Analyzing past trends for demand forecasts doesn't serve organizations any longer. Today, demand is dependent on multiple internal (labor, Inventory, price change, new products, etc.) and external (weather, competition, purchasing power, consumer preference) factors. To ensure accurate forecasts, it is pertinent to account for all these factors.
Let us understand this better with the help of one of our implementations.
Nagarro developed a customized cloud-based machine learning driven intelligent forecasting and inventory management system for a leading telecom giant in the US. This implementation helped the client improve efficiency and forecast accuracy, resulting in lesser inventory and holding costs, with 100% service levels.
Our AI model considered the historical consumption data, various internal and external factors, and insights from different sources to generate a robust forecast for future inventory levels across multiple stock keeping units (SKUs).
The model used reinforcement learning and took into consideration safety stock requirements and purchase order quantities to maintain an optimum inventory level and adjust the forecast accordingly.

The solution can be scaled to handle multiple SKUs with minimal effort.
This implementation led to an 11% reduction in working investment (savings of $9.5 Million) and an 8% reduction in inventory carrying costs.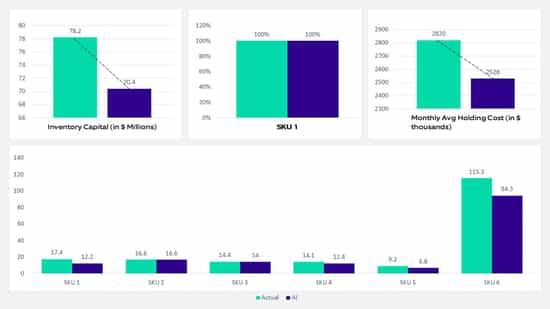 Figure 3: An AI-powered inventory forecasting model
Production
The production function comprises multiple processes like staff allocation, operating plans, machine yield, and machine operations. The equation is quite simple: higher the processes, greater the complexity in production. Advanced analytics can streamline the entire process and bring efficiency to these factors. Let us understand this with two of our advanced analytics driven use cases.
Nagarro built an automated ML-based solution, enabling real-time and flexible job scheduling.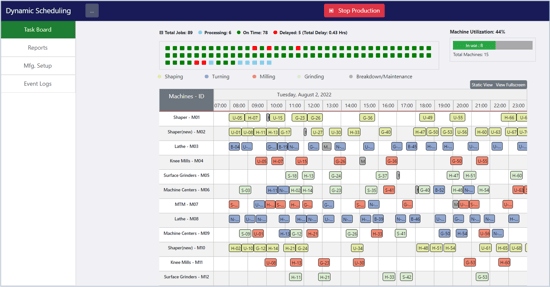 Figure 4: ML-based solution for real-time job scheduling
It is an intelligent solution that reacts to dynamic changes in the manufacturing environment such as inflow of jobs or addition and breakdown of resources. It also provides an optimal job schedule while accounting for important factors such as due date, client priority, utilization, etc. Our solution reduced manual schedulers from five to one and curtailed scheduling costs, with increased asset utilization.
The second implementation involved Nagarro developing a predictive machine maintenance solution using neural networks.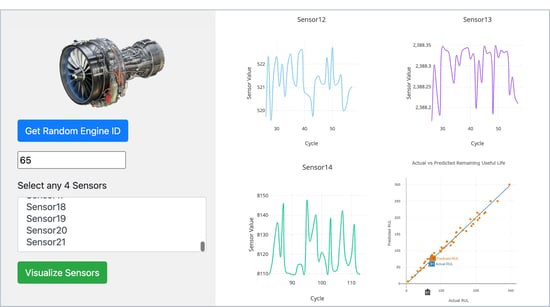 Figure 5: A predictive maintenance model leveraging neural networks
We collected data from 500 sensors, measuring parameters every hundred milliseconds and analyzed this data to gauge machine health through predictive analytics. We executed the project successfully, even without specific domain knowledge.
This implementation helped the client witness increased production and cost savings.
Warehouse management
To meet the customers' rapidly evolving needs, organizations need effective warehouse management. They can bank on advanced analytics to decide on the optimum number of warehouses and their locations. This enables them to maximize service levels and minimize cost.
Nagarro developed a multi-objective solution by using swarm intelligence. This solution considered the facility setup cost, the distance between the customer and supplier, the operational delivery cost, and the service level to optimize warehouse facilities while fulfilling customer demand Service Level Agreements.
We built three optimization models: one for setup cost, another for distribution cost, and the third one combining the capabilities of the first two models.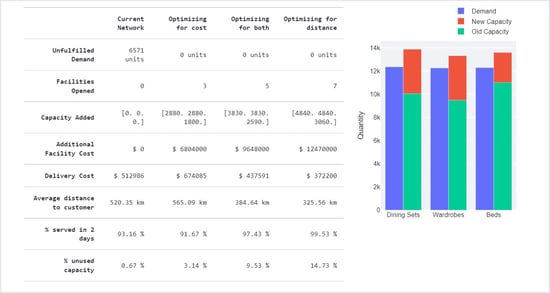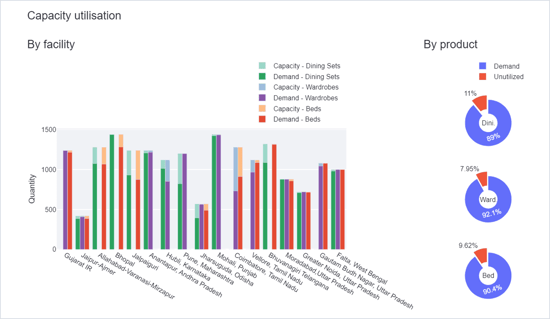 Figure 6.1 & 6.2: A solution built on swarm intelligence to optimize warehouse operations
This implementation reduced the average customer distance from 520km to 384km and increased service level by 97.4%, fulfilling all customer demands.
Logistics and shipping
Once a product has been manufactured, companies must deliver it to the right customer in the stipulated time. Sounds simple? It's a much bigger challenge than what may appear. Many factors are considered for making delivery operations reliable and remunerative. These include delivery planning & routing, fleet combination, space utilization for packaging, and last-mile delivery systems. All these factors combine to determine the overall operational efficiently and transparency.
Here's how Nagarro helped a client streamline its logistics and shipping processes by building an intelligent solution to optimize last-mile delivery operations.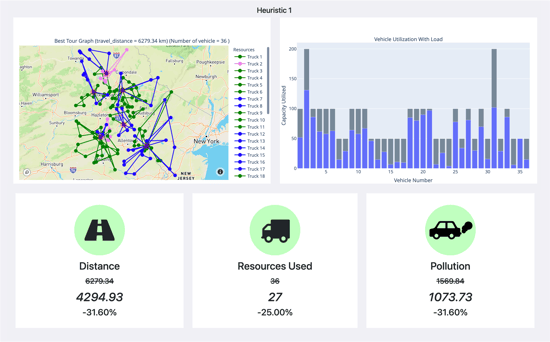 Figure 7: A route optimization problem for last-mile delivery operations


Our solution provides an optimal set of routes to fulfil customer orders in time, by reducing costs. It is a customizable solution, adaptable to any number of customers, vehicles, and delivery-time windows.

We ensure availability of optimized route and navigation details for delivery requirements through a graphical representation for every vehicle.
The client's implementation of this solution increased accuracy levels and reduced costs.
In another successful implementation, we built an ML-based solution that deployed a 3D best fit heuristic algorithm for intelligent package arrangement in containers.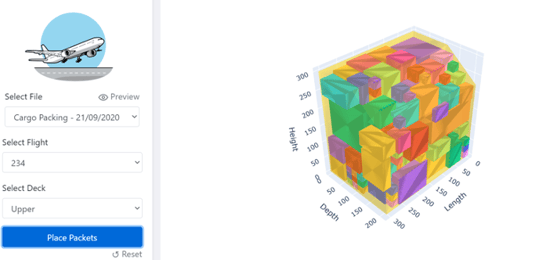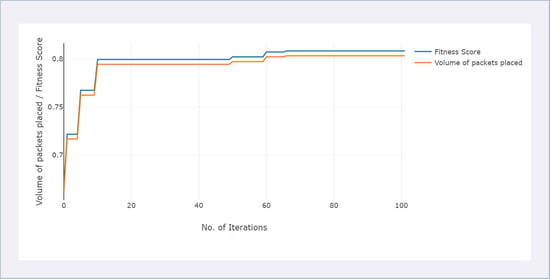 Figure 8.1 & 8.2: An intelligent packaging solution leveraging heuristic algorithms


If the packages don't fit, we calculate the likelihood of fitting them by using the space utilized by bulk unitization program (BUP) and packages.
Our solution provides a dashboard that displays a 3D visualization of the package arrangement and a statistical analysis of the solution's impact.
This solution assisted the client in making better use of its container capacity by 10% to 20%.
Back-office
For the success of any supply chain, back-end tasks like bookings, planning, customer support and ordering are crucial. These tasks are often mundane and require extensive manual effort, impacting the efficiency of the supply chain. Organizations can use hyperautomation to automate and augment these tasks by using AI and advanced analytics.
Most of these tasks can be categorized as:
Human-perception-based tasks - They require analysis from a human subject, based on his/her visual perception of a problem/requirement. Any subjectivity in the analysis can lead to different outcomes. Machine vision/image or video analytics solutions can perform these tasks with higher accuracy while eliminating any type of subjectivity.
Language cognition-based tasks - They require a thorough reading and interpretation of information in various formats and languages. Subjectivity and manual errors can affect an individual's ability to read and interpret that information. Solutions powered by text analytics – that uses Natural Language Processing (NLP) and Optical Character Recognition (OCR) – tend to be more quick, efficient and accurate.
Nagarro developed an AI-enabled solution that parses incoming emails, generates recommendations, and integrates with booking services to automate the process.
The solution makes data ready for inferencing and the extraction model then extracts target entities like origin, destination, commodity, airway bill (AWB) number, delivery date, etc. The implementation reduced the ticket booking time significantly.
In another project, Nagarro partnered with a leading automotive player in U.S. to build an ML-based solution to capture tabular data from scanned documents. We began with data extraction from an OEM's document using intelligent data extraction methods.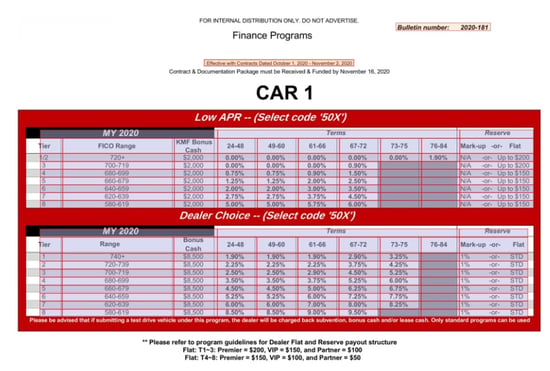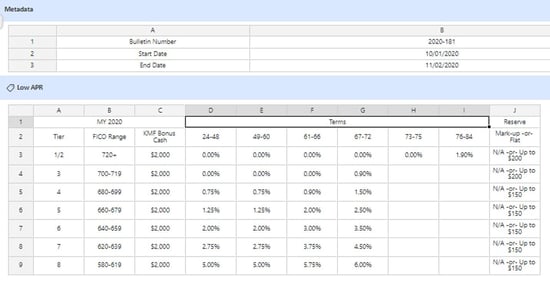 Figure 9.1 & 9.2: A ML-based solution to reduce the average document handling time
After that, we transformed the extracted data into a business consumable API format, to integrate it with existing applications.
The result? Our solution reduced the average handling time (AHT) of documents and provided error-free processing.
Conclusion
Supply chain analytics can help bring more transparency and control across its functions. It can optimize operations, reduce inventory costs, enhance the quality of production and increase the channel's performance.
Leveraging analytics across the supply chain requires a consulting approach to ensure that the analytical initiatives bring value at the proof of concept (POC) or minimum viable product stage. With a dedicated team that continuously build advanced analytics solutions & accelerators, we can help you kickstart your advanced analytics journey. Let's get together to build a future-proof supply chain!