If there were a radio show on the current trending technologies; low-code would be the chartbuster as organizations worldwide seem hooked to the emerging technology. Across industries, there is rapid adoption of the technology that promises fast development of applications with minimal overheads of traditional development.
The three leading research and advisory firms worldwide have predicted strong growth forecasts for emerging technology. "The worldwide population of low-code developers will grow with a CAGR of 40.4% from 2021 to 2025. This growth rate for low-code developers is roughly 3.2 times the 12.5% CAGR for the general population of developers worldwide," IDC said in a statement issued in March 2021. In February, Gartner forecasted that the worldwide low-code development technologies market would grow by 23% in 2021. Forester, too, affirmed that low-code development applications would see strong growth in the coming years.
Low-code is a visual approach to software development. It abstracts and automates every step of the application lifecycle to enable the rapid delivery of various software solutions. It ensures a substantial reduction in the time taken to develop an application and makes the process significantly simpler. In fact, thanks to its automated approach to application development, low-code makes it possible for even non-IT personnel to develop applications.
Low-code offers an array of benefits, including reduced costs and time, along with increased agility and innovation. It has a minimal necessary upfront investment in terms of training and deployment. Businesses can cut down the applications backlog by developing applications faster. The development speed makes organizations agile, as they adapt to the changing tech environment.
Benefits of low-code application platform –
Reduced time
Reduced costs
Agility
Simple deployment
Faster transformation
Higher productivity
What are some use cases of low-code?
Pharmaceuticals: A global player that develops cutting-edge proprietary technologies designed to initiate and sustain the immune system to mobilize and attack tumors was struggling with extensive paper trails. Nagarro first identified the optimized digital process and then built a solution using a low-code platform, Microsoft Power Platform, and SharePoint. All the data was ingested into the system using PowerApps-based forms and the workflows were implemented by using Power Automate with SharePoint online as a backend repository. This was adopted across the enterprise in the US and Europe and increased the process efficiency significantly.
Retail: A US-based retailer used a third-party forms creation and workflows automation tool to capture the cash over/short data on individual retail stores. The tool was suboptimal in performance, incurring delays in their day-to-day business and incurring high client costs. Our team worked with the client by using a common code platform solution and adhering to their enterprise ecosystem. Soon, we had built a fast and seamless solution that enhanced performance and significantly reduced operational costs. The client saw an increased return on investment and an improved user interface.
Manufacturing: A global manufacturing giant required two legacy applications to be adopted to a built-in simplifier as part of its modernization strategy. These applications allowed global teams to respond to inquiries, create and manage the test agreements, test content data and results for over 100 test types.

Nagarro partnered with the client to not only rebuild the applications in simplifier but also optimize workflows. A few highlights of the migration solution included rebuilding screens by using the latest branding guidelines, migration of applications with high volume historical data, the interaction between the application and local intranet resources, and external databased where information is retrieved and processed to generate certificates.
Learn how manufacturing companies can simplify raw material management in their 3D printing processes
Finance: The client, a multinational financial corporation, had envisioned adopting OutSystems to develop customer-centric workforce productivity solutions while ensuring the ease of development, standardization, scalability, reuse, and faster time-to-market. Our team is working with the client to build digital applications using OutSystems; we enhanced the existing consumer application to enable video calls by integrating APIs from Twilio & OpenTok. We also developed a web application for employee management. This application can capture employee details, employment history, skill information, and allow updates to the data.
It is safe to say that low-code can bring significant gains for business organizations in terms of cost and efficiency. But just like everything else, it comes with its share of pros and cons. Organizations must think and develop a framework before choosing a low-code platform, especially when some leading CIOs have advised caution while using this technology. The software engineers, too, profess mixed emotion towards low-code platforms. So, should your organization adopt a low-code platform? How does an organization start a low-code journey, and which low-code platforms would suit you the best? And why exactly do software engineers hate low-code?
Let us decode the common concerns related to low-code and how organizations can counter these concerns.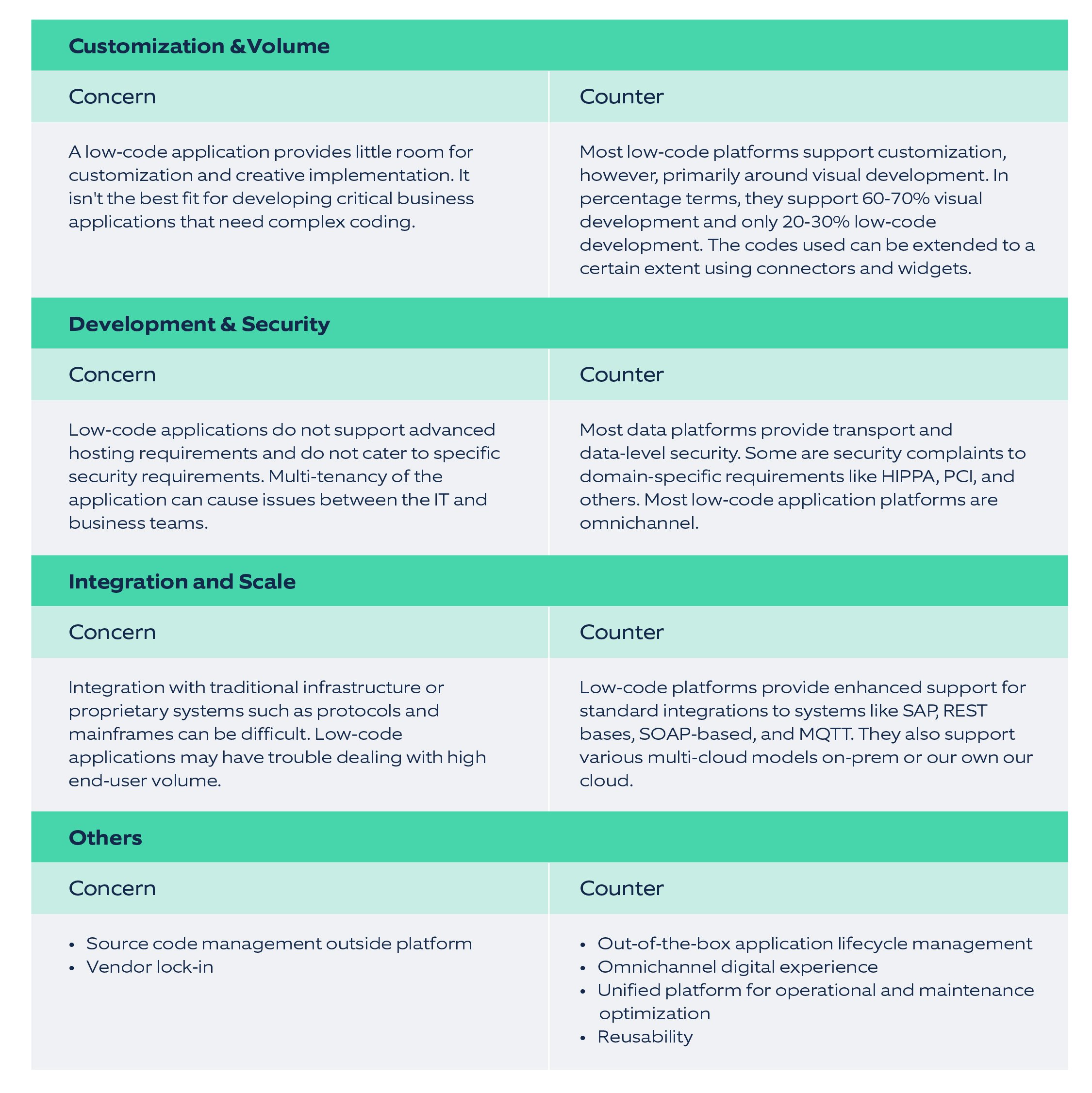 Beyond the issues with the application itself, low-code platforms might cause cultural problems within an organization. Unless the leadership lays down a governance framework, there may be internal conflicts and siloed systems. Since low-code applications require minimal coding and technical knowledge, citizen developers can also build applications when the engineers are busy with more critical applications. The IT department must be in the loop during the development and implementation.
At Nagarro, our team has hands-on experience in developing low-code applications. We can use technology to help you with designing the governance framework, evaluating the platforms, process blueprinting, strategizing, prototype development, platform development, training, API integration, application support, and all other steps of your low-code-driven digital transformation.
So, hop on, and board this bus with us, now! Reach us at fast@nagarro.com