The world around is changing rapidly. Traditional businesses are being challenged by faster and younger enterprises that are in many cases a fraction of their size. This new breed of enterprises are adept at responding to the rapidly changing world around us. Moreover, with digitization of everything, IT organizations must work efficiently to accomplish more in less time. Irrespective of whether you are a small organisation or a large one, being able to respond rapidly to the needs of the market and your customers is the key.
Enterprise Agile is the way forward. Our extensive agile expertise brings about a new approach to IT services to assist in your agile journey and bridge today and tomorrow in the most cost-effective manner as well as achieve desired business outcomes.
Our offerings in agile include:
Adoption and transformation
Take the leap from traditional ways of working to agile. See the agile approach working at scale with your employees and partners, and truly become enterprise agile. Our Enterprise Transformation Toolkit involves a five-step approach that can help organizations overcome all barriers in their journey to agile.

A five-step approach in enterprise transformation
Agile Consulting
Specialized and bespoke advice and solutions to the needs of the organisation. Our range of offerings in this space includes a host of offerings including a project Starter Kit to set off your new projects on the right path, a Heartbeat kit to gauge the health of your existing projects, to name a few. Our Intervention Cycle enables us to identify and study the existing problem/environment of an organization, prepare a plan to implement change and measure the outcome upon execution.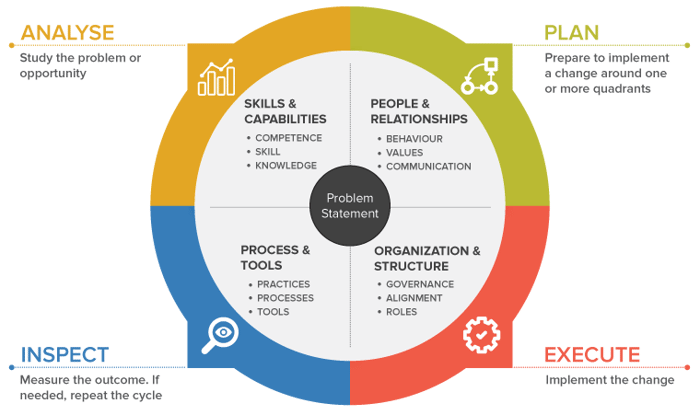 Nagarro Intervention Cycle
Training and coaching
We bring real world experience in our webinar sessions. Our focussed training and coaching programs are targeted at executive, business and project teams. Our coaches, product owners and scrum masters work in the trenches, shoulder to shoulder with your employees, trying to generate the business outcomes that are most important to you.
Agility for all
Why should IT people have all the fun? With our agility for all offering, we provide agile adoption and transformation programs to Non-IT teams enabling them to work in an agile way and reap the benefits of Enterprise Agile.