Welcome to a project that thinks outside the box, breaks new ground against the shortage of IT experts and sets an example for social responsibility. TestingPro trains people with autism to become software testers and opens their way to the job market.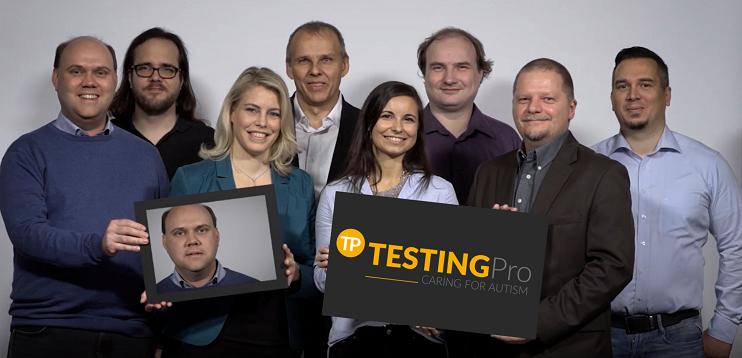 In 2016 a motivated team of trainers started with the idea of a training concept for people with autism. In 2018 we will start with TestingPro - richer in valuable experience and with attractive offers for applicants on the participant as well as employer side.
Many companies complain about a lack of experts, not only in Austria. Nagarro meets the demand with its flexible Hybrid-Shoring Modell, that combines on-site experts with offshore resources. This business model has a lot of potential if highly qualified people are also engaged on site. This applies in particular to test processes. Hannes Färberböck, Co-Managing Director at Nagarro Austria, has been committed to the idea of attracting people with autism to the IT industry since 2016.
Many people with autism (especially in the form of Asperger's syndrome) have special abilities by nature because their brain processes information in other categories. They think in a structured way, have a logical disposition, can recognize patterns, enjoy routine tasks and have impressive memory skills. The strengths of people with autism vary, but very often lie in the mathematical and analytical field. TestingPro aims to find these talents.
TestingPro – 3 x WIN
TestingPros are candidates with special skills that we gain for IT.
TestingPro qualifies people with autism as specialists for software quality testing
TestingPro wants to make a difference. For society, for companies, perhaps soon for you.
With TestingPro and our proven Nagarro trainer team, in close cooperation with Specialisterne will offer a sound training as a software tester including ISTQB® certification for people with autism, starting autumn 2018
---
Course Timing
Course timing: from September 3, 2018 - Duration: 8 weeks, 20 hours/week each
After the course, the TestingPro graduates with their special talent are ready for the job market, qualified to make a valuable contribution to quality assurance in software projects. The course content is a ISTQB® certification and also preparation for Tosca certification. See Training Modules Fall 2018!
The TestingPro project is a cooperation between Nagarro Austria and Specialisterne. The development of the course is supported by the Federal Ministry for Digitization and Business Location. Participation costs can be funded by scholarships and the AMS in order to provide the participants with continuous funding and free training.
The Partners
Nagarro and Specialisterne: Team training and coaching
The TestingPro training is precisely tailored to the needs of this target groups. We select the ideal candidates, train them as certified software testers and bring the new talents into contact with potential employers!
Specialisterne Austria accompanies the TestingPros on the applicant side. The autism experts at Specialisterne know about the special needs of people with autism they need to consider. For many years Specialisterne has been informing, placing and integrating talented people. The team is committed with passion, knowledge and great offers.
The Nagarro trainers have been specially trained by the Specialisterne team. TestingPro combines Nagarro's many years of training experience and IT expert knowledge with coaching by Specialisterne. Since 2017 we also employ experts from the program in the area of software testing.
Company Participation
Do you want to hire new software testers?
For companies interested in software testers from the TestingPro program, we are happy to put you in contact with trained talents. Certain framework conditions must be taken into account when working with people with autism. Therefore we have developed the following services:
Managed Start: The Nagarro test coach accompanies your company until the work environment is optimally set up. With this service you create the best conditions for the successful work of your TestingPros. You and your team will be prepared accordingly by Specialisterne's autism experts.
Integrated Test Service: Nagarro offers testing services and integrates the TestingPros into an experienced Nagarro team. The special skills of the graduates are used precisely in the process. You benefit from the result.
Contact us today, so we can look specifically for suitable candidates for you!
Trainee Participation
Would you like to participate in the training?
The selection and support of the participants is taken over by the autism experts at Specialisterne. Specialisterne is Danish and means "the specialists". The organization has set itself the goal of creating one million jobs worldwide for people with autism.
Inform yourself on this page about requirements (e.g. an existing autism diagnosis) and application possibilities. Download the Specialisterne folder and find out what graduates of the course have to say.
Our Experience

Robert Licen
Coach at Nagarro
"All my fears were unnecessary, because: How do you talk to them? Quite normal! How do you get close to them? Just like everyone else! How were the training days? Much more fun and exciting than "normal" training."

Hannes Färberböck
Project Initiator at ANECON, Nagarro Executive Board
"For me the old formula has come true: "Team productivity = difference * acceptance2". Because of the new things and tdifferences, we have developed a different team structure and a different team dynamic".

Johannes Klietmann
"unconventional thinker" with autism at Specialisterne
"Since the course is designed for people with autism, I know that I don't have to go to the trouble of concentrating on the content of the course. "And these contents are interesting and correspond to my talents."