Press Release
28 Sep 2020
3 min read
Nagarro-sponsored BMW M4 secures 1st place in SP10 race class in ADAC TOTAL 24-hour Race at Nürburgring, Germany
Experienced co-driver Claudia Hürtgen helped the racing team score with woman power!
For the first time, the racing team's entire motorsport season is CO2-neutral, a key factor for Nagarro's ongoing support.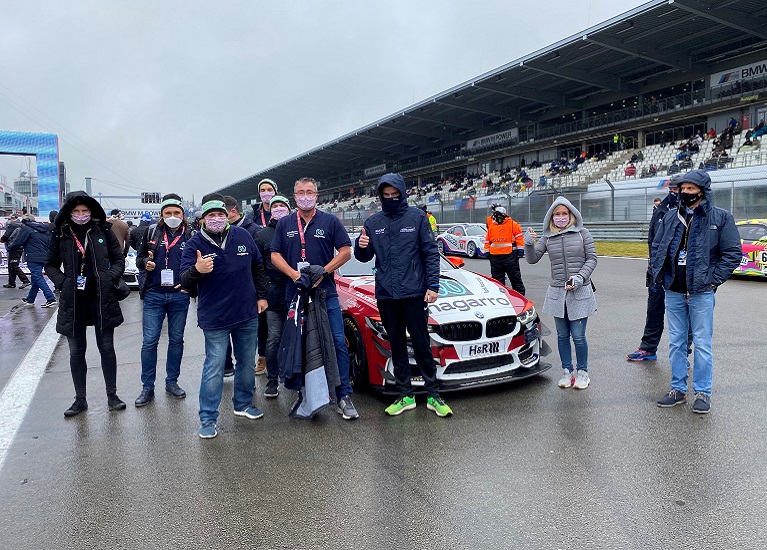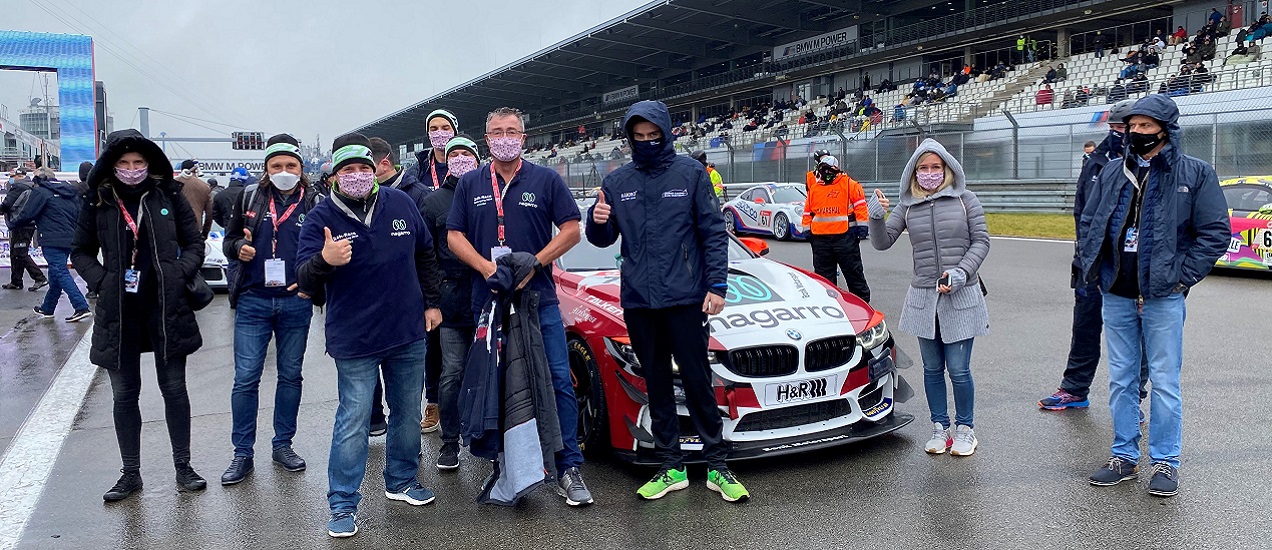 Experienced co-driver Claudia Hürtgen helped the racing team score with woman power!
For the first time, the racing team's entire motorsport season is CO2-neutral, a key factor for Nagarro's ongoing support.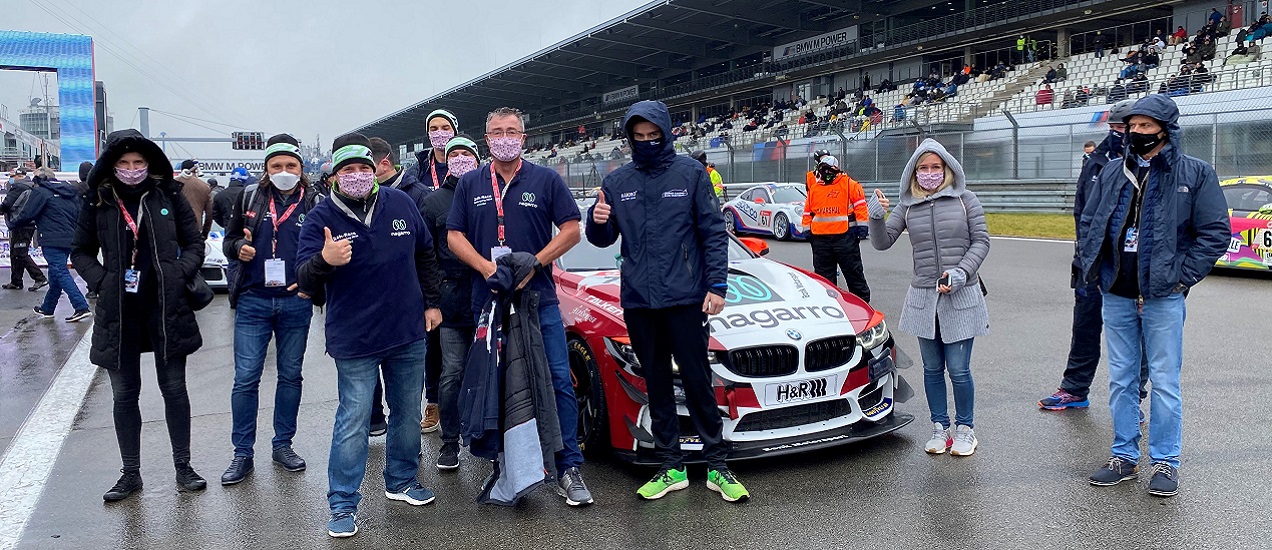 Nürburg, Germany, September 28, 2020: Nagarro, a global leader in digital engineering and technology solutions, supported the racing team comprising the father-son duo of Jürgen and Sebastian von Gartzen for the 4th time in a row at the most iconic car race in the world. In a unique first, BMW M4 GT4's entire motorsport season will be driven while being CO2-neutral this year. Another highlight is the support of female professional driver, Claudia Hürtgen. As an additional surprise, in view of the worldwide pandemic, Nagarro enabled seven employees to experience the spectacular race live, under strict safety arrangements.
In these difficult times of a worldwide pandemic, it was particularly important for Nagarro to support its long-time partner (and by now, friend) Jürgen von Gartzen to enable the four drivers of the Hofor Racing team to have a spectacular race. The race, which had already been postponed from June to September due to Coronavirus and is normally watched live by over 200,000 spectators, took place in front of only 10,000 spectators this year.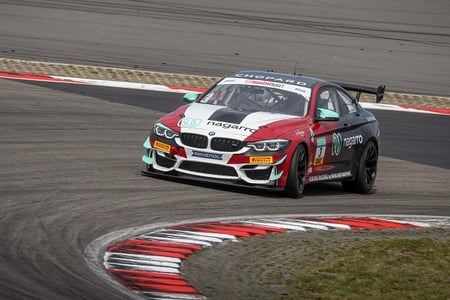 Nagarro's racing team led by driver
Sebastian von Gartzen has secured the 1st place
Hot tires for BMW M4
Pure excitement was the motto for all motor sport fans at this year's ADAC TOTAL 24-Hour Race at the German Nürburgring – spanning 25 km across a long and permanent racetrack that is famous in the world, both for its breathtaking beauty and surprise notoriety. Professional racing driver Sebastian von Gartzen (GER) took turns with his team's colleagues Claudia Hürtgen (GER), Michael Fischer (AT) and Michael Schrey (GER) at the wheel of the BMW M4 during the 24-hour race.
As Sebastian's father and manager, Jürgen von Gartzen, shared enthusiastically, "Unbelievable race! Extremely exciting! It was a change of 5-6 times to the first position. And in the end, the better team won in really hard conditions. It was a fantastic, faultless job from the team and drivers. And btw: It´s now the 3rd time winning together – many thanks to Nagarro!"
Diversity in Team Hofor Racing
The sleek BMW M4 was hard to miss – not just for its performance, but also for its eye-catching look, with the recently launched new Nagarro logo. Nagarro is particularly pleased about the diversity in the Hofor Racing by Bonk Motorsport racing team this time, with both female and Austrian support behind the wheel. Claudia Hürtgen, one of the most successful German motor sportswomen, can already show some victories. Michael Fischer, the young Austrian talent who started out as a junior in the paddock, knows motor sports inside out and has successfully brought his knowledge to the team and to the racetrack.
CO2-neutral motorsport season
The Hofor Racing by Bonk Motorsport team is particularly proud that this year's season will be completely CO2-neutral, thanks to investments in extensive tree-planting projects. Speaking about this, Manas Fuloria, a co-founder of Nagarro, said, "Since Nagarro is committed to environmental initiatives worldwide, it is important for us that this season is CO2-neutral. We had committed to support the team in this context and we are happy to keep our word!"
Along with the sponsored team, Nagarro would like to congratulate the entire Hofor Racing by Bonk Motorsport team on the successful event and wishes them good luck for the future!
For more information about the race, visit www.24h-rennen.de.
About Nagarro
Nagarro is a global digital engineering leader with a full-service offering. Nagarro specializes in "change the business" technology services, including digital product engineering, e-commerce and customer experience services, Artificial Intelligence and Machine Learning capabilities, cloud and IoT solutions, and consulting on next-generation ERP. The company has a broad and long-standing international customer base, primarily in Central Europe, particularly Germany, and in North America. This includes a number of global blue-chip companies and leading independent software vendors (ISVs), other market and industry leaders, and public sector clients. In total, the group employs over 8,400 people worldwide (as of June 30, 2020). Further information is available at www.nagarro.com.