Munich, July 20, 2023: Nagarro, a global digital engineering leader, is excited to announce its partnership as the main sponsor for race driver Sebastian von Gartzen in the innovative new race class of e-fueled Prototype cars. This collaboration reflects Nagarro's commitment to supporting cutting-edge innovation and technological advancement while embracing sustainable practices in the automotive industry.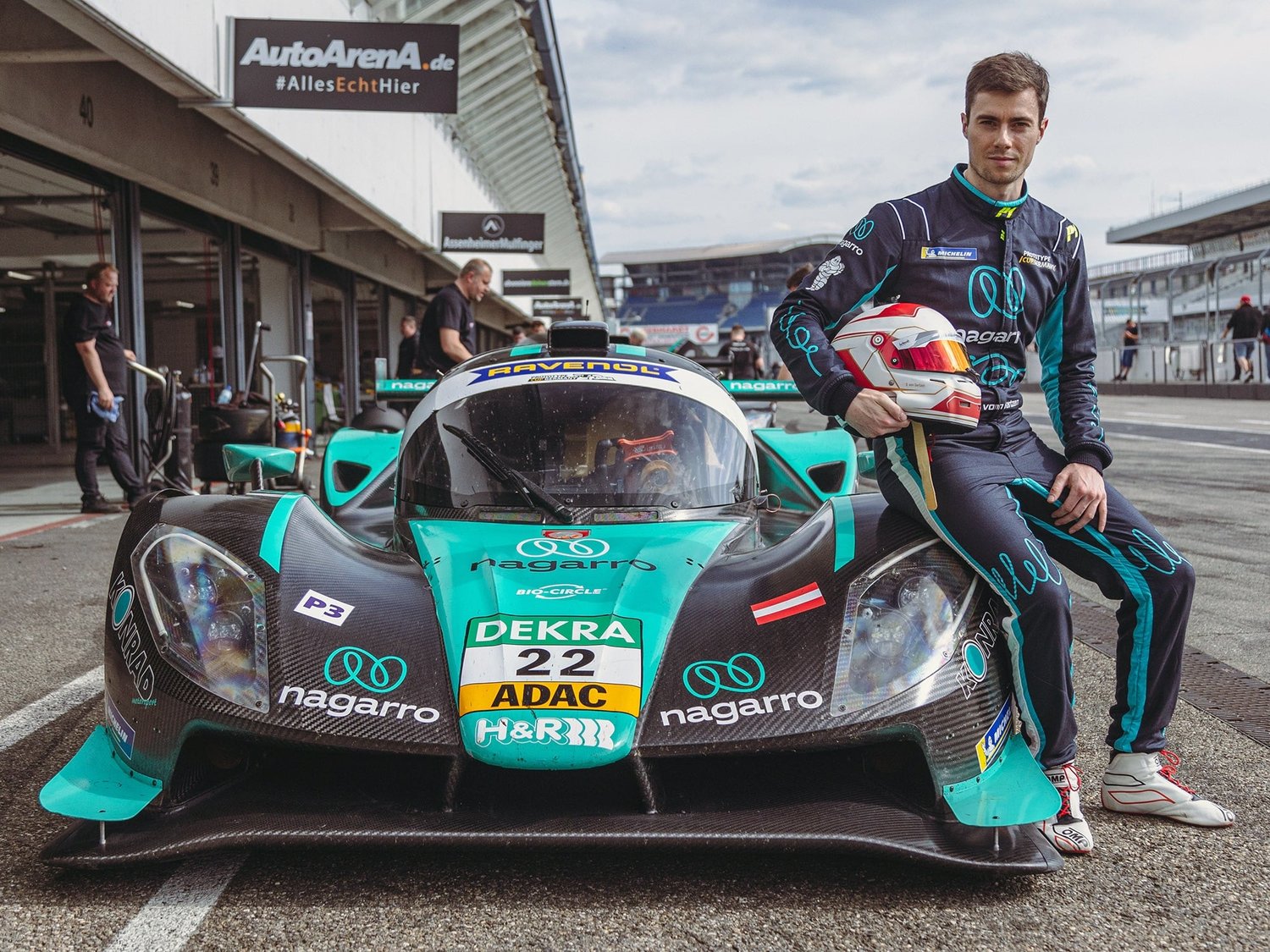 Sebastian von Gartzen, a talented and aspiring young race driver, has demonstrated remarkable skills and determination and has already achieved remarkable success in his racing career. With his passion for technology and motorsport and desire to keep developing and pushing even more advanced race cars to the limit, he has shifted from GT4 race cars towards the new and even faster race class of LMP3-Prototypes. These are true racing cars powered by sustainable e-fuel and catalytic converters and have enormously high downforce – similar to formula racing cars – and still put 455 PS on the road at a weight of 950 kg. Nagarro's decision to support Sebastian von Gartzen aligns with the company's values of fostering talent and empowering them to reach their full potential.
The LMP3-racing category is known for very fast lap times and significant competition among young, talented drivers. Sebastian von Gartzen, who is driving for the race team Konrad Motorsport in the prototype Ginetta, expressed his gratitude for Nagarro's support, stating, "I am honored to have Nagarro once more as my main sponsor, and I think it is a perfect match since we both are focused on innovation, technology, and a drive to succeed. Their commitment to excellence will undoubtedly contribute to my performance on the racetrack. I am excited to represent Nagarro and showcase their brand values through my racing endeavors!"
Nagarro is a technology partner to many automotive clients across the globe. Dr. Dmitry Lopatik, Nagarro's engagement manager for BMW, enjoys talking automotive with Sebastian von Gartzen and is convinced that "This partnership represents the convergence of both our core competencies – technology, innovation, and data – coupled with the demand of absolute top performance in the thrilling world of motorsports. We are proud to support Sebastian's journey in this challenging Prototype race class. Moreover, as a leading technology company, we are excited to offer our automotive customers the best solutions and strategies and learn from these kinds of Prototypes to navigate the evolving industry landscape."
Race driver Sebastian von Gartzen together with Kerstin Grüneis and Dmitry Lopatik from Nagarro
Nagarro has been a partner with the von Gartzen family since 2017. Nagarro's Marketing Manager, Kerstin Grüneis says: "We are happy to continue our long-lasting relationship with Sebastian and his father, Jürgen, who was also an esteemed race driver. Sebastian has proven himself to be a remarkable talent, and we are proud to support him as he ventures into this new class of Prototype cars. We wish him a successful season and look forward to the Grand Finale at the famous Nürburgring!"
About Nagarro
Nagarro, a global digital engineering leader, helps clients become innovative, digital-first companies and thus win in their markets. The company is distinguished by its entrepreneurial, agile, and global character, its CARING mindset, and its approach of thinking breakthroughs. Nagarro employs over 19,000 people in 34 countries. For more information, visit www.nagarro.com.
FRA: NA9 (SDAX, ISIN DE000A3H2200, WKN A3H220)
For inquiries, please contact press@nagarro.com.