Press Release
25 Sep 2020
2 min read
Nagarro introduces Edu-RESet, a suite of AI solutions that mitigate COVID-19 risks for education institutes and help them reopen with greater confidence
The AI-powered solutions can help colleges and universities monitor, measure, and enforce safety norms as well as COVID responses.
The solutions can be deployed quickly and at scale, leveraging existing physical infrastructure.
Gurugram, India, September 25, 2020: Nagarro, a global leader in digital engineering and technology solutions, today announced the launch of Edu-RESet solutions to help colleges and universities minimize COVID-19 risks and ensure a safer learning environment during the new normal.
The AI and ML based solutions are designed to encourage behavioral changes, enforce safety norms, and detect as well as prevent the spread of COVID-19, both on and off-campus, and help schools and colleges reopen safely. These resilient, long-term, and scalable solutions leverage state-of-the-art AI models running on low-cost edge devices and can be affordably rolled out across the entire campus.
The suite of Edu-RESet solutions include:
Social distancing monitoring anywhere on campus while providing real-time notification and broadcasting to target locations.
PPE detection to ensure that all individuals are wearing the proper face covering. The solution also utilizes face recognition technology to identify individuals violating the rules and notifies them of the violation in real-time. It also tracks the data for repeat offenses.
Self-health reporting with the mobile app and a guided questionnaire to generate a list of individuals who have been in close contact with other people (who may have also contracted the virus).
Dashboard command center to provide a customizable view with real-time data from across the entire campus for immediate alerts and rapid response protocols.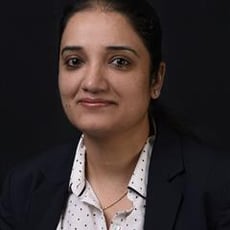 Monika Gupta
"The unparalleled disruption of education due to COVID-19 is far from over. This crisis has stimulated innovation within the education sector to promote distance learning solutions. However, educational institutes are grappling with when and how to approach the next phase, that is, reopening their institutes safely. At Nagarro, we have come up with the RESet approach to help enable a safe educational environment and help the educational sector emerge strong into the new normal to build a resilient education system for equitable and sustainable future," said Monika Gupta, Business Unit Head - Non Profit and Education, Nagarro.
The solutions go beyond the current crisis and make institutes future ready with AI-enabled learning tools, including that for remote learning, personalized learning, FAQ bots, and touchless administration. We use our proven ideation workshops to develop and define vision, co-create, validate, and launch through use cases across the value chain. The tools keep track of KPIs for active measurement and continuous improvement.
To learn more the solutions check out the webinar recording on Nagarro's COVID-AI suite of solutions or just send an email at practice.education@nagarro.com to discuss your specific requirements.
About Nagarro
Nagarro is a global digital engineering leader with a full-service offering. Nagarro specializes in "change the business" technology services, including digital product engineering, e-commerce and customer experience services, Artificial Intelligence and Machine Learning capabilities, cloud and IoT solutions, and consulting on next-generation ERP. The company has a broad and long-standing international customer base, primarily in Central Europe, particularly Germany, and in North America. This includes a number of global blue-chip companies and leading independent software vendors (ISVs), other market and industry leaders, and public sector clients. In total, the group employs over 8,400 people worldwide (as of June 30, 2020). Further information is available at www.nagarro.com.