Munich, October 26, 2023 – Nagarro, a global leader in digital engineering, introduces Forcastra AI, a next-gen forecasting solution that empowers businesses with precise, intelligent forecasts using advanced machine learning models and Generative AI. Forcastra AI empowers Nagarro's clients to add agility to the traditionally complex and rigid activity of enterprise forecasting, allowing them to respond rapidly to the emerging opportunities and threats.
The enterprise of the future, a 'Fluidic Enterprise', needs to be AI-enabled, responsive, efficient, and intelligent, while being creative and sustainable. Forcastra AI enables organizations to take the complex, resource-intensive, expensive, and often unreliable process of forecasting and modernizes it to respond to the dynamic nature of today's markets. Forcastra AI joins the family of Nagarro solutions such as Genome AI and Ginger AI that all work towards making enterprises fluidic.
Forcastra AI enhances forecasting accuracy, robustness, and flexibility through efficient model selection, a multi-model approach, and streamlined MLOps workflows. Given the intricacies of forecasting, relying on a single model as the sole forecasting solution is not sufficient. Forcastra AI addresses this by applying intelligent segmentation, feature engineering, and a funnel-based approach that includes an array of models – multi-SKU neural networks, machine learning models, hierarchical, zero-inflated, etc. to cater to diverse patterns.
In addition to using traditional structured data inputs, Forcastra AI also uses the power of large language models (LLMs) to bring in more real-world signals from unstructured datasets such as product descriptions, reviews, social mentions, images, etc. In addition, Forcastra AI makes use of Gen AI to create a natural language conversation interface and conversational nudges, making the entire process of forecasting much more approachable to the end users.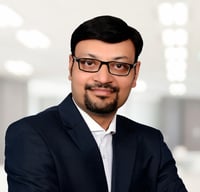 Aanish Singla, practice lead - Data Science, commented, "Right visibility at the right time coupled with right interventions are the keys to success. With Forcastra AI, you can take the guesswork out of your planning process and make data-driven decisions with confidence. Forcastra AI is the perfect way to begin your Gen AI journey, being both transformational and accessible."
For more info, visit Forcastra AI.
About Nagarro
Nagarro, a global digital engineering leader, helps clients become innovative, digital-first companies and thus win in their markets. The company is distinguished by its entrepreneurial, agile, and global character, its CARING mindset, and its approach of thinking breakthroughs. Nagarro employs around 19,500 people in 35 countries. For more information, visit www.nagarro.com.