October 10, 2022: Nagarro, a global digital engineering leader, recently conducted its biggest hackathon, #CrackACode 2.0, in Monterrey, Mexico. It was an exciting day full of competition, problem-solving, and thought-provoking sessions by various tech leaders. Around 150 students from different universities like UDEM, UTSC, Tec de Monterrey, UANL, UPLF, and UTNL participated and experienced the ultimate coding competition.
This hackathon was conducted in partnership with UDEM, CSOFTMTY, CANIETI, The Secretary of Economy at the state of NUEVO LEON, and U-RRE. Nagarro experts Kanchan Ray and Umang Gar talked about Innovation and the Future of Industry 4.0, respectively. The speaker from UDEM, Professor Jesús González touched upon the topic of Cybersecurity and its specialties. CSOFTMTY President, Alfredo Sastré, shared a very interesting perspective about the labor market in the IT space.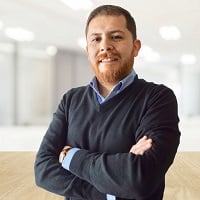 Rodrigo Cruz, Nagarro
Rodrigo Cruz, Director, Nagarro, said, "This hackathon aims to generate technical talent in Mexico, nurture the youth, and get them ready to face the complex problems of the real world. The physical event also allows these students to exchange their thoughts with industry leaders and experts. At Nagarro, we truly believe in nurturing talent, and this is one step towards the same. I was delighted to see all the participants' enthusiasm and skills, and I wish them a great future."
In CRACK A CODE 2.0, the participants from all over Mexico were able to put their creativity, logic, technological, and collaboration skills to the test through technical and practical challenges that they solved in randomly formed teams of four. The challenges were developed on a special platform for the hackathon, where they were evaluated semi-automatically immediately after finishing the exercises.
The purpose behind this was to motivate and inspire the next generation of software engineers who will face more complex problems soon.
About Nagarro
Nagarro, a global digital engineering leader, helps clients become innovative, digital-first companies and thus, win in their markets. The company is distinguished by its entrepreneurial, agile, and global character, its CARING mindset, and its approach of "Thinking Breakthroughs". Nagarro employs over 17,000 people in 32 countries. For more information, visit www.nagarro.com.
FRA: NA9 (SDAX/TecDAX, ISIN DE000A3H2200, WKN A3H220)
For inquiries, please contact press@nagarro.com