Vienna, Austria, October 15, 2019: Nagarro recently organized its first TURNTABLE event at the Vienna office titled 'Data - The Humus for Innovation'. The event witnessed more than 120 attendees. Industry experts and technologists shared their data journey experiences and valuable insights on artificial intelligence, machine learning, and allied fields.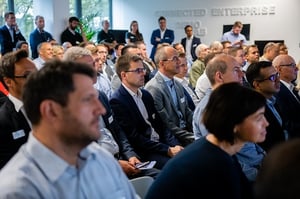 A full house
Scott Wiggins, Vice President - Group Information Technology, ANDRITZ AG, shared his 4-step approach of the data journey at ANDRITZ. The first step involved an ideation process as part of Nagarro's innovation toolkit. Then, a specially developed datathon was organized to evaluate the existing data. This resulted in a proof-of-concept, which eventually led to the successful implementation of their first data lake project.
Ewald Koller, Head of Technology, ÖBB-Postbus GmbH, spoke about his data journey from realizing how Postbus was sitting on an enormous heap of data, to looking for anomalies in bus performance by effectively analyzing the data. This helped Postbus gain insights and enable predictive bus maintenance.
Maximillian Schwarzmaier, Senior Development Consultant, SAP, HOERBIGER GmbH, discussed the benefits of 'smart warehousing'. He revealed how replacing the barcode scanner in the warehouse with smart glass led to a 30% increase in efficiency.
Anurag Sahay, Vice President - AI & Data Sciences, Nagarro, explained the three most important entry points into big data projects and shared his view on the relevance of data warehouses versus data lakes in the future.
The audience was also enthralled by exciting live demos on Nagarro's AI capabilities.
For event highlights, click here.
About TURNTABLE
Nagarro TURNTABLE is a new series of events that brings best practices to the table and shows how companies can mark a successful turnaround in the digital era with possibilities around artificial intelligence, data analysis, and digitalization.
About Nagarro
Nagarro drives technology-led business breakthroughs for industry leaders and challengers. When our clients want to move fast and make things, they turn to us. Today, we are 6,000 experts across 21 countries. Together we form Nagarro, the global services division of Munich-based Allgeier SE.