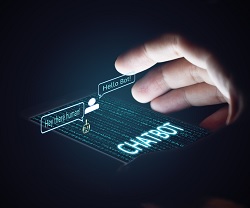 Gartner predicts that by the year 2020 customers will manage 85% of their relationships with an enterprise without interacting with a human.[i] The banking industry is at the forefront of this radical change in customer interaction. Third-party services like Slack, Facebook, Twitter, WhatsApp, etc. are the new interfaces actively bridging the casual communication gap that existed between the banks and its customers. And keeping this trend alive are the AI-powered chatbots that are empowering the banking and financial industry by simplifying the entire process of customer interaction and enabling improved customer acquisition, engagement, and retention.
Chatbots are one of the most promising and conversational interfaces available today and banking as an industry is rapidly keeping pace with it by focusing on the development of intelligent bots built on NLP (Natural Language Processing) and ML (Machine Learning). Banks like RBS, Bank of America, JPMorgan Chase, Capital One, DBS Singapore, Mastercard, etc. have already jumped on the bot-bandwagon and are actively working towards refining their bots to provide intelligent, proactive recommendations along with smart, reactive responses to their customers.
Let us look at 7 scenarios where the presence of AI-powered chatbots can bring a significant change in the banking and financial industry:
Facilitating one-on-one interaction: The industry is moving towards an intuitive system from the existing reactive 'if-then-else' approach demonstrated by the current crop of 'half-baked' bots. Instead what is needed is the intelligent bot—one that can understand both the intent and the context of the customer rather than serving them pre-cooked solutions.
Providing round-the-clock support: Chatbots can provide 24x7 support and continuously mine and analyze data from all users for better financial recommendations and quick actions.
Offering personalized financial advice: As a direct benefit of continuous analysis of data, chatbots should be positioned to provide personalized guidance and smart insights on various investment options available to the customer after carrying out the spend analysis.
Simplifying complex processes: Banks are considered very complex and risk-prone. From managing multiple accounts to deciphering the complex process of loans and mortgages to keeping track of investments—customers rely heavily on the banking process. Bot technologies combined with automation, can simplify the entire process and assist the customer in processing their request by accurately collecting user information and requirement without manual intervention.
Avoiding navigation issues: Chatbots can be quite helpful in providing information on everyday queries such as balance inquiry, bill payments, and funds transfer. Instead of navigating through a heavily crammed UI, customers can just ask their bank-bots to initiate a fund transfer or bill payment at a set time and date.
Enhancing security: Chatbots can help in improving security and preventing fraudulent practices prevalent in the industry by implementing various authentication and authorization techniques such as end-to-end encryption, self-destructing messages, and authentication timeouts.
Cross-selling financial products: Chatbots are a great tool to cross-sell and up-sell financial products in a user-friendly conversation. They can replace the calls where banks offer their products and services that at times annoy people and instead bring in systemic and high-touch communication mechanisms in place.
Building a customer-centric business with chatbots
The digitization-driven shift in customer engagement has influenced the banking and financial sector to redefine their touchpoints with customers and focus on understanding the customer's intent and their latent needs. Chatbots have the potential to simplify the entire banking experience for the customers, but we need to make the right investment at the right time to make it a profitable model for growing businesses. So, there is a need for banks to build AI-powered bots while adhering to all the security protocols.
Nagarro has created chatbots for leading financial service providers in Central and Eastern Europe which uses both text and voice input to provide fraud monitoring notifications and reminds users about actionable tasks, product offerings and an analysis of their recent transactions. Also, we have closely worked with a leading airline to create an AI-based bot "Emily" to enhance customer experience and offer seamless customer support, reducing manual intervention to a minimum.
Download our brochure on Digital Services in Banking Industry to read more about how we are helping our customers in the banking and financial industry make an impact in the digital world.