Sharepoint Rapid Assessment
SharePoint Rapid Assessment helps analyze and predict the effort and time required to modernize a SharePoint system. This proven methodology allows us to accurately assess the scope of what will be required for successful SharePoint modernization.
SharePoint Rapid Assessment consists of a three-step process: Assess, Analyze, and Recommend. The assessment reveals the known and unknown details of an existing SharePoint or third-party content management system so the scope of a SharePoint modernization effort can be defined accurately. The information gathered during the assessment phase is analyzed to derive a set of recommendations. The recommendations serve as the basis for a modernization plan that drives the SharePoint or Office 365 modernization initiative.
The SharePoint Rapid Assessment service encompasses a proven methodology, knowledge base, and tools that are used to produce the roadmap and plan. In just a few short days (rather than several weeks), the SharePoint Rapid Assessment service will help you discover and analyze your SharePoint farm and provide recommendations on a modernization strategy that best suits your unique situation.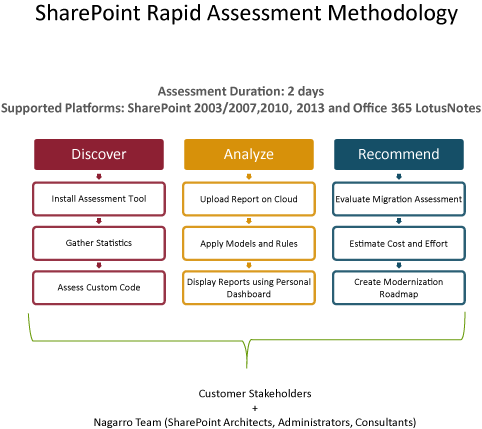 ShareExplore: Nagarro's Rapid Assessment Tool
Central to the assessment is the Nagarro ShareExploreTM analysis tool that helps rapidly assess the effort required for migrating existing SharePoint versions or IBM Lotus Notes content to SharePoint 2013 and Office 365. It collects data from existing content management products and creates an analysis report. In addition, our solution experts talk to your key stakeholders to gather further insights which are added to the system for a richer and more complete analysis. The Nagarro SharePoint Analysis Dashboard helps you visualize information about the migration complexity, the estimated cost, and best practices. The reports from the ShareExplore tool are used to create a modernization roadmap by Nagarro's SharePoint experts and solution architects.
Why You Should Use ShareExplore
ShareExplore is easy to use and takes the guesswork out of SharePoint migrations:
It is an intuitive tool with an easy-to-use web interface
It facilitates collaboration through wiki-style discussions
It provides rich drill-down reporting capabilities for an in-depth analysis of your data
It is supported by Nagarro's solution experts who are adept at providing actionable insights into the data
It accelerates the assessment process and helps you better plan your modernization initiative
ShareExplore can also help you understand the growth of your organization's SharePoint footprint over time. Using multiple periodic checkpoints, the tool provides ongoing visibility into the environment and helps facilitate SharePoint governance. ShareExplore is available on a subscription basis whether or not companies are actively migrating to a new version of SharePoint or to Office 365.
Make Data-Driven Decisions Easily
Nagarro's SharePoint Assessment Dashboard uses metrics-based estimation models and knowledge bases to provide a complete analysis of your SharePoint farm. It helps you and Nagarro jointly create a roadmap for SharePoint Modernization. Using the dashboard, you can quickly and easily understand what you have, what you need, and why you need it. The Dashboard's simple interface is the gateway to a wealth of information about your SharePoint farm.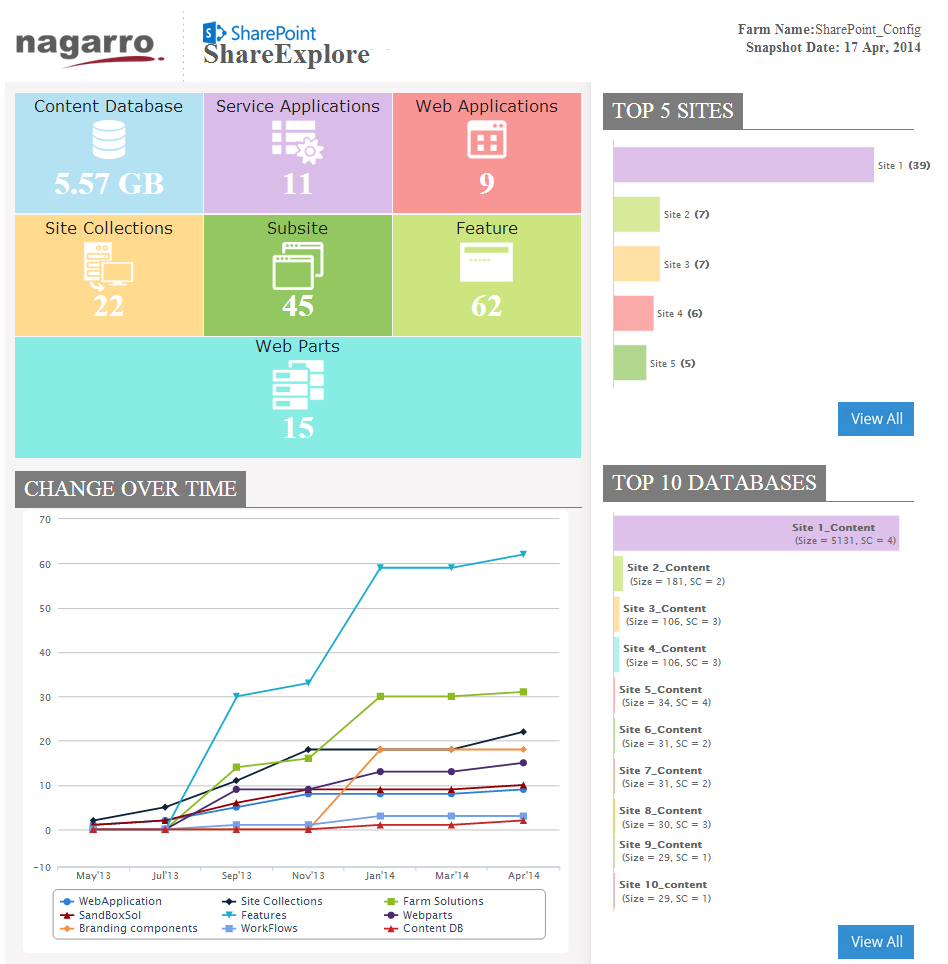 Nagarro's Rapid Assessment Service takes the guesswork out of SharePoint migrations and it allows you to understand the scope of a modernization initiative in days instead of weeks. Using ShareExplore and with the help of our SharePoint experts and solution architects, you will be able to plan and implement SharePoint modernization initiatives with greater accuracy and efficiency.