Sharepoint And Office 365 Migration
Nearly two-thirds of organizations implementing SharePoint are disappointed with the results, according to a recent survey by AIIM. SharePoint upgrades and migrations commonly present challenges such as managing server downtime, underestimating the required resources, underestimating the complexity of content mapping, and failing to have adequate rollback plans. Nagarro helps its clients avoid or minimize the effects of these challenges.
Gear Up for Success
Nagarro helps businesses deliver successful SharePoint implementations the first time and every time. Our four-pronged approach includes our unique migration methodology, accelerators, The Factory Model, and partnerships
The migration methodology allows Nagarro to execute SharePoint and Office 365 migrations reliably. The accelerators are tools and components Nagarro developed to speed migration tasks. The Factory Model ensures that organizations can scale SharePoint reliably. And finally, our partnerships with leading SharePoint tool vendors ensure access to the best third-party tools on the market and that our clients are not limited to the capabilities of any product. Together, these elements enable a complete end-to-end migration solution that increases ROI and reduces TCO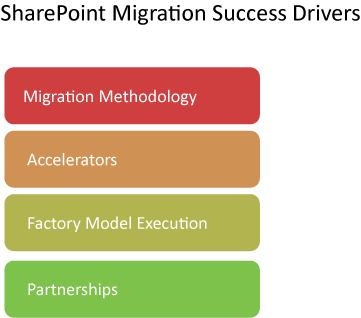 Nagarro's SharePoint Migration Methodology
Nagarro's SharePoint Migration Methodology was developed by Nagarro's SharePoint Center of Excellence. The Migration Methodology allows Nagarro to assess and analyze the source content management system, design documents and prototypes, execute migration from the source system to the SharePoint platform, validate migrated applications, and rollout SharePoint and third-party enhancements.

Make SharePoint Success Repeatable
Nagarro's Factory Model is based on real world experience and proven methodologies. The Factory model described in detail here, was developed for large enterprises or companies with complex SharePoint installations that want to manage SharePoint and other technology migrations in a predictable and repeatable way.
Whether your business is large, medium, or small, Nagarro can help you manage your SharePoint migrations – from other content management systems to SharePoint or from one version of SharePoint to another – faster, with greater ease, and with fewer obstacles throughout the entire application lifecycle.