The WhatsApp Chatbot crowdsources air pollution instances that would be forwarded to the concerned authorities to expedite redressal.
Air pollution has reached alarming levels, making it a perennial public health crisis. A study revealed that India's annual death toll could be reduced by 6.5 lakh – that means 6.5 lakh lives saved, just by reducing the air pollution levels.
To put things in perspective, India's current COVID-19 death toll of 71, 642* (approximately 10%) pales in comparison to the annual deaths caused by air pollution. Further, any long-term exposure to air pollution can cause a plethora of severe health problems.
According to another study, published in The Guardian, air pollution may damage every organ and virtually every cell in the human body. The comprehensive analysis reveals that air pollution may be harmful from head to toe, leading to chronic and serious health disorders, including dementia, heart and lung disease, fertility problems, and reduced intelligence.
What is Nagarro doing?
Given the severity of the problem, Nagarro has launched a WhatsApp chatbot to report air pollution. The bot will enable people to report air pollution instances, anytime and from anywhere. The chatbot is a hassle-free communication channel between people and the concerned authorities to expedite redressal and make people more aware about their surroundings.
How does it work?
The WhatsApp Chatbot can help with the reporting in two easy steps:
Step 1: To report, share a pinned location of the instance, so that the concerned authorities can be identified (identification of authorities is instance-specific).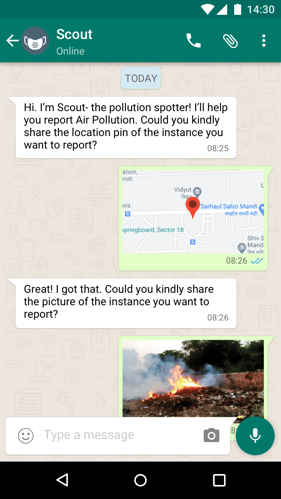 Step 2: Share a picture of the instance to be reported for instance-specific redressal. For example, click a picture of garbage being burnt and share it, as shown below.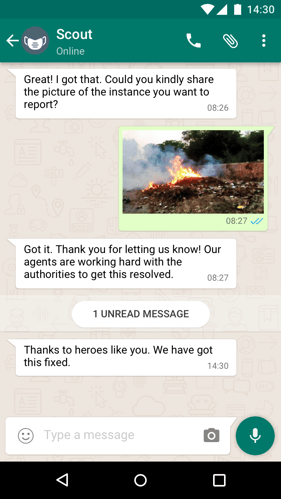 With this initiative, Nagarro appeals to the citizens of India to be proactive about taking care of our environment and ensure clean air for everyone. Let us join hands with the authorities to combat and defeat this menace of air pollution, which is affecting our planet and everyone in so many adverse ways. In this regard, such an initiative is, in many ways, a breath of fresh air!
*As on Sep, 07, 2020.
Chatbot, CSR, Air Pollution
Chatbot, CSR, Air Pollution