Nagarro is a certified Microsoft gold partner in the domain of SharePoint Application development, Collaboration and Content. Our SharePoint solutions has been identified by Microsoft as the "best practices" for implementations. Nagarro has implemented a wide variety of SharePoint solutions for small teams as well as global corporations covering different versions of SharePoint including SP 2003, MOSS 2007, SharePoint 2010, SharePoint 2013, SharePoint 2016 and O365.
Our experienced team have implemented large scale multi-lingual intranets, global extranets, corporate websites, knowledge management portals, business process automation, and intuitive social collaboration solutions across diverse industries and business functions for our clients across the globe.
With the help of our SharePoint experts and cloud ready SharePoint solution accelerators (Intranet, Innovation, Department, Knowledge forum, service request or Migration Assistant), we help you in meeting your strategic objectives to drive better ROI. Our solution accelerators have been designed to be intuitive, responsive and configurable to give you :
60% faster deployment than with custom solutions
80% saving in development cost compared to scratch development
90% reduction in errors and reduced rollouts risks due to well defined product architecture
Unlimited number of user enrollment for all the licenses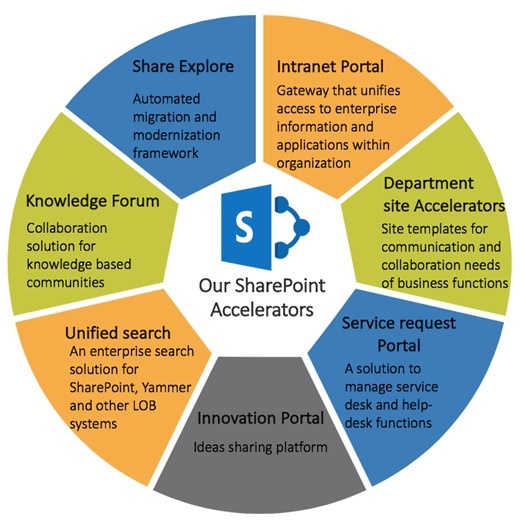 We have defined the following critical success factors for our clients using these accelerates
Minimum disruption to existing work
Easy onboarding of existing data and users
Portal accessibility and training
Support for existing business processes
Accelerated time-to-market
Service offerings
Our service offerings include:
SharePoint consulting: Our SharePoint consultants will work with you to develop a solution strategy and roadmap, define the architecture, create user experience and design, and implement information architecture design for your portals.
User experience and branding: Our UX experts will help you in creating solutions that involve personas, high level information architecture, concept wireframes, visual design concepts, branding, theme design and mobile design.
Implementation: Our experts have diverse experience in developing, testing, deploying, and configuring SharePoint solutions both - on premise or on cloud. Our digital workplace solutions span the entire spectrum of use cases and functions.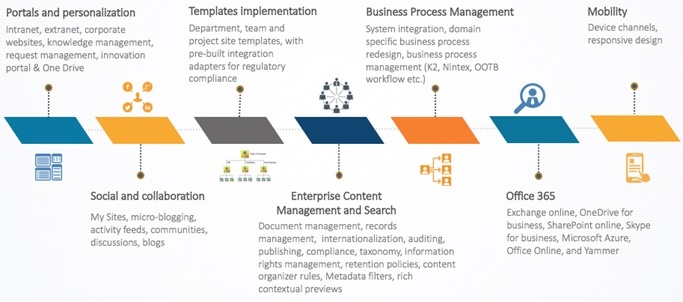 Transformation and Modernization: Nagarro's SharePoint Modernization solution offers quantifiable business benefits by transforming business through modernization of SharePoint solutions across the enterprise. The solution stack consists of platform migration, cloud enablement, re-engineering, mobile enablement, enhancements and enablers which help accelerate the process of readiness assessment, effort estimation, platform migration and deployment. Thus we offer end to end support to our customers to migrate their heavily customized code to cloud based upon Microsoft cloud standards including the SharePoint hosted or provider hosted apps on Azure platform.
O365: Microsoft's "intranet in your pocket" vision shows its commitment to improving the mobile experience across Office 365 and SharePoint offerings like never before. In line with this vision, Nagarro helps its customers to move from on premise environment to cloud environment without any data loss. We generally help our customers to implement SharePoint online based solutions based upon Microsoft recommended guideline. We have proposed solutions in SharePoint online, Exchange migration, one drive and yammer content accessibility within a unified search platform using SharePoint search capabilities. This unified search platform is powered by the Office Graph, which allows information to find you, rather than you finding the information.
With 'Enterprise Agility' as its core functional value, Nagarro has been catering to leading companies across multiple industries in building complex, business critical software and IT projects in various domains. Successful companies across the globe rely on Nagarro's SharePoint expertise to meet their strategic objectives with confidence and ensure proven best practices.