Every year on March 8th, the International Women's Day brings out a variety of discussions and debates on women-centric topics. Like last year, when we asked five amazing female Nagarrians to step up to the curtain, this year, we got into another exciting conversation with five great women of Nagarro from all over the globe. They talked to us about how they juggle (and ace!) all their roles – be it professionally or in managing their personal relationships. They have also shared their thoughts about this year's "Choose to Challenge" theme. Let's check them out!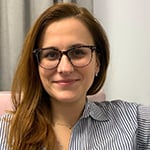 Today, women have entered every possible field, in every industry. Nagarro's mixed bag of roles and responsibilities also include women in several challenging and exciting profiles and it is important to mentor young women who are pursuing a career in IT. Anamaria Totan, Head of Quality Management from Sibiu in Romania, thinks that "the most important asset in my field is to build strong and truthful relationships with people in your organization and create an organizational wide network. Whether it is an organizational change, a planned audit or an unexpected quality assessment, everything is done through other colleagues. People's buy-in, support, and many times, understanding are extremely important."
Rightly said. Communication is the key and it comes naturally to women. Another specialty? Listening! Katja Piroué, an agile coach in Nagarro's Vienna, Austria office says that this secret weapon of women, that helps them excel in all these fields is the power of listening. "Listen, share your findings, be honest and passionate. We gain more information because of the 'between the lines' reading."
Wei Xu, a Senior Delivery Manager based in Beijing, China, also shares four major tips for young women planning their career:
Do not hesitate or be afraid of doing things wrong. Without mistakes and failure, you would have never learned. Always be focused, with clear vision and passion in your career.
Keep learning as much as you can about the field you choose from every perspective. You will not be able to do a good job without understanding it in a deep way.
Take responsibility. You must be very responsible and accountable for your work to gain trust and respect.
Just as Wei has shared in her tips, it is important to learn continuously and take responsibility. Here, an already known talent of women is to be strongly supportive. "Women are driven by the ability to multi-task," says Lisa Pradhan, a marketing expert in Gurgaon, India. "We, women, are able to don different roles and juggle between several tasks every day, both in our households and at work. To wear these many caps at the same time needs immense strength and confidence, and as women we have an inborn talent to do so with aplomb," she adds.
Surprisingly, the parameters of success were similar for most of these women. Three of them viewed success as doing something one loves, recognizing one's own achievements, and being happy.
One fact that every woman would agree with is that the challenge for them to excel in their work environment is stronger than for men. As Paulina Olivera, Head of HR in Mexico City, Mexico shares, "Women carry greater responsibilities on their shoulders, both on the family and professional fronts. So, we must be more dedicated, invest more time, sleep less, work very hard, and above all be very entrepreneurial."
While Paulina does her share of hard work, she also talks about how Nagarro has helped her maintain a healthy work-life balance and at the same time achieve career growth. "When I joined Nagarro, one of my main demands was to work remotely, and it was easier for me to have access to that type of work here. Also, when I worked for the first time in a global company, it was a challenge to adapt to a different work style. Communication was another issue. I learned my strengths and how to work in agile environments, but I also realized that I need to improve. Now, my professional life has matured and led me to be more committed to what I do."
On this year's "ChooseToChallenge" theme that focuses on gender equality across all spheres, Lisa says, "I believe this theme is extremely relevant in today's times. Though I have been fortunate enough to live in a metro city and be in a diverse and inclusive organization, there are still workplaces and societies where the status quo needs to be challenged. We must unite at a global level to call out on issues such as gender biases, pay parity, etc. and collectively ensure the mental well-being of women."
"Yes, it is very important to have the courage to speak up your mind, but before that, we need to understand the why behind everything," adds Anamaria.
Katja differs. "But I do not want to challenge; I want to overcome challenges. I would rather be constructive than attacking. You do not achieve anything with a head-on confrontation."
"I totally agree," says Wei. "The willingness to bridge the gap of gender inequality should come from within. I would like to work on helping myself, my team members, and our relationship with clients to break the glass ceiling. Though it is challenging, I am willing to take actions, step by step!"
Would you like to see how all Nagarrians across the globe celebrated #IWD2021 and #ChooseToChallenge? Watch this!